8 Places to Get Free Accommodations in the Philippines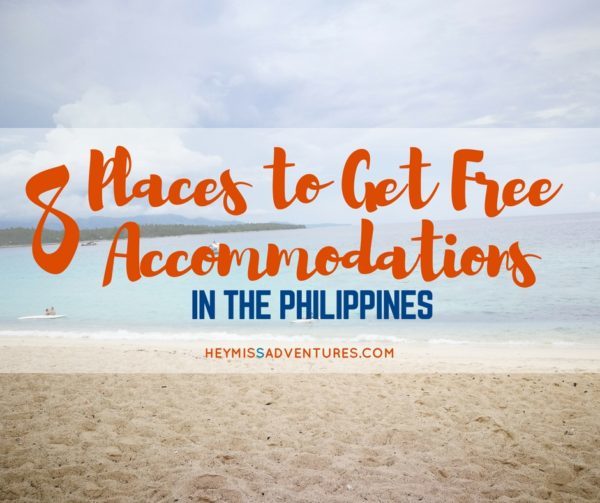 I love to travel — who doesn't anyway? But, because real life often gets in the way (budget issues, time constraints, other responsibilities), travel and leisure is not always our main priority as a family.
We had decided on having only two outside-the-province trips per year but the partner wanted to focus more on building our finances first so splurging our money for fun is not something that we can freely do anytime of the day. We do plan on going on a sabbatical year in the coming years and, if opportunity permits, live a nomadic lifestyle permanently, or until we get tired of it. Our first plan is to tackle the Philippine Islands because you have to appreciate local first, right?
Also read: When in Davao City: Our Favorite Transient House in Buhangin
If you plan on travelling most, if not all, 7,107 islands in the country, here is a list of where you can score free accommodations in the Philippines. You might just get them for free!
1. Friends and Relatives
Family and friends are always the best people to go to if you want to find a place to stay for free. And, because of Filipino hospitality, you can almost always count on getting free meals, too. Okay, just don't count too much on that last part – they could also be in some tight budget for all you know.
2. Couchsurfing
The truth is, we've never tried Couchsurfing before and, even after many attempts, we still find it very difficult to find a Couchsurfing host here in the Philippines. If you haven't heard of Couchsurfing before, make sure to visit their site and sign up to join this wonderful community of travelers all over the world!
If you plan on coming to Cebu, you can contact me via Couchsurfing and we can probably go somewhere or talk over a cup of coffee…or beer. 😉
3. Volunteering in a Farm
How about experiencing life in the province/farm? It is actually possible for you to volunteer your services in organic farms all over the Philippines and guess what, you don't have to be an expert in agriculture to do this.
All you need is an open mind and the willingness to learn, too. Most of the times, these farms offer a place to stay plus meals in exchange for your services. Unfortunately, most of the farms I've found require a minimum two-weeks stay which, obviously, is not being allowed by our minimum days off of work. Argh. But I will keep this in mind for the future. In the meantime, you can head out to their website and check out if any of the farms interest you.
You can check out WWOOF to see organic farm volunteering opportunities for you.
4. Other Volunteering Opportunities
I have been volunteering for Gawad Kalinga since 2011 although I've only ever joined team building camps and volunteer works during the day. They do have an annual Bayani Challenge where volunteers stay at a GK site for five days and build homes, gardens, communities and so on. I've never been to one but know of friends who have joined these activities.\
5. Work at Hostels and Inns
There probably are a handful of hostels and inns (and even resorts) that will allow you to work in exchange for free accommodations in the Philippines. If you have skills in web, content or social media or can work as a receptionist or a hospitality crew, you might have a bigger chance of being able to stay there for free.
If you are a creative (photographer, travel blogger, videographer, musician or DJ, artist or journalist), Mad Monkey Hostel can offer free stays in their hostels in Cambodia and the Philippines.
6. House Sitting
House sitting isn't quite popular in the Philippines just yet but it will probably soon since other neighboring Asian countries are already joining in. You can sign up for [eafl id=4347 name="Trusted Housesitters" text="Trusted Housesitters"] and get connected with homeowners who are looking for people who can look after and take care of their house. A lot of housesitters offer their services for free in exchange for free accommodation.
7. Camping
We love camping and we've invested in a local Sideout Outdoor tent to make sure we can camp both in mountains and in beaches. We've been able to save a lot on accommodations by camping in Camotes Island and Bantayan Island. There are times when it does not necessarily save you though (such as when we camped in Hundred Islands in Pangasinan) but the experience was still priceless.
8. Home Stays
Homestay is pretty popular in the Philippines and you can check out Philippines Homestay and Homestay.com if you are interested on the experience.
Bonus!
These sites do not provide free stays but you can definitely get the cheapest and most unique accommodations from these sites:
[eafl id=4342 name="AirBnB" text="Airbnb"]

<< get as much as ₱950 in travel credits

[eafl id=4345 name="Agoda" text="Agoda"]
[eafl id=4344 name="Booking" text="Booking"]
In the end, it's really your flexibility as a traveler that dictates how much you would end up paying for accommodations. Just remember, if you want to save: be a traveler and not a tourist.
Also read: 4 Essential Travel Apps for your Smartphone
If you go with the crowd and check in at those luxurious hotels, then you will surely end up spending a huge chunk of your travel budget. But, if you know how to immerse yourself with local culture, you can pretty much find your way into dirt-cheap (but decent) places to stay. Then you can afford to spend more for your experiences instead.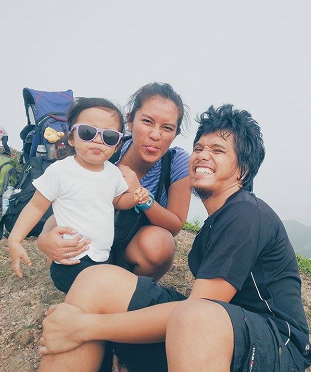 Pam is an outdoors-loving millennial momma who loves to hike, trek and camp in the beaches and mountains with her partner and their 3-year-old daughter. When not exploring the great outdoors, she moonlights as a freelance writer specializing in the travel, parenting, personal finance and digital marketing niches. You can also follow her via social media: Facebook, Twitter, Instagram and Pinterest!