Overnight Camping at Hundred Islands, Alaminos City, Pangasinan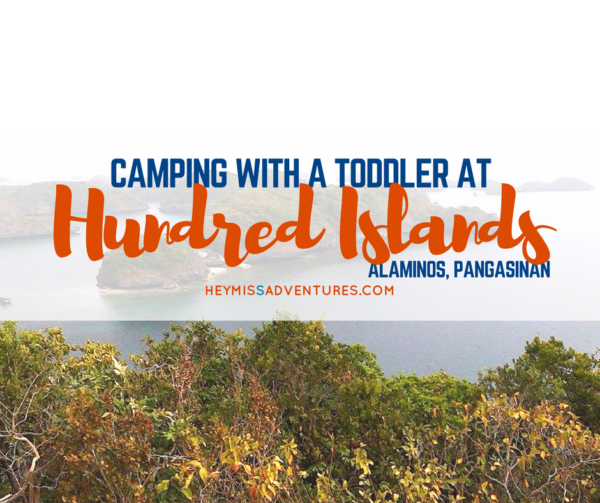 We went to Hundred Islands in Alaminos City, Pangasinan in the hopes of slashing off 100 islands from our checklist. But, although we only got to set foot on three out of a hundred islands it had to offer, we were able to experience camping in Hundred Islands with a toddler.
Upon arrival in Manila (we hail from Cebu, in case you didn't know that yet), we immediately set off on a journey to Alaminos City, Pangasinan.
We are a slightly cheap family and love to go backpacking so even if we lugged around our 12kg backpack and a huge backpack carrier, we took the public transportation anyway. We went through this decision carefully because Manila had a bad reputation – we didn't want to be ripped off of our limited budget riding taxis.
How to Get to Alaminos City from NAIA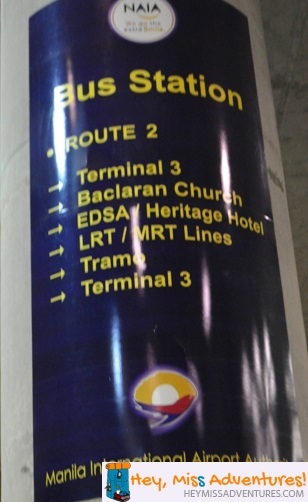 1) Avoid the taxis by taking the airport shuttle. These shuttles pass by right outside the airport building – ask the tourist police where the Route 2 terminal is located. Fare is PHP 20 per head.
2) Drop off at the Baclaran stop then take the MRT from Taft to Araneta Center-Cubao. Fare is PHP 24 each.
3) From the MRT Araneta Center-Cubao Station, ask around for directions to the Victory Liner Bus Terminal. It should be around a 5-10 minutes walk from there. Those we asked around told us to take a ride to get there but we wanted to avoid the traffic and find traveling by foot a more precise way to get there.
4) At the Victory Liner Bus Terminal, take a bus going to Alaminos. Fare is PHP 393 each.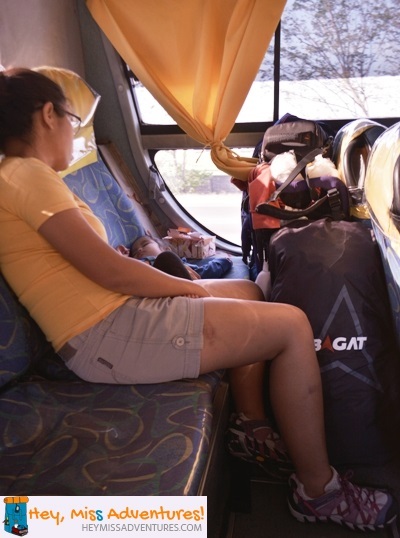 Getting to Lucap Wharf from Alaminos City
Finding your way towards the drop-off point to Hundred Islands, from the Victory Liner Bus Terminal in Alaminos, is fairly easy. Plus, there are a lot of tricycle drivers who would immediately go after you upon arrival. The fare to Lucap Wharf from Alaminos drop-off is probably around PHP 15 but we hired the whole tricycle for PHP 70.
Warning: Some drivers can be very insistent. Ours made us try to stay in a transient house even if we told him we wanted to camp out at Hundred Islands. Make sure you know what you really want or you could get ripped off.
Getting to Hundred Islands in Alaminos City, Pangasinan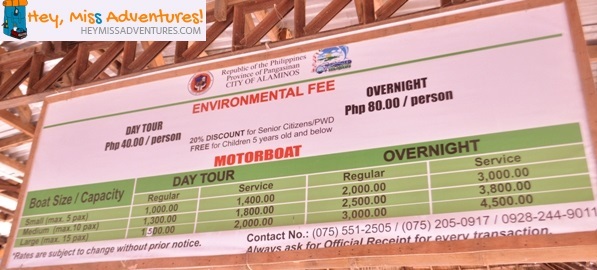 We suggest heading directly to the tourist office right in front of Lucap Wharf if you want to avoid delays and high prices. Although some transient houses do offer boat tours to Hundred Islands, they be such a waste of time and money especially if you are not actually staying with them.
Boats come in three sizes – small, medium and large – but during that time, small boats were not allowed to sail due to the very strong winds. Just in case you come to Alaminos in the same situation that we did, make sure to waterproof your packs and yourself and prepare for a roller coaster ride to the islands. We paid PHP2500 for a medium boat that could have accommodated more than 10 people.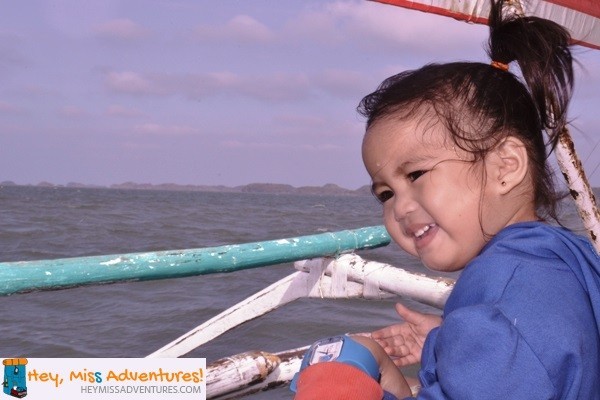 Camping at Hundred Islands, Pangasinan
We love camping with our toddler. Not only is it a big money saver, it also gives us the chance to bond and provide a unique experience to our daughter.
We decided to camp out at Quezon Island, which is one of the three most visited among the cluster of islands there. We were not able to take as many pictures as we would have wanted but the island did have a huge statue of Manuel L. Quezon, the second president of the Philippines, from whom the island was named after.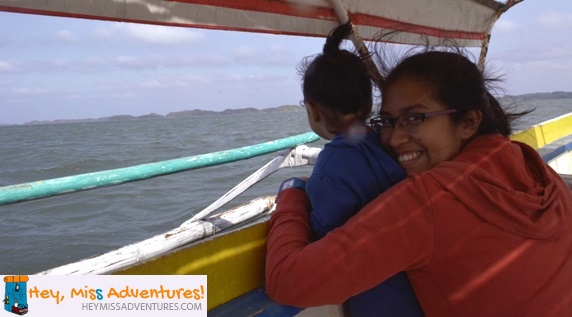 Feeling intimidated about camping with kids? Or camping in general? Well, you do not have to worry about that since the three main islands in the cluster have infrastructures put up (yes, sadly) to make guests comfortable. They have tables and chairs, water, a comfort room and even a canteen at the second floor. There is electricity at night but it can easily run out since they are just solar powered.
In one of our camping trips in Cebu, the three of us slept as early as 7pm. However, at Hundred Islands, we slept at around 5:30pm. We were that exhausted. Haha.
Sightseeing and Boat Tours
Our boat fee was slightly expensive also because we had to ask them to come back for us the next day. Anyway, I had been excited about seeing the other islands that next day but because we were on a limited budget, we were only given a short tour to two other islands – Governor's Island and Children's Island.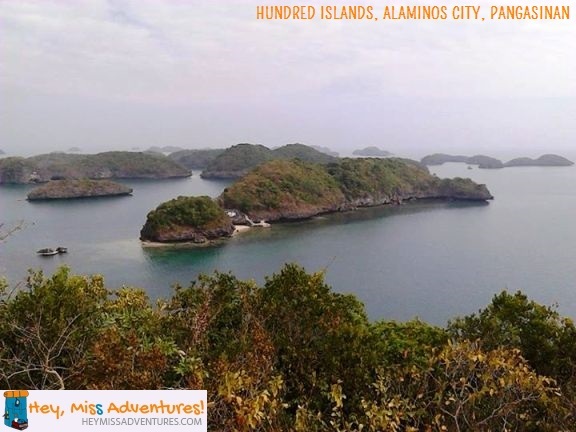 It was a short, sad trip. While we paid for their services, it did not feel quite right to have the boatmen wait for us while we sat and did nothing by the shore. We stayed about 20 minutes at Children's Island (the water was also too cold and too low for a dip – thus making it ideal for children – so we did not stay long).
Governor's Island offered one of the best views of the entire island cluster. I forgot how many steps it took for us to get to this viewing deck but it was definitely worth it, even with the heat of the sun. After some pictures, we took off and called it a day.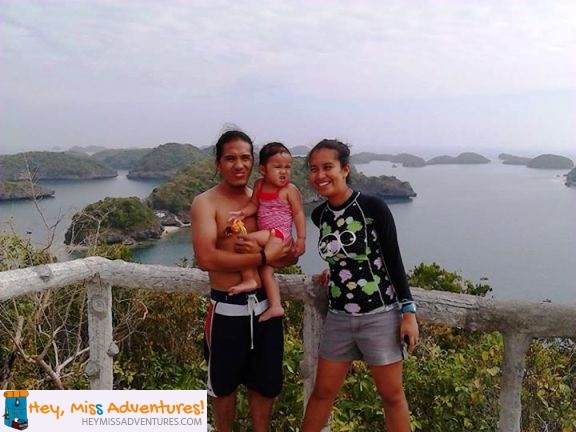 I guess all I really wanted was a nice long bath which, thankfully, was answered through the public bath right at Lucap Wharf. Each person is charged PHP 10 per bath (toddler was free of charge, of course).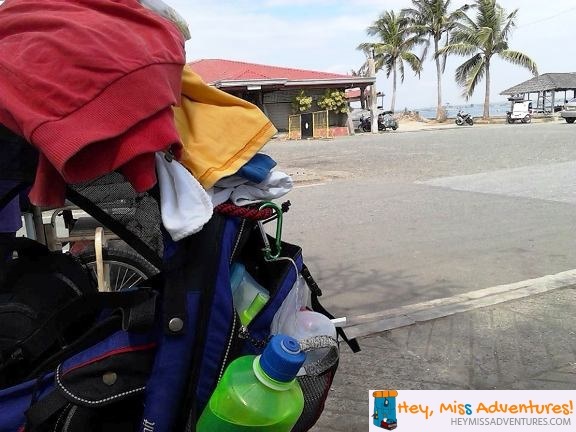 Hundred Islands Tour Expense Summary
NAIA to Baclaran: PHP 20 each
MRT (Taft to Araneta-Cubao): PHP 24 each
Victory Liner Bus to Alaminos: PHP 393 each
Tricycle to Lucap Wharf: PHP 70 each (can vary depending on your haggling skills)
Hundred Islands Boat Rental: PHP 2500 for medium boat
Tent Space: PHP 200 per tent
Environmental Fees: PHP 80 each
Total Expense per Person: PHP 587 (not including boat and tent expenses, food)
Total Family Expense for Overnight Camping at Hundred Islands: PHP 3874 (not including food)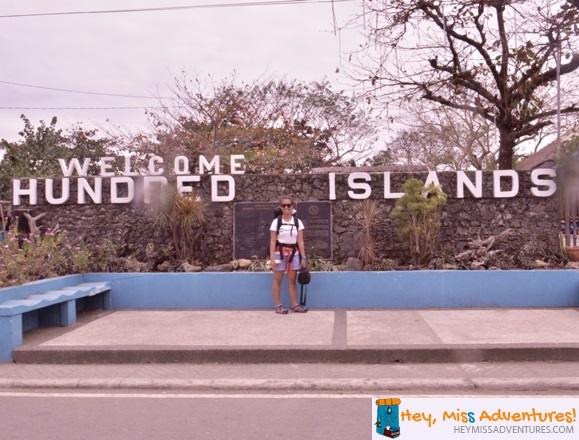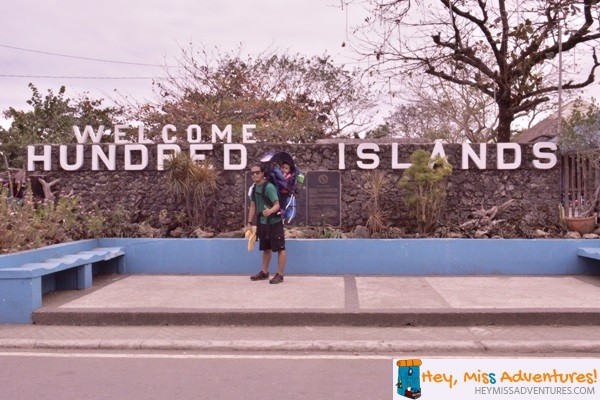 PS. Do you remember that house where Kim and Gerald stayed at during the last phase of their PBB House stay? That house was in fact located in Governor's Island and can be rented for just PHP 10k a day (you get full access to the entire house with kitchen and it doesn't matter how many you are).
Where we're going next: Mount Pinatubo, Zambales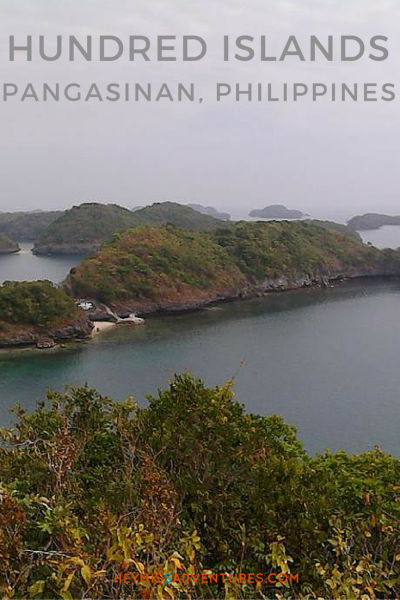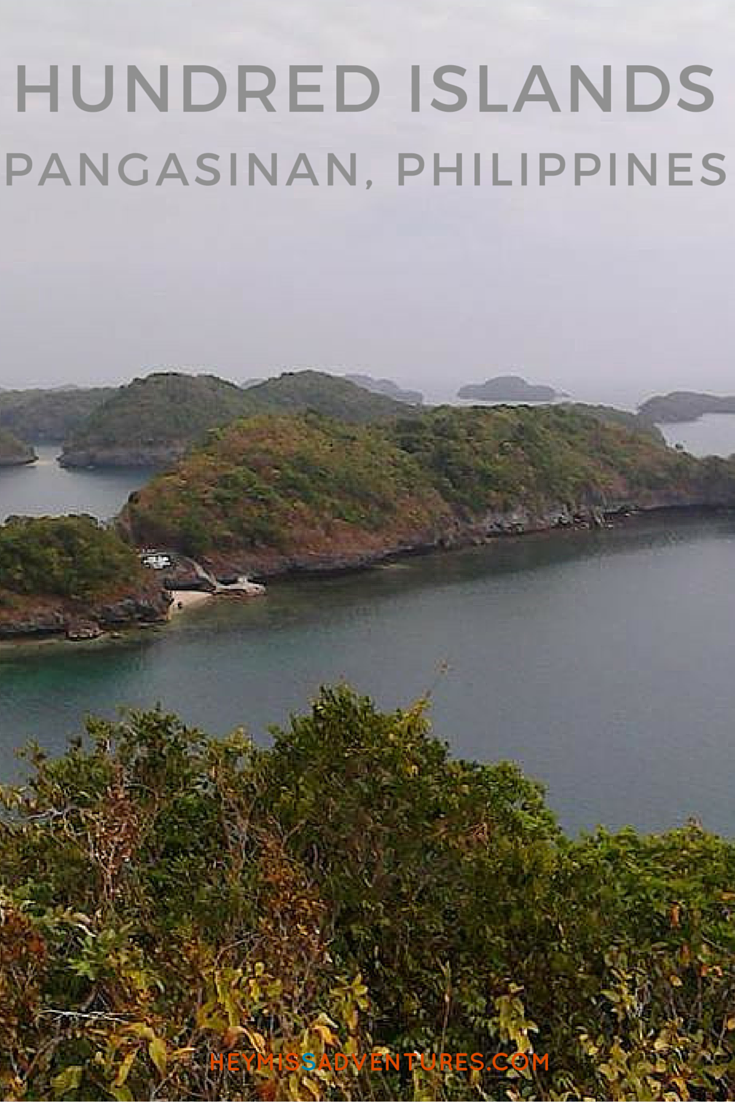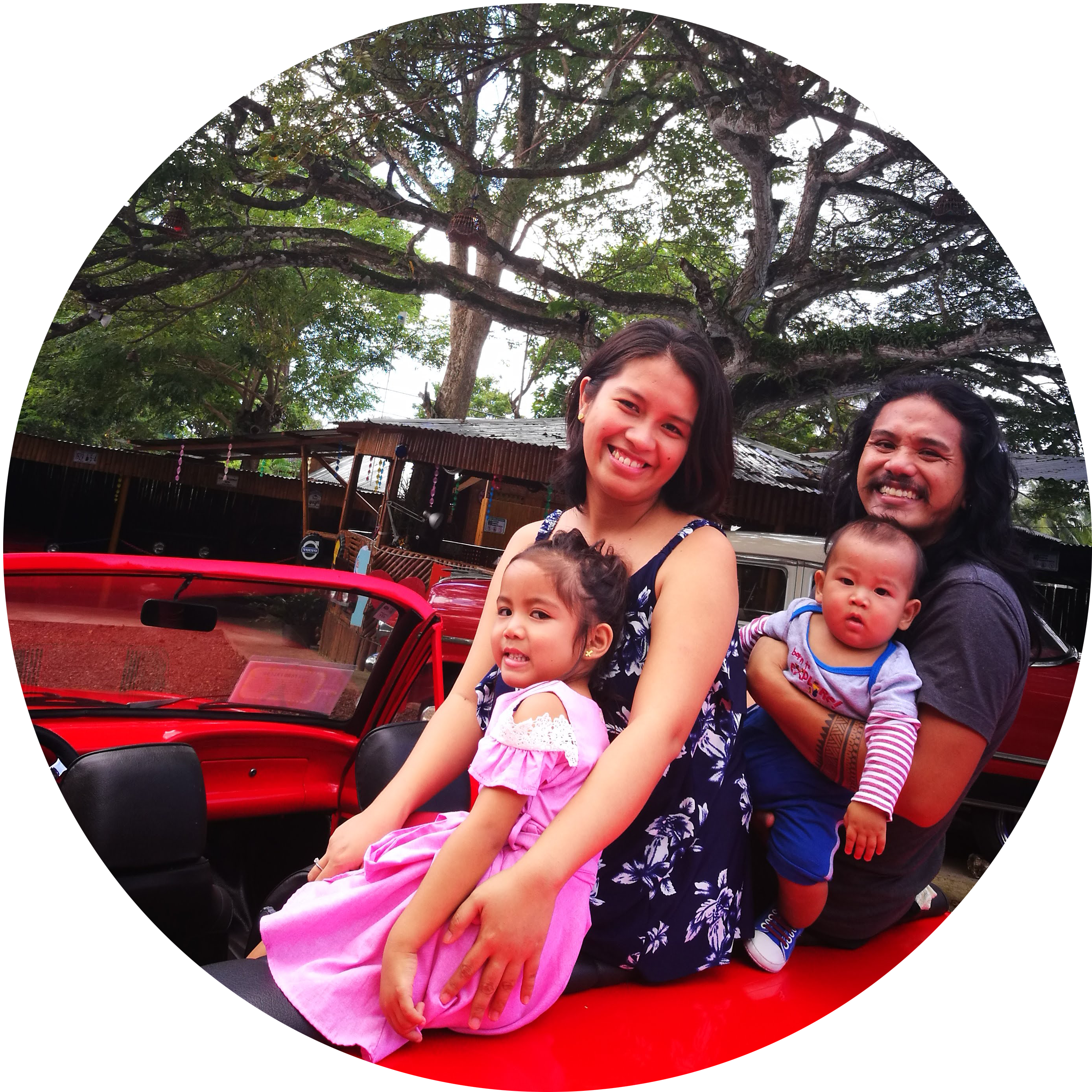 Oh, hello there!
Pam is an outdoors-loving millennial momma who loves to hike, trek and camp in the beaches and mountains with her partner and their kiddos. When not exploring the great outdoors, she works with bloggers, coaches and solopreneurs to free up their time so they can work on the things that they love and enjoy the most.