Weekend Escape: Overnight Camping at Santiago Beach, Camotes Island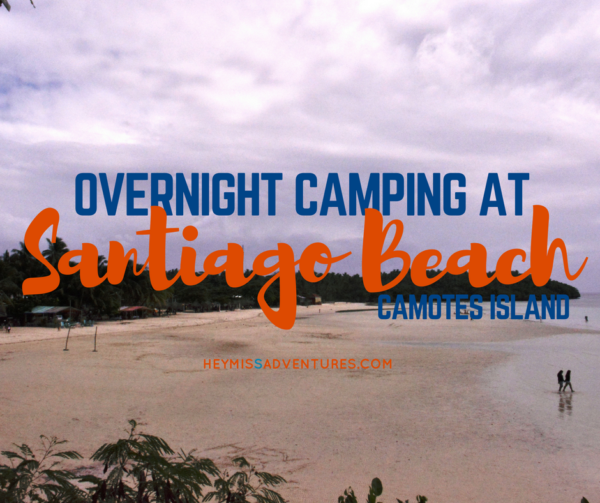 If you follow me at this site's Facebook page (you really should!) or are friends with me over at my personal Facebook account, you probably would have noticed my frustration about going to Camotes.
You see, for weeks since December, the partner and I have tried to look forward to a weekend at this small island, only to find out that it starts to rain cats and dogs on Fridays and does not get any better until Sunday. Senyang even happened.
But, alas, when you least expect it, what you want to happen just starts to unfold on its own. Although the weather was not sunny two weekends ago, we decided to give it a go anyway. Thankfully, it did not pour so much although there were drizzles on our way to Camotes.
How to Get to Santiago Beach, Camotes Island 
Getting to Camotes Island is fairly easy – and cheap, too. 
You get there by boat (no airport on the tiny island) and have three options: via Danao, via Ouano Wharf (although I heard this option is no longer available) or via the Cebu City Port. We took the Danao route since it was nearest our place. 
Step 1: Getting from Mandaue City to Danao takes around an hour of travel by bus and a fare of ₱40 (~US$0.90) each for the non-airconditioned ones. You can add about an hour to your travel time if you get to Danao from Cebu City.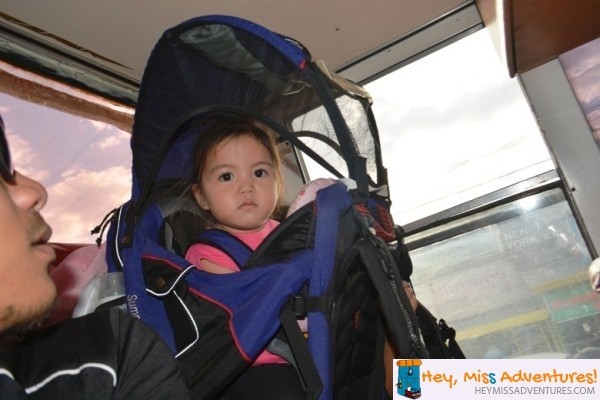 Step 2: Make sure to tell the driver to drop you off at the Danao Port, a few minutes from Mitsumi. Don't worry, this is just along the highway and is pretty visible from the road.
Step 3: The RORO line that transports passengers from Danao to Consuelo, Camotes and vice versa is managed by Jomalia Shipping. Boat schedules from Danao are: 5:30AM, 8:30AM, 10:00AM, 12:00PM and 5:30PM. They also have 9:30PM schedules on the weekend. (I think schedules vary depending on the demand.) From Consuelo, you can take the boat at any of these times: 5:30AM, 9:00AM, 12:30PM, 2:00PM and 4:00PM.
Fare is ₱180 (~US$4) each with a ₱5 (~US$0.11) terminal fee. Be prepared for a rough journey ahead and make sure you have taken your meds for seasickness. 
Step 4: It takes around two hours to get to Consuelo, Camotes Island from Danao. Finding transportation to get to your destination is very easy since there are a lot of motorcycles lined up right outside the port gates. You can hire one (we paid ₱50 (~US$1) each to get to our destination about 20 minutes away) or you can also rent one for ₱500 (~US$11) for the entire day.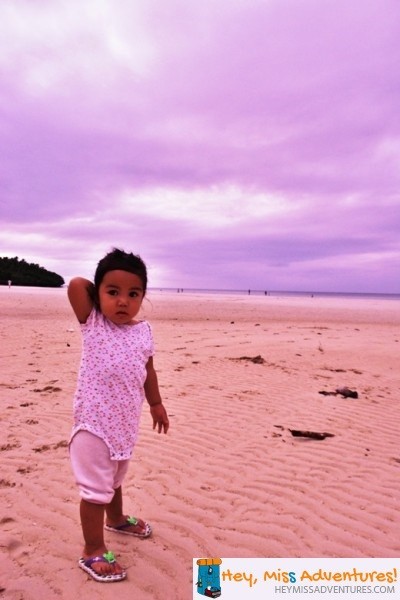 Staying in Santiago Beach, Camotes Island
There are a whole lot of options in terms of accommodation in Camotes Island. But, because we love to backpack and rough it out, we took the cheapest and most adventurous option of all: camping.
Santiago Beach is available to the public and allows anyone to set up camp by the beach. According to what I heard, you only need to pay ₱5 (this is unconfirmed though) should you decide to pitch your tent at the public beach.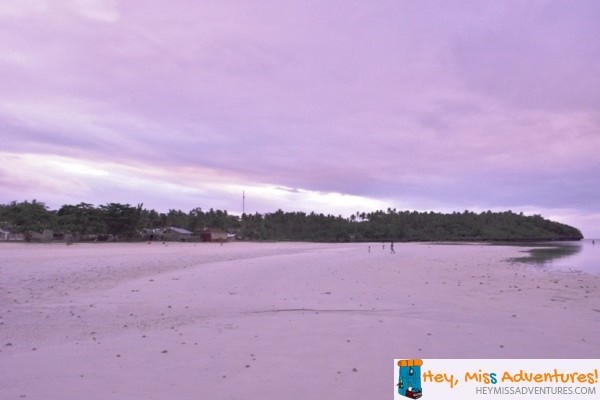 We wanted some more security though so we opted to stay by the beachfront of the first restaurant that we got into in Santiago Beach. We paid ₱50 (~US$1) per head – no charge for our 1-year-old, thankfully – which is a whole lot cheaper compared to the ₱800 (~US$18) for fan and ₱1,000 (~US$23) for airconditioned rooms that are available nearby. Plus, we had access to their restroom and water which is good.
If you do not have a tent with you, most resorts have ones you can rent for around ₱450 (~US$10) – and this could already accommodate around 4 to 5 people. I would suggest getting those sturdier ones especially during times when the wind is really strong.
Although we did rough it out, we lacked some preparation and did not bring food supply. Thankfully, food prices there are pretty similar to the ones in Cebu City malls but they have bigger servings. We spent around ₱150 (~US$3) for a meal of two-and-a-half persons.
Other Accommodations to Consider in Santiago Bay, Camotes Island:
Santiago Bay Garden and Resort (book via Agoda)
The Beach Lodge at Santiago, Camotes (book via AirBnB; get ₱950 travel credit when you signup using [eafl id=6665 name="AirBnB" text="AirBnB"])
What to Do in Santiago Beach
Naturally, the first thing that you do in Santiago Beach is take a dip in the cool waters! It was low tide in the morning though so we had to walk a long stretch of beach to get to the water. The partner said the water was too low to actually enjoy swimming. But, even so, it was just the perfect height for the daughter to enjoy. It was around her waist level and she enjoyed scooping up water and then pouring them back into the sea.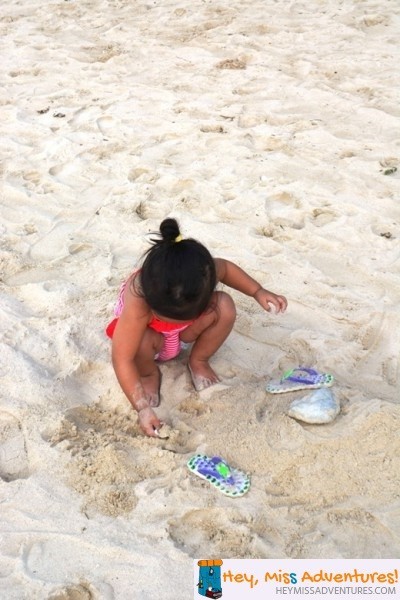 Had the water gotten to a higher level during our stay, it would have been nice to do some snorkelling, too. Still, even if we were just sitting on almost-knee-deep waters and chatting the time away, we noticed schools of fish swimming around our feet. I kept moving around because I didn't like the thought of their slippery bodies touching against my skin. It was a fun experience though because the daughter got to experience sea life up close – the water was that clear!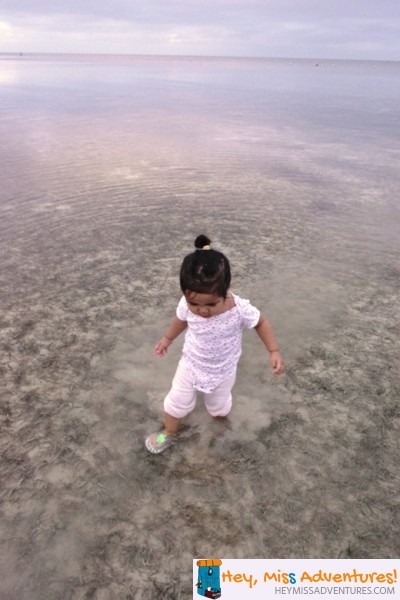 The right side of the Santiago Beach area is also a massive cliff, with beach resorts all lined up. What was good about it was that the establishments did not intrude with the beauty of the beach and there were no divisions to mark territories – the beach could easily be accessed by anyone. Plus, I think you can try out cliff diving if the water gets high enough.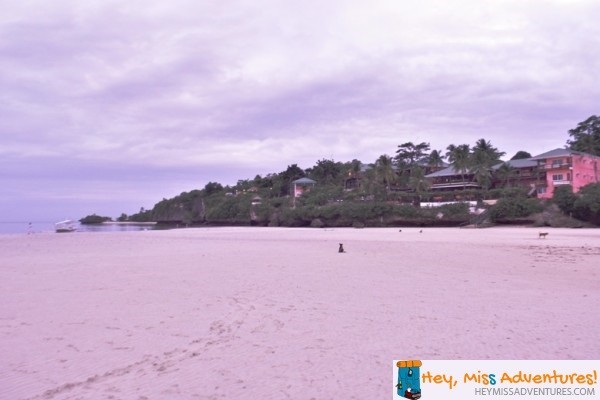 Travelling to Santiago Beach With Kids
All in all, I think that travelling to Santiago Beach or to any point in Camotes Island is not too challenging even if you have kids around. You can always rent a motorcycle or even bring your own car (you can easily bring them over through the RORO ships). The daughter loved sitting in her backpack carrier while strapped to the partner who was riding behind me in the motorcycle; it must have felt like riding in a double decker!
Looking for more beach getaways? These 34 best beaches around the world should be in your bucketlist!
But, like in any other travel, just do not forget to bring the essentials. January wind was really cold last weekend so we made sure to bring a jacket for the daughter. The beach was cold at night and even the trip to and from the island was really windy. If you decide to camp, bring in lots of water, sunblock and insect repellent, too.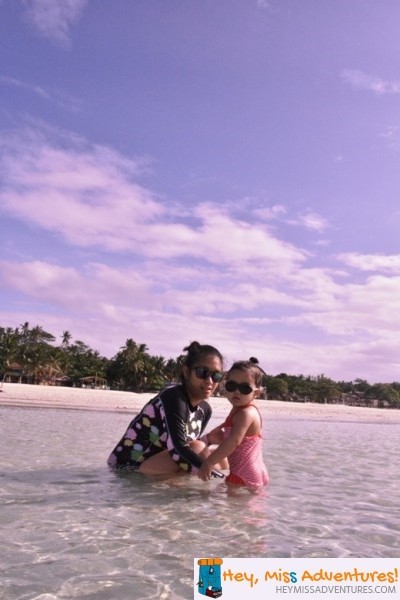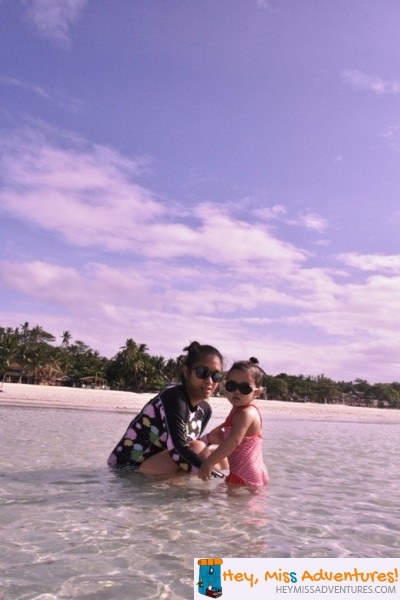 Till next time, Camotes!
I would definitely love to go back to the island (if not for the rough waters, sigh). Hopefully when we do go back, we will get to have a longer stay and maybe even a car to bring with us. Although we probably will still camp out by the beach – I swear the experience is great!
XX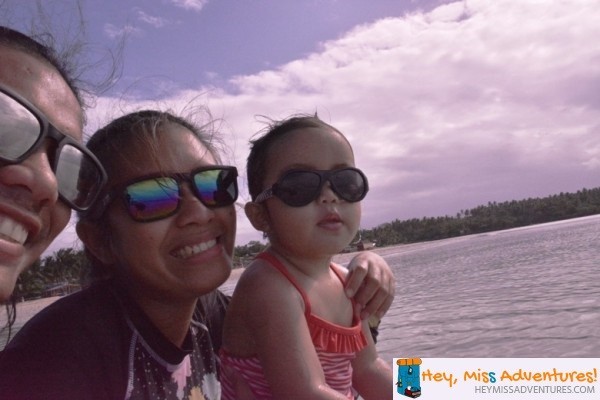 Travel to Camotes Expense Summary
Bus to Danao – ₱40 each * 2 (varies on starting point; this rate is for non-air-conditioned buses)
Boat Fare – ₱180 each * 2
Terminal Fee – ₱5 each * 2
Motorcycle to Santiago Beach – ₱50 each * 2 (you can rent one for ₱500/day)
Tent Space – ₱50 each (if you do not have a tent, you can rent one for around ₱450)
Food – ₱500 (varies; we didn't bring food to cook)
Total Individual Expense – ₱600 (not including food)
Total Family Expense for our Camotes Budget Overnight Camp – ₱1,700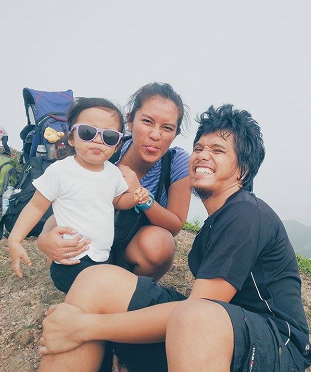 Pam
is an outdoors-loving millennial momma who loves to hike, trek and camp in the beaches and mountains with her partner and their 3-year-old daughter. When not exploring the great outdoors, she moonlights as a freelance writer specializing in the travel, parenting, personal finance and digital marketing niches. You can also follow her via social media: Facebook, Twitter, Instagram and Pinterest!