Camping Essentials: 10 Most Important Items for Outdoor Families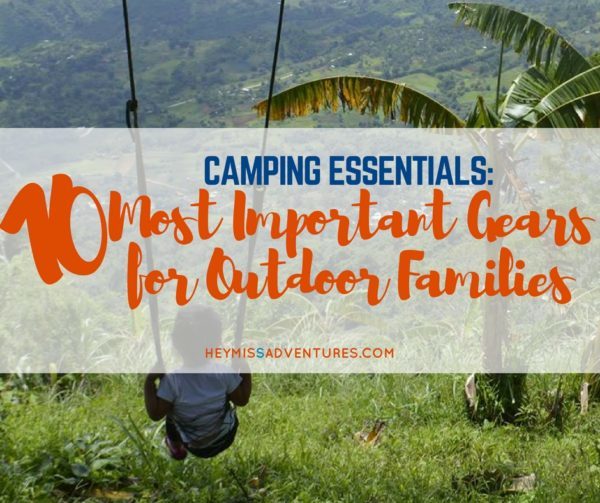 We've started hiking, camping and backpacking about two years ago, when our daughter was just a year old. Ever since we invested on a few big-ticket items, we decided to take traveling seriously so we could maximize the use of our gears.
Also read: How We Got Started as An Outdoor-Loving Family
Several people have also asked us a few pointers on what items to bring, what types of backpack to use and even what our backpack carrier is. We don't expect everyone (especially families!) to go hardcore as we sort of are but the items below are the most basic things that you will need to start a life in the outdoors.
Take note though, this isn't just for families — it's applicable for everyone!
Also, this checklist is basically what we bring when we go backpacking around the country but you can always opt to skip other items such as the tent or stove if you're more comfortable staying in a hostel or a backpackers inn.
Ready? Here are the top camping essentials we suggest for outdoor families — and individuals.
1. Tent
Our first major purchase was a sturdy outdoor tent.
My brother came home from Thailand and allowed us to borrow one of his *cheap* dome tents but we realized it wasn't the most ideal type of tent to use. We used it first on a beach and, boy, was it hot. Thankfully, my previous employer provided us with Coleman sleeping bags and we were able to use that as a mat for our baby. She slept soundly outside the tent where the sea breeze can be felt.
So, the partner and I decided to go to ROX (not recommended if you do not have discipline in your purchases) and found a 2-person Sideout Outdoor tadpole tent, which is a local company. We couldn't afford the foreign brands that costed at least ₱10,000; our brand new tent only costs ₱6,299. It's even lesser via OLX although you'd have to shoulder the shipping expenses.
2. Backpack
We are super thrifty and would opt for cheaper alternatives, as long as quality is not sacrificed. What better way to show support for local brands than by purchasing them, right?
Our current backpack, which already needs upgrading, is a 50L Sigbin from Habagat. I'm currently eyeing on a Deuter SL pack (either an Act Trail 32L* or a Futura 30L*) while the partner wants an Osprey Atmos 50L*. I think I'd want him to go even lower since we no longer need a lot of space since the both of us will be bringing our own packs.
3. Stove
For years, we used a cheap unbranded stove that my brother also brought from Thailand. It wasn't the best and, lately was not the most reliable, but it did its job. During our 22-day adventure in Eastern Mindanao, we decided to purchase a Kovea camping stove* (or you can try this local camping stove*, too) since we often cook our own food to help cut costs.
4. Sleeping Bag
We use two Coleman down sleeping bags* which work really well during the coldest and windiest nights but I think they are slightly heavier and larger than the others. If we have some extra money to spare, I'd like to upgrade to a smaller sleeping bag like this one from Lagalag*.
5. Trail Food
Forgetting your trail food is a huge no-no especially if you are hiking and camping with a baby/toddler. We don't usually go for expensive trail mixes and power bars but instead just go for local chocolate bar brands. The partner also loves packing packs of cupcakes for the little one. We basically just go for sugary stuff.
Also read: 10 Most Wanted Products for Travel Enthusiasts
6. First Aid Kit
Okay. We're not the best example when it comes to first aid kits; I'm not sure we've ever brought these back then. However, it is very important that you bring a first aid kit with you: a Band-aid, Betadine, cotton and swabs, alcohol and even a bandage. You never really know what happens along the trails. I think the only thing that we consistently bring in this list is a bottle of alcohol.
7. Shoes
When I joined the USC Mountaineering Club for a day hike back in college, I just used the regular trainers (what we locally call rubber shoes). I told my parents that I was going out for badminton when we were actually doing a river trek. The soles separated from the shoes and I ended up having to go barefoot while climbing the rocks. Honestly, I feel more secure on barefoot as I think my feet gets a better grip even on slippery surfaces.
Our current hiking shoes is a Merell Waterpro Maipo* (yes, they're couple shoes, just in different colors). We chose it because it was slightly lighter than its Columbia counterpart. Both types of shoes allowed you to wade in water without a problem — the mesh cover allowed the water to drain easily — but the Merrell shoes was cheaper by a couple hundreds.
8. Jacket
The partner still does not have a reliable jacket; he has those regular jackets which I realized were just for aesthetics because it could barely keep the cold wind out (found this out during a bus ride). The daughter has a Columbia Little Girls' Wet Reflect Jacket* as well as another down(?) jacket from Uniqlo. I was also able to buy a Columbia jacket from ROX but not sure which one it is. Both jackets are water-resistant windbreakers.
When it comes to hiking and camping (and backpacking), layering clothes is essential. We've yet to master that and also add in more outdoor apparel into our wardrobe. Think DriFit shirts, trekking pants/shorts* (I currently have one from Lagalag) and so on.
9. Headlamp
Our current headlamp is one from Energizer which I believe is the cheapest in the market when it comes to reliable headlamps. I'm eyeing on yet another headlamp but they're a little pricey at ~₱2,000. My friends also have those waterproof solar-powered lamps which are awesome for use during socials. 😉 You can try this one from Lazada.
10. Backpack Carrier
And, of course, a backpack carrier! This one is a definite must for outdoor families thinking of going hiking and camping.
You can actually use any other type of carrier (make sure to go for those that provide ample hip support for your babies) but they tend to be less breathable than the backpack versions. These carriers come with sturdy frames that will allow your kid to stay safely inside (away from twigs and branches; and they stay safe in case you fall or something) while allowing some air into your back.
Our backpack carrier is an old Kelty model which we brought secondhand via eBay US. Sadly, there are not a lot of options for backpack carriers in the Philippines. You will have to buy them brand new at ROX Manila and they cost at least ₱10,000. Ouch! Ours cost around ₱2,000 but shipping fee was around ₱4,000. We still saved, nevertheless.
Also read:  Simple Ways to Encourage Your Kids to Love the Outdoors


Whew.
Honestly, starting an outdoor life can be very expensive. The same thing also goes for any other type of hobby. If you still want to test the waters, you can always borrow from your friends but just make sure you follow keep in mind this borrowing etiquette.
What else would you add to the list? Do comment below.
---
This post is a part of a new weekly series called Inspiring Outdoors. The series, which comes out every Wednesday, aims to inspire and motivate readers to get out of their office cubicles, ditch the gadgets and explore the beauty of life outside. Go and explore the outdoors!
Want more inspiration? You can also check out #FamiliesOutside, an interview series to help encourage families to go out and explore places, near or far.
---
Disclosure: All links containing asterisks are affiliate links. Any purchases made through these links will earn us a commission – at no additional expense to you! – and will help in paying for the maintenance of this blog. Know that we only recommend products that we use and/or highly believe in. Thank you very much for your continued support!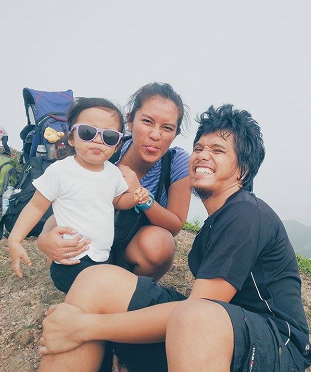 Pam is an outdoors-loving millennial momma who loves to hike, trek and camp in the beaches and mountains with her partner and their 3-year-old daughter. When not exploring the great outdoors, she moonlights as a freelance writer specializing in the travel, parenting, personal finance and digital marketing niches. You can also follow her via social media: Facebook, Twitter, Instagram and Pinterest!