Review: Kelty Summit Backpack Carrier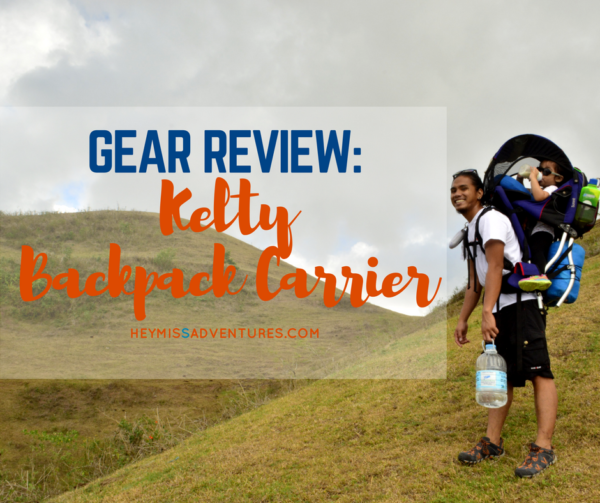 In our urban camping post, we showed you guys the first glimpse to one of our biggest outdoor equipment investment (okay, maybe next to the bag and the shoes).
We bought a Kelty backpack carrier September last year and, because we got it secondhand via eBay, it was really cheap at around ₱2,000. Compare that to the ₱10,000 retail price for brand new units!
However, the downside is that we had to get it from the US, which meant that we easily lost what we would have "saved" because of shipping charges. I was able to find a great courier though and while it took about two months before the product arrived, it meant that I did not have to pay according to the weight of the package. Whew!
Anyway, we wanted to test out our carrier first before we could make a review about it.
Kelty Summit Backpack Carrier
Our Kelty Summit is really an old model and there are a whole lot of new products that are available now.
Among those available to us, this was the perfect model as it also passed four things that we had in consideration: price, safety and comfort, availability and design.
As for the performance of the carrier itself, here's what we have to say:
Size
I was surprised to see just how big this backpack carrier was.
It truly is designed for the tall Americans and not for the short Filipinos. I did research ahead though and found out that the carrier could be adjusted to fit one's torso length, just like those technical internal frame packs. All you had to do is push a button at the back for easy sliding. Aside from the shoulder straps, you can also do this for the lumbar straps.
Roomy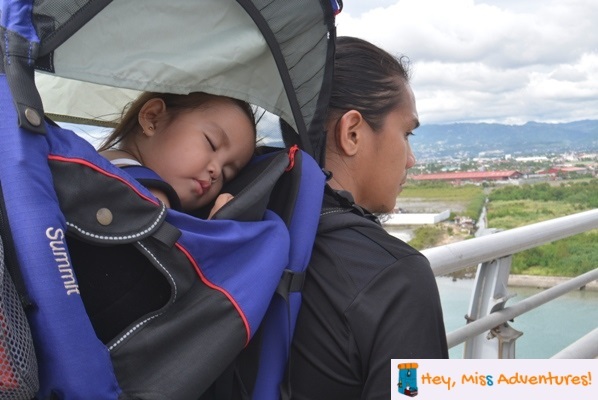 Again, because the carrier was designed for Americans, we found out that it is very roomy for our 1-year-old baby.
There are three height adjustments available so you can adjust it to the baby's height and comfort. There is a lot of room between her body and the pads that we added a small pillow that she can comfortably sleep on. Even the head room is huge so the air can easily pass through so your child does not overheat even on the warmest days.
Safety
The carrier has shoulder straps that buckles separately to the kid's waist area for safety.
Even if you did move around too much while walking, the kid stays in place and does not jiggle around too much. There are also small straps at the sides for the kid to hold on to. The carrier does not fold so even in the tightest spaces (like those with huge crowds), your baby stays safe. We tried river and forest trekking one weekend and the partner was very pleased at how safe the daughter stayed – there was no risk of getting hit my sharp rocks or thwacked by huge branches in the face.
Comfort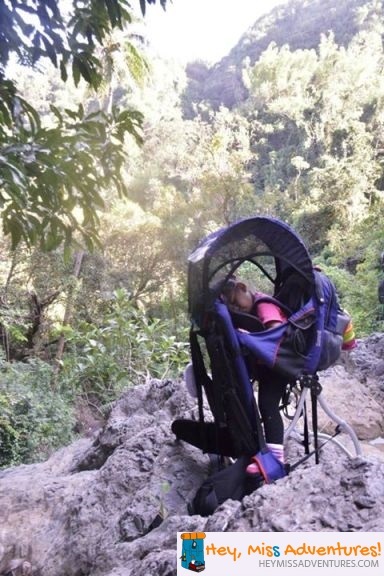 We have used our carrier many times now and so far, the daughter has had no qualms about it. I initially thought she would not like riding in it since we were not able to use it on her earlier, but we were happy that she actually loves it. In fact, she tells us "ride carrier!" almost every morning.
As for the parents' comfort – well, let me just say that the backpack can get pretty heavy with your load. However, it is easy to adjust the shoulder and lumbar straps so the weight gets evenly distributed. I am quite gifted at the back and it becomes very comfortable when the lumbar straps sit just right above my buttocks because they take the load off of my shoulders.
Plus, you can put the carrier down in case you want to take a break and the kid can stay there (while he/she is asleep). Just make sure you are around when you do that – it might topple over.
Waterproof
We tested out the carrier for a 30-minute walk on a rainy day (not that heavy but enough to get you wet) and we were glad to see how the removable cover holds up. The water just beaded up and did not go through so the daughter stayed dry the entire time. You may have to waterproof their arms and legs though since they are exposed but that is the job of the jackets and pants, right? Make sure to use them, too, when you are out in the sun and slather your kid with lots of sunblock as well. 
Our Kelty Summit Backpack Carrier In Action
Our first test drive was a 6km walk across the bridge. It was hot – but the daughter slept through it. 
We also tested it out in a camping trip to the mountains. The daughter slept about halfway through our trip to there. She woke up when I was already on my fours, trying to ascend the hill – but she was laughing probably because she thought we were playing. 
We even brought it with us during the recent Sinulog Mardi Gras and even with the rowdy crowd, the daughter slept a good 30 minutes inside. The partner even took the carrier off his back for a while – it was an advantage because the daughter continued to sleep while the partner took a rest from all the carrying.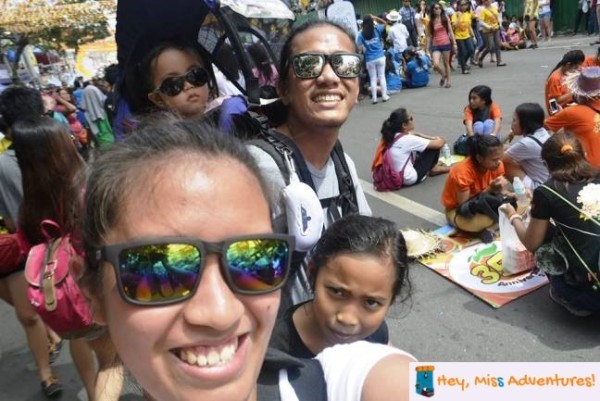 We also got to bring it with us on a
recent camping trip by the beach
. It involved riding in a motorcycle, by the way, which probably felt like sitting in a double decker for the daughter.
This backpack carrier is by no means designed for the city-loving parent (it is bulky and heavy) but rather for those parents who wish to discover the great outdoors with their kids of up to 45lbs or about 20.4kg while keeping their hands free at the same time. (The carrier can carry a load – baby + cargo – of up to 60lbs or 27.2kg. See full specs here.)
Oh yes, and we extremely love the attention that we get every time we walk around with either one of us bringing our baby inside the pack.
They notice the baby first and say how cute she is (no bias here) and how safe she is inside her pack. We do feel a lot like celebrities during those moments. Haha!
Since our Kelty Summit is already outdated, we suggest checking out these newer models instead: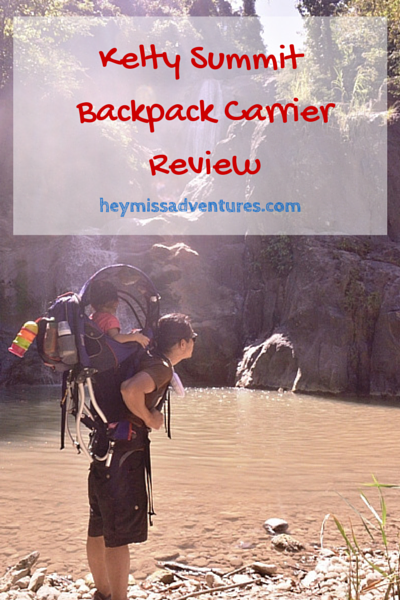 ---
Disclosure: This post may contain affiliate links. Any purchases made through these links will earn us a commission – at no additional expense to you! – and will help in paying for the maintenance of this blog. Know that we only recommend products that we use and/or highly believe in. Thank you very much for your continued support!
Pam is an outdoors-loving millennial momma who loves to hike, trek and camp in the beaches and mountains with her partner and their 3-year-old daughter. When not exploring the great outdoors, she moonlights as a freelance writer specializing in the travel, parenting, personal finance and digital marketing niches. You can also follow her via social media: Facebook, Twitter, Instagram and Pinterest!