Favorite Destinations Around the Philippines from Travel Bloggers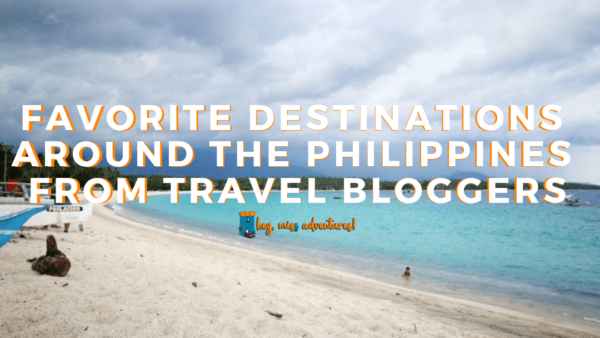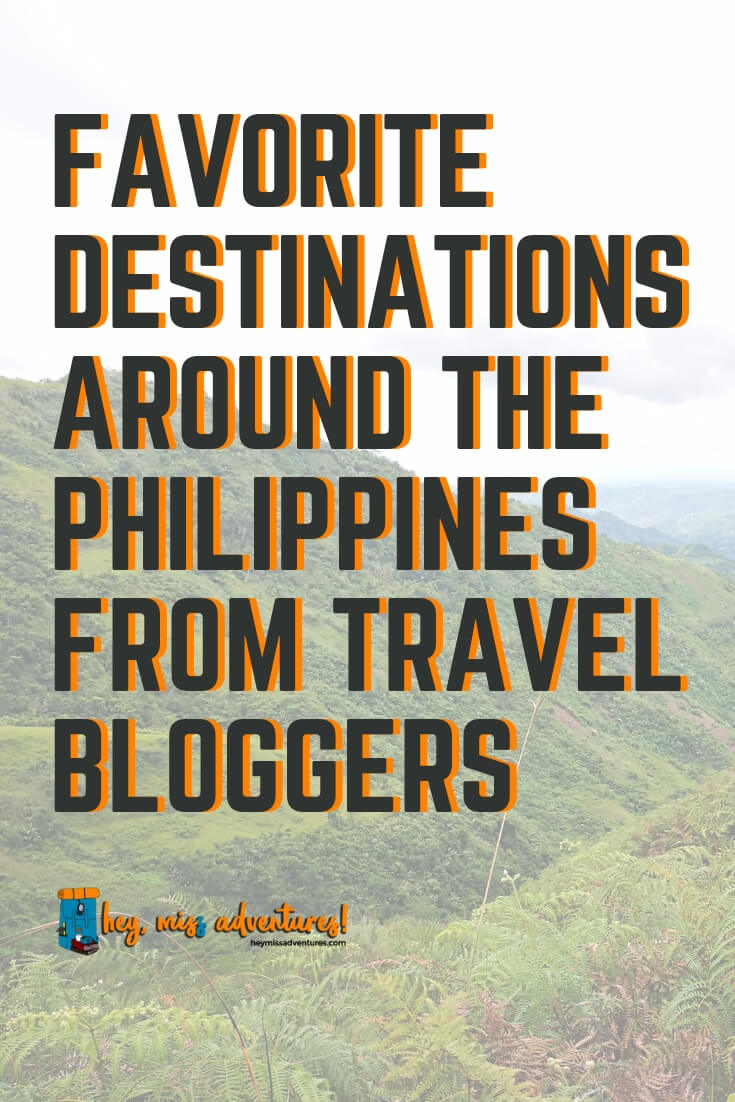 If you have to choose one place in the Philippines to travel to over and over again, which one would it be and why?
Personally, I couldn't think of one particular destination. Whenever we go and visit and new place, I always think about what we could and should do during our next visit.
We haven't visited a lot of places around the country yet but, so far, Dahican Beach in Mati, Davao Oriental is right at the very top spot in our list.
Of course, we also have a bias for Cebu, our home and the place where we are most comfortable staying in. Davao City comes in at a close second of favorite cities to live in.
We asked fellow travel bloggers who have visited the country about their favorite destination in the Philippines and here's what they've got to say.
El Nido, Palawan
Arguably one the most popular destinations in the Philippines has to be the island of Palawan and the place of choice for many is El Nido. While this spot is certainly no secret it will definitely feel like you've been plopped on your own slice of paradise. The tiny town features the regular gathering of restaurants and hotels and the town's beach is borderline average.
The real magic happens when you hop on a boat and sail away to the never-ending clusters of islands just off the coast. Insanely blue water, snorkeling with fish, and starfish littering the ocean floor are just a few of the highlights.
The islands are inundated with black jagged limestone rocks and little slivers of sand to bask on. If you're around for more than a few days taking a little trip to Nacpan and Duli will be well worth your time as well.
~ Nina Ragusa, Where in the World is Nina?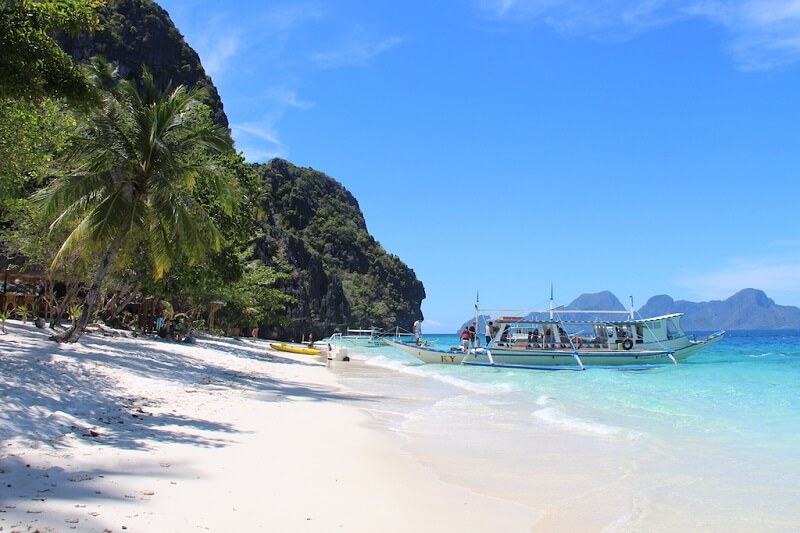 El Nido forms the northern tip of Palawan Island in the Philippines and is famous for its incredible scenery and natural beauty. With its limestone crops jutting out of crystal clear water, incredible marine life and white sand beaches, this is arguably the most beautiful place in the whole of the Philippines – if not the world!
With such stunning scenery and crystal clear water, it's all about watersports and island hopping in El Nido. Island hopping tours are the number one tourist attraction, and give you the opportunity to check out several incredible beaches in a day. Island hopping tours usually include time for kayaking, snorkeling, and beach time and include lunch.
The three famous lagoons of El Nido – Big Lagoon, Small Lagoon and Secret Lagoon all offer something different. Incredible clear water for snorkeling is the highlight of Big Lagoon, while Small Lagoon is most popular as a kayaking spot for exploring the limestone cliffs and rock formations. Kids will love the adventure of 'discovering' the Secret Lagoon by climbing through a hole in the rock wall to find a swimming hole beyond.
El Nido has some of the clearest water and most incredible marine life of anywhere in the world. The water is calm and shallow and ideal for kids to learn snorkelling. The calm waters here also make it ideal for kids to learn to kayak and stand up paddleboard.
~ Marianne Rogerson, Mum on the Move
Sagada, Mountain Province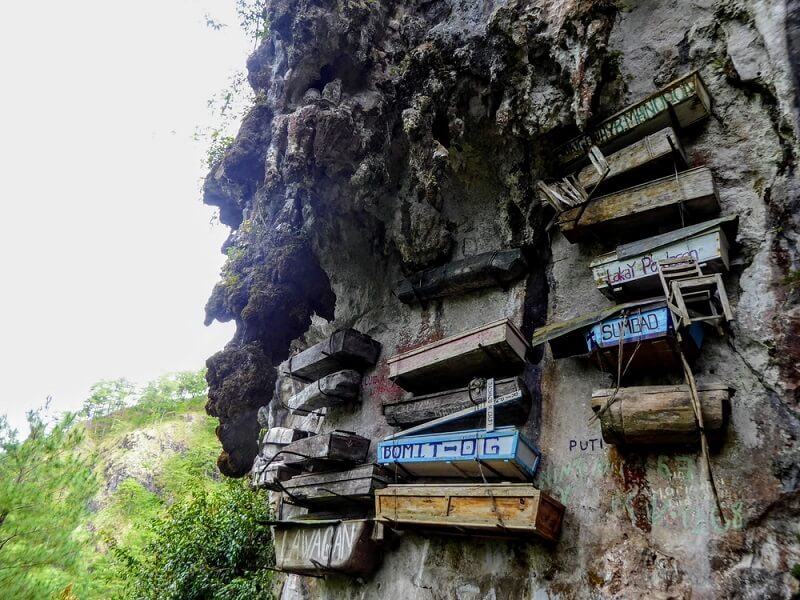 Sagada was everything I wished for and more. Famous for its hanging Coffins, the quaint hillside town of Sagada is on the tourist trail. You may wonder what the hanging coffins are? They are coffins which are attached to the rock face rather than buried. There are lots of reasons documented for this but my guide told me it is due to the Igorot indigenous culture believing that their loved ones are closer to heaven and additionally so they can look over their surviving family.
But the Hanging Coffin of Sagada are not the only reasons to visit Sagada which is in northern Luzon, Philippines. There are also many hiking trails and spectacular and scenic places to visit above and below ground. One of the highlights for me was heading underground in the Lumiang and Sumaguing Cave connection, spelunking (caving). Starting off in the burial cave of Lumiang, which is an ancient burial site for the local people, we came across a few skeletons which had fallen out their coffins due to an earthquake. We then headed down into the darkness, with no real safety equipment and spent the next two and a half hours travelling deep underground to the popular Sumaguing Cave. We can across many points of interest including different rock formations an area full of bats.
Following all our exciting adventures in Sagada, there are many places to relax and fell your bellies. The main street is filled with many places to stay and nice little eateries, you will never go hungry. I highly recommend a trip to Sagada if you are in the Philippines.
~ Kathy James, Walkabout Wanderer
San Vicente, Palawan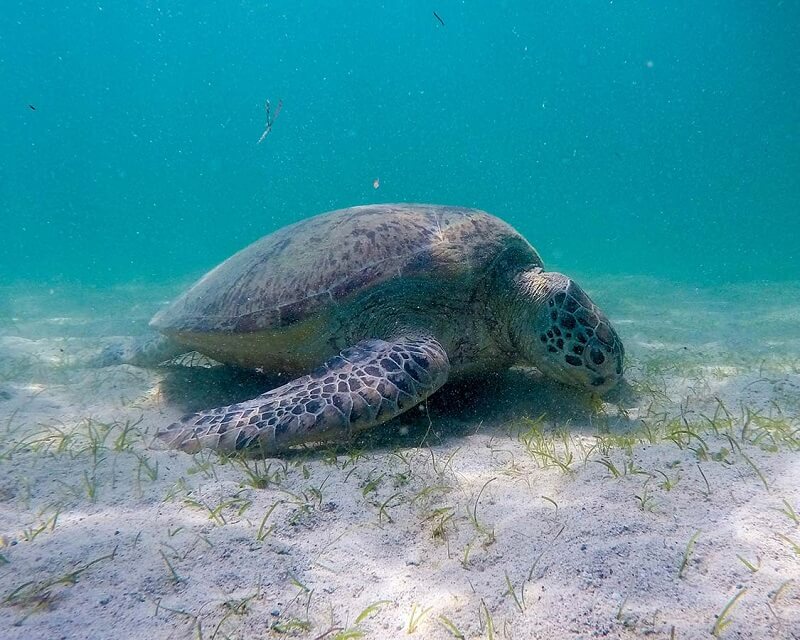 San Vicente is not on most people's radar when it comes to travel in the Philippines, but this beautiful destination, just south of El Nido in northern Palawan ranks among the most beautiful places for beach lovers in the Philippines. In fact, although Boracay gets all the hype for families, I would argue that traveling to San Vicente might be even better.
This remote region of the Palawan has quaint resorts, quiet beaches, and none of the crowds of the more famous destinations in the country. The soft sandy beaches and ocean bottoms make it one of the best places to swim with sea turtles. And if its beaches you are after, Long Beach, near Port Barton is a 14-km stretch of nearly white sand beach that may be the longest in the Philippines.
Traveling to San Vicente usually requires stops in Puerto Princesa for either a flight or 4-hour drive to Port Barton. But once you are there, it's just a short 45-minute boat ride across the water to one of the hidden secrets of Palawan. While you're here make sure to go on an island hopping adventure to experience the pristine islands of San Vicente.
Book your travels to San Vicente soon though, because as word gets out about this beautiful region, it won't be long before it becomes as popular as Boracay.
~ Kevin Wagar, Wandering Wagars
Bantayan Island, Cebu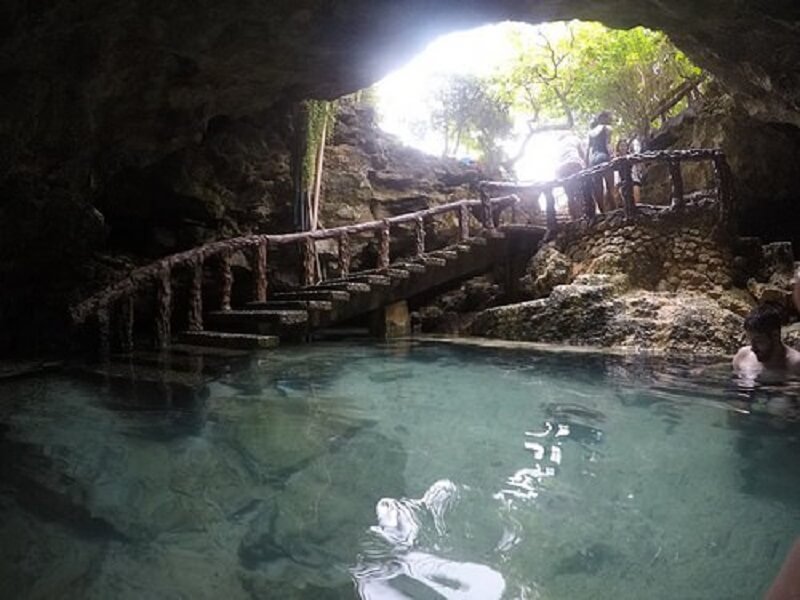 I consider Bantayan Island as the best travel destination where my wife and I have been to in the last three years.
We went here last April 2017, our last major travel before we had a baby. Bantayan Island is a little piece of paradise. The sheer simplicity of life in this island is magnetic; it would make you rethink of going back to your old life in the big city.
Bantayan Island, despite being a well-known tourist destination, remains charmingly rugged and unadulterated. Take for example its beaches; it's very seldom that you would encounter a large crowd, let alone noisy partying at night. You can walk along its fine shores anytime during the day and you would get to see only a handful of people strolling on the beach.
Sunsets as well as sunrises are most beautiful in Bantayan because they are so intimate. Watching the sun would make you feel as if the universe is composed of just you, the sea, and the sun.
Aside from its beaches, Bantayan Island is also home to sandbars and natural cave pools. Here, you can also find the centuries-old Sts. Peter and Paul Church. And further into Madridejos town, there is an old fort that history buffs may want to visit.
Being surrounded by the Visayan Sea, seafood is abundant in Bantayan Island. You can feast on crabs, shrimps, fish, and scallops, and still not worry about your budget.
Bantayan Island is for those who want to travel slow and take time out to just behold the beauty of nature.
~ Ivan Jose, Ivan Khris Travels
Cebu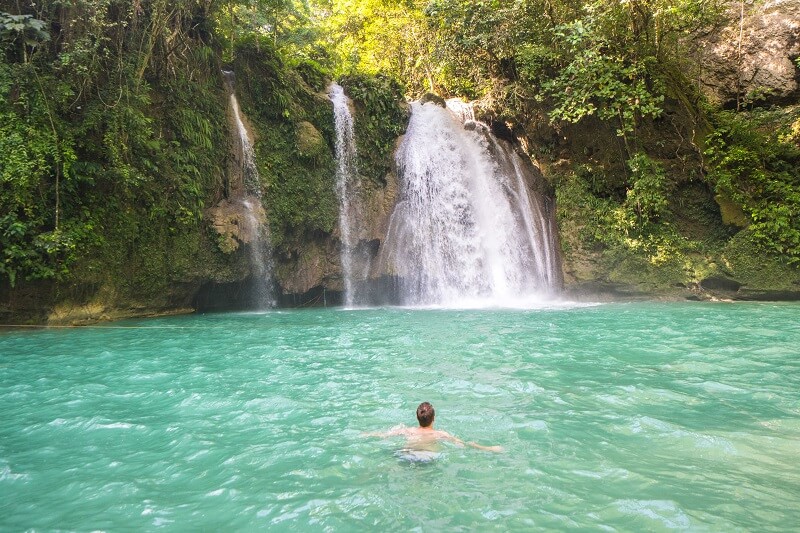 Cebu Island one of our favorite destinations in the Philippines, as it's a particularly great spot for nature lovers. Visiting the island gives you the chance to witness the incredible sardine run in Moalboal, as well as see some of the most stunning waterfalls in the Philippines.
The sardine run in Moalboal is a truly amazing spectacle. Millions and millions of sardines gather just a few metres from the shore of Panagsama beach, making for an unbelievable sight. It's possible to snorkel and dive in the area to witness this extraordinary mass gathering of sardines, which has to be seen to be fully appreciated! At first we were sceptical of how impressive it would actually be, but it ended up being an unreal experience that ranks as one of our favorite activities in the Philippines!
If that's not enough to convince you to visit, then the wonderful waterfalls on the island surely will. Just a 30-40 minute drive from Moalboal lies Kawasan falls – one of the most famous waterfalls in the Philippines. The waterfall is an extremely popular spot due as you can swim in the stunning turquoise water at the base of the falls. On top of this, the island is home to more incredible waterfalls, with Aguinid falls and Tumalog falls in particular being well worthy of a visit!
With so much incredible nature to enjoy, Cebu Island really is an essential inclusion when planning an itinerary of the Philippines!
~ Sam and Natalia Ward, Something of Freedom
(Most of our content here are located in Cebu. If you are one who would love to explore hiking and camping with kids around Cebu, check out this list of beginner-friendly hikes!
Roxas City, Capiz
Roxas City is my favorite destination in the Philippines as it is low key, cheap and combines my two favorite things when travelling – beaches and fabulous food!
Roxas City is known as the "Seafood Capital of the Philippines" and it lives up to this reputation. My favorite part about Roxas is the line of seafood shacks on the beach. Here, you can choose from a large range of delicious seafood with great prices. Everything is cooked fresh and it is just delicious especially as you can eat it while watching the sunset over the beach with a beer. We never spent more than US$8 for two people which included multiple types of seafood and a beer each.
The beach itself is nice for a dip although there is some trash on the sand. There is a cheap resort, San Antonio Resort, right across the road and this gives you the chance to hang out in a nice pool.
Roxas City is just a few hours from Boracay and gives you the chance for a more local experience. I saw very few non-Filipinos here. It's easy to get to from anywhere on Panay and I highly recommend it for families.
~ David Hutchison, Paid Surveys Fanatic
Vigan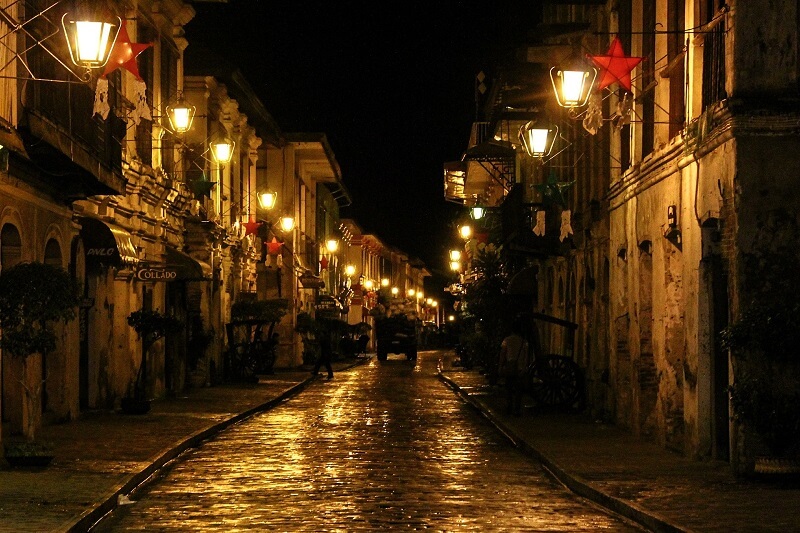 Many travellers are not aware that the Philippines was colonised by Spain if you land in Manila, there are very little things that can prove you that indeed the Spanish empire was in the Philippines for 300 years. A lot of locals will tell you to head to Vigan, one of the oldest cities in the country and is located in the north of the Philippines. Once you get here, there are many things to do that will surely make you feel like you are in one of the cities in Spain.
Taking a walk in Calle Crisologo is definitely a must not miss, this area is lined up with Spanish-style houses, roofs that are red-tiled, and windows that are capiz shell-like have been preserved all these years. You should also head to Bantay Belfry Tower, one of my favourite spots in the city. If you have no issues with heights, you should climb up the top and adore the city from the highest point. It can be a tourist at times, but if you go early in the morning, you should have a few peaceful moments. While if you are a museum type of traveller, don't miss Father Burgos Museum, Leona Florentino House, and the Crisologo Museum visiting these places will give you more understanding how Spanish culture changed the Filipinos and how the locals adapted to these changes. After a long day, don't forget to check out the small cafes and restaurants to have a quick taste of Filipino-Spanish style dishes.
~ Mary Charie, A Mary Road
Batangas
Batangas is located only 2-hour drive South of Metro Manila. The Province of Batangas is a well-known tourist destination both for families with kids and couples alike.
Batangas is a hot spot for amazing white sand beaches, luxurious resorts and a tonne of family friendly attractions and water-sport activities. And the beauty of this place is, that everything is right there, and never too far away.
Some of our favorite things to check out in Batangas and what we would strongly recommend that you put on your list are the beaches, hiking around the volcano and island hopping.
If you are after a total relaxation in a blissful paradise-style way, then you will want to check out the Anilao beaches in Mabini, Laiya beach in San Juan, Nasugbu beaches and Lian beach. These are some of the most beautiful beaches in the area. Personal tip: make sure to take your wallet here, because the cocktails are delicious there!
If you are after a bit of an adventure, then we would recommend water-sports or hiking to a Taal Volcano, the world's smallest active volcano. Yup, hearing the word "smallest" doesn't really make a difference, knowing that it is still active, right? Haha… Don't worry, there are very safe guided walking tours here to choose from.
When it comes to attractions in Batangas, I personally loved the relaxation at one of the best Batangas resorts and the island hopping the most! What better way to spend your holiday, than by relaxing with a cocktail or checking out some of the gorgeous islands?
If you join in with one of the tours, I would recommend that you go and check out the amazing beaches in Tingloy island and Verde island. And if you like a bit of history, make your way to see the Greek-inspired ruins located at the Fortune island. This is truly a sensational sight to see!
~ Andrzej Ejmont, Wanderlust Storytellers
Bohol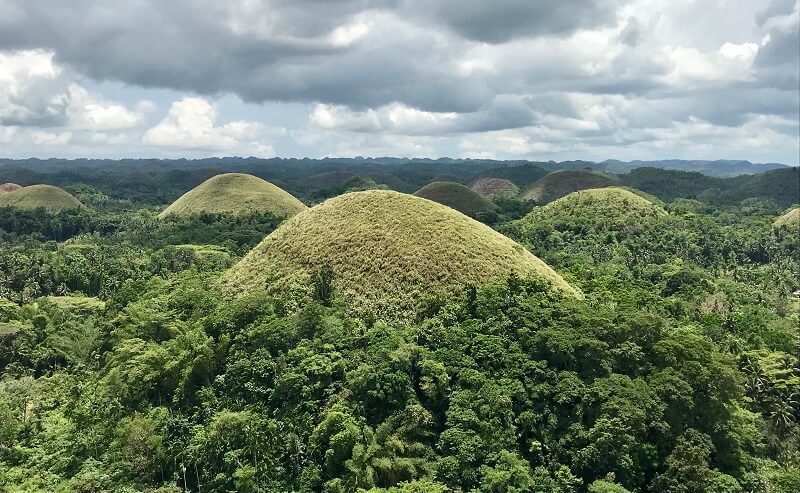 Traveling to Bohol with kids is the perfect place to enjoy a balance of the natural beauty of Philippines islands while also ticking off a few amazing bucket lists experiences. Kids are truly treasured and loved in the Philippines, which made us feel welcomed and relaxed during the whole trip. Several times they were served a fresh, sliced mango as a treat and had little thoughtful surprises shared with them at markets and cafes. The mangoes are worth the trip!
We planned a 10-day trip to Cebu and Bohol with two kids ages 7 and 10 and we found lots of activities that all of us could enjoy. I recommend taking kids to the top of the Chocolate Hills to observe the unique geographic mounds that make it look like you're in a game of Super Mario Kart! There are several outdoor eco-adventure parks that are really fun, like the Chocolate Hills Adventure Park where the whole family can go through an obstacle course and participate in challenges to overcome fears together. By far, our favorite experience was staying on the Loboc River and taking a night boat ride to see twinkling swarms of fireflies in the tops of the trees. It was a special memory to see nature's magic! Kids will also love seeing the endemic Tarsiers on the island and also snorkeling around Panglao reef and bay. A visit to the Bohol Bee Farm is also worth a visit, and not just for the excellent ice cream and souvenirs. Bohol truly has a wide diversity of activities that are easily accessible to families with kids, and we can't wait to go back.
~ Cerise Roth-Vinson, Enchanted Vagabond
Siargao
Siargao Island is one of those rare places where we're able to find all the things we love doing in one spot. From surfing the epic waves at General Luna to setting off on wild downwinders with our kitesurfing gear, the island is the perfect place to visit if you're down for some serious outdoor adventure (which I always am!).
Every year when the season peaks, Siargao becomes a hub of activity as surfers from around the world congregate to ride the waves and take part in the locally held competitions. But outside of the buzzing surf bubble in the south of the island, most of Siargao remains calm and peaceful throughout the whole year.
Of course, the island is famed for its world class waves- namely Cloud 9- but there's so much more to Siargao than just that. You can also go diving at the offshore reef, mountain biking through the palm trees, hiking on the nearby islands, stand up paddle boarding down the mangrove-lined rivers, and wakeboarding at the brand new cable park.
Stick around the General Luna area if you want the biggest selection of guest houses, resorts, restaurants, and bars. The infrastructure in this part of the island is the most developed, which makes it a shade easier for families traveling with children, or nomads who depend on decent wifi and a nice cafe to work from. But if you're looking to get stuck into some real-deal adventures, make your way to Siargao's north and explore the countryside from a local's perspective. Who knows- you may even discover a hidden surf spot just for yourself.
~ Grace Austin, Extreme Nomads
Manila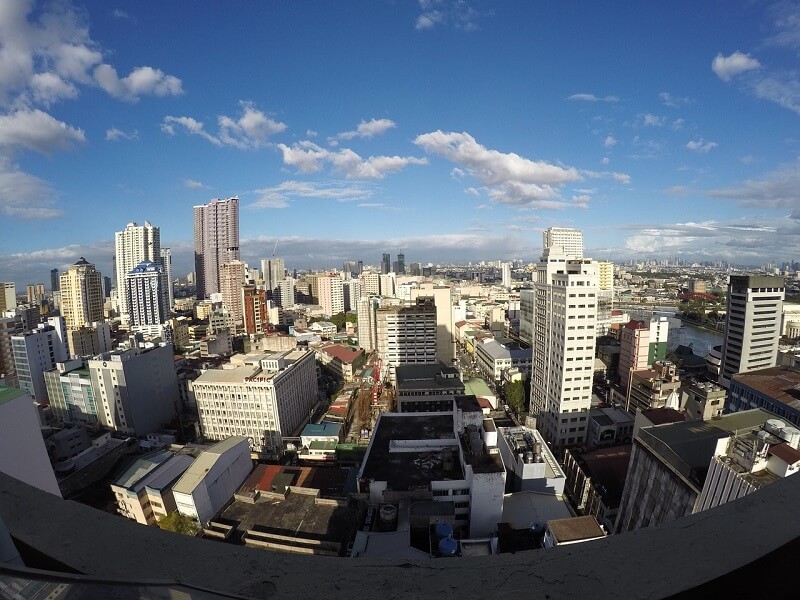 In many ways, Manila doesn't get the attention it deserves as a destination that's worthy of spending time in. Sadly, far too many travelers merely see Manila is a hub to get to other "more desirable" destinations in the Philippines.
While it's true that Manila is a very densely population city, especially by the standards of the nation overall, but that also means that Manila is always abuzz. There's always something to do in the Filipino capital. I also think that people assume there's no green space in the city, but places like Rizal Park prove that idea wrong.
The churches in Manila are also magnificent, especially places like San Agustin Church, but there are no shortage of churches in Manila which is strong bastion of Christianity. Keep in mind that the Philippines is the 5th largest Christian nation on the planet, with roughly nine in ten people identifying as Christian, so the churches of the capital reflect that devotion.
Manila is a great city to just walk around. Sure, it an be chaotic, but if you know what to expect, it can also be one of the most exciting cities in the entirety of the county. Manila is a city that can't be written off any longer as it continues to show that it deserves to be in the conversation as a city very much worthy of tourism.
~ Christopher Mitchell, Traveling Mitch
(I flew to Manila once with a baby in tow – and it was an awesome but also exhausting experience. Wondered how to survive traveling with infants and babies when you're all alone? Here are a few quick tips!)
Boracay
The Philippines has a multitude of islands to choose from for holiday destinations, probably one of the better known ones is Boracay. With white sands and picturesque blue waters, and sunsets so spectacular they will make any photography buff happy, it has been voted the number one island in the world on a number of occasions.
While Boracay's reputation as a party island is well earned, with an active nightlife, constant entertainment and cheap alcohol, there is more on offer, especially for the family travelers.
From White Beach, a 4 kilometre stretch of beach on one side of the island, there are a number of activities to keep visitors busy. Parents can relax on one of the plethora of lounge chairs in the shades of palm trees while keeping a watchful eye on the children frolicking in the water. A glass-bottom boat is a great option for a family expedition, hovering over the reefs observing seahorses and other marine life below. Chances are a local on a surfboard will paddle up to your boat, offering fresh coconuts for sale which he will cut open with a machete on his thigh and hand over to you for a small fee. Finish off the day with a sunset tour on a sailboat and watch the sky fade through scarlet hues.
For the daring, you can walk on the ocean floor in a diving helmet, parasail or fly through the water on an inflatable raft pulled behind a speeding boat. A variety of tours will take you to other parts of the small island to show you what else it has to offer.
~ Holly Kent, Globe Blogging
Baguio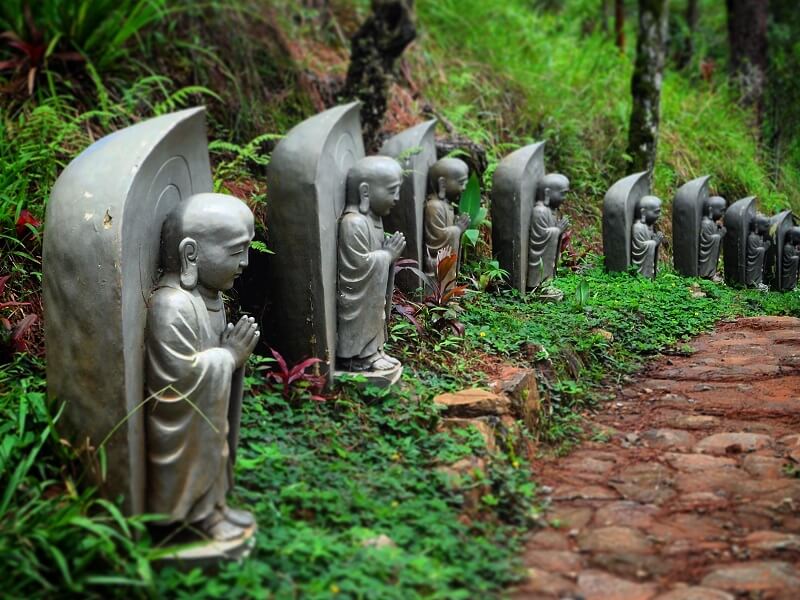 Set in the northern mountainous region of the island of Luzon, Baguio City offers families an opportunity to escape the bustle of Manila. Unlike Manila's sweltering humidity, Baguio's climate is cool and breezy. We even had to use sweaters during our visit there!
Due to its cool climate, Baguio is often known as the "Summer Capital of the Philippines." Visitors to Baguio can enjoy public parks and gardens, as well as peaceful mountain views.
Two popular parks within Baguio are Burnham Park and Centennial Park. Burnham Park is located in downtown Baguio. It has a children's playground, a rose garden, and a garden dedicated to orchids. The pond at the center of the park, known as Burnham Lake, is popular for boat rentals. We loved walking through the park and watching families play with their young children!
Centennial Park, also known as the Baguio Botanical Garden, is located on the eastern side of the city. We loved the serenity of the park, which not only houses a variety of plants and flowers, but also sculptures. The garden also houses the Japanese Tunnel, a tunnel built by the Japanese during World War II.
One of the highlights of Baguio City is Mines View Park, located on the outskirts of the city. Mines View Park is a popular picnic spot for locals, and overlooks the gold and copper mines of the town of Itogon. We loved the views, and enjoyed checking out the local souvenirs and crafts for sale at the park.
Baguio was one of our favorite cities to visit in the Philippines. We loved the laid back atmosphere, and enjoyed the respite from the heat that you often feel throughout most of the country. Baguio was definitely the perfect family getaway!
~ Astrid Vinje, The Wandering Daughter
Where Will You Be Headed?
We've been to several of the places in this list but there are still others we haven't been to, that's right on top of our list – including Baguio in the summer! 
Now we know how travel bloggers from around the globe feel about our beautiful country, the Philippines. What's there not to like about our country? (Well, okay, let's not talk about the traffic…hahaha!)
If you're planning to travel with your family around the Philippines, be sure to check out this comprehensive guide!
Hopefully this list will help you plan out a year full of fun-filled travel! See you on the road! 🙂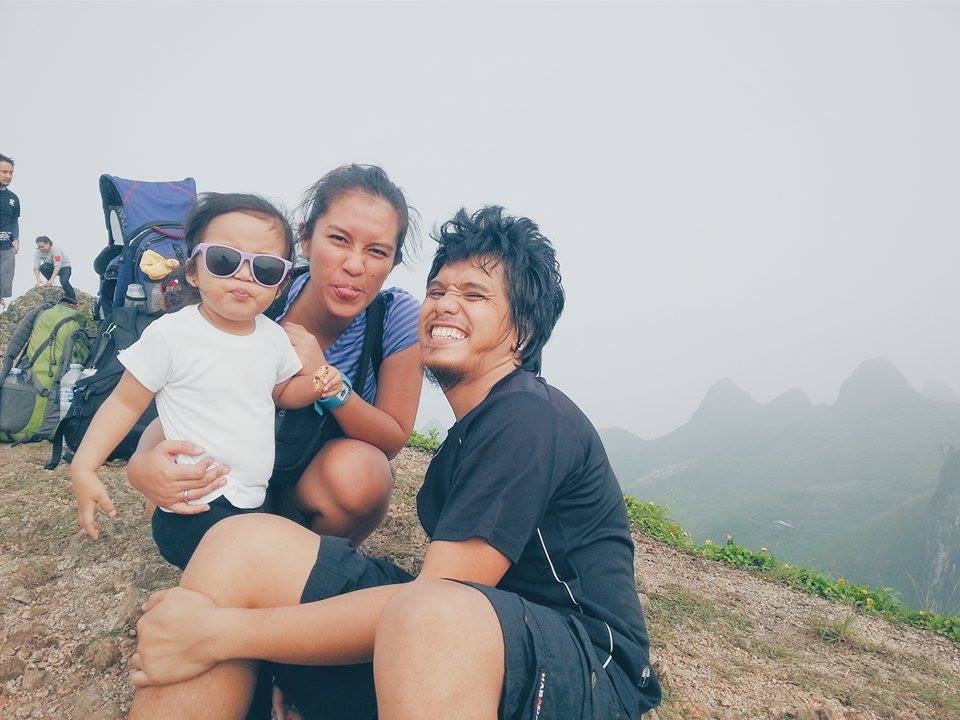 Oh, hello there!
Pam is an outdoors-loving millennial momma who loves to hike, trek and camp in the beaches and mountains with her partner and their kiddos. When not exploring the great outdoors, she works with bloggers, coaches and solopreneurs to free up their time so they can work on the things that they love and enjoy the most.