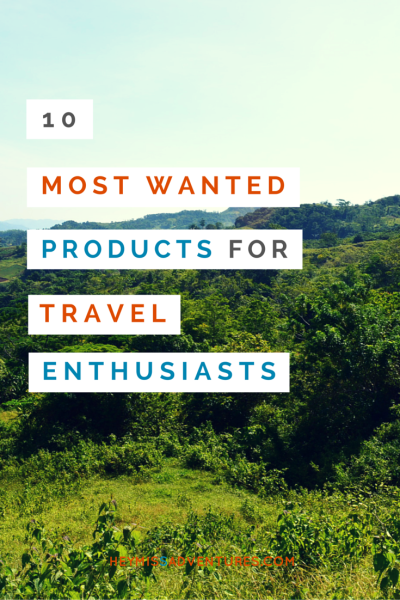 I don't consider myself a full-fledged travel blogger because that would put so much pressure on me (and we don't have the budget to cave in to that). Still, when you maintain a mostly-travel blog, there are certain things you realize you would love to have handy especially when you are up in the mountains or camping by the beach (and plugging into a power supply is not just an option, for example).
Don't get me wrong, I love unplugging and digitally detoxing when we are out but there are times when you'd love to have some extra battery juice, right?
Here's our wishlist of electronic products and accessories that we believe we should bring the next time we go out:
1 | Powerbank
[eafl id=4383 name="ASUS Powerbank – Amazon" text="Amazon"]* || [eafl id=4377 name="Powerbanks – Lazada" text="Lazada (PH)"]*
My second hand iPhone barely lasts a day and only gets me through a few hours when the WiFi is turned on. Having enough juice that will last us until we've gone home is extremely helpful because you never really know when you need to make a call or even do a quick online search about a destination (which we very rarely do).
2 | Pocket WiFi
[eafl id=4384 name="Mobile Modem – Amazon" text="Amazon (US)"]* || [eafl id=4382 name="Mobile Modem – Lazada" text="Lazada (PH)"]*
I could wait until I could get a free WiFi signal from a mall or a coffee shop until I post updates on social media and until I'm home before I publish a blog post. However, because we're digital nomads now, we find it extremely important to know that we always have something that will allow us to connect whenever we need to. Trips our great for unplugging but when you slow travel, you need to do work in between and it's great to be able to check your emails every so often.
3 | Universal Charger
[eafl id=4385 name="Universal Charger – Amazon" text="Amazon (US)"]* || [eafl id=4381 name="Universal Charger – Lazada" text="Lazada (PH)"]*
When you have a powerbank — and even if you don't — having one charger that will allow for each and every gadget you have (cellphones, camera, pocket WiFi, etc) is a huge plus. Having a gazillion electronic items (which we don't) means bringing a whole bag full of endless wires. It definitely takes a lot of time to scour through the tangle of wires and, c'mon, wouldn't it be so much better if you only had one handy item that can charge all your units?
4 | Car Charger
[eafl id=4386 name="Car Charger – Amazon" text="Amazon (US)"]* || [eafl id=4379 name="Car Charger" text="Lazada (PH)"]*
We don't have a car and we usually commute when we travel. However, once in a while, my father would drive us to my mother's province which is about 4 to 5 hours away. We went on the same trip about two weekends ago, when I was already working online. I was catching up with a deadline but didn't have the time to work on it that morning. I planned to do it on the road but I forgot to charge my pocket WiFi so no work got done and I just slept if off.
5 | Extra Batteries
[eafl id=4387 name="Nikon Camera Battery – Amazon" text="Amazon (US)"]* || [eafl id=4380 name="Batteries – Lazada" text="Lazada (PH)"]*
When you have no time to charge and just need to use up your gadget right away — like for our DSLR camera! — you simply need extra battery packs to back you up. What's a blogger without her pictures, after all? Plus, we've been feeling the need for a laptop these days because of the online nature of our work.
6 | Lightweight but Powerful Laptop
[eafl id=4388 name="Macbook Air" text="Amazon (US)"]* || [eafl id=4378 name="Laptops – Lazada" text="Lazada (PH)"]*
The last time we weighed it, the laptop I am currently using (which also belongs to my mother) is about 3kg. We certainly don't bring it during camping or anywhere that is not exactly in the city. However, we felt the need to bring luggage during our first trip as digital nomads because of the size of the laptop. Unfortunately, the models with the specs I am after is usually around the 2kg mark but we definitely would like something more that doesn't heat up too quickly and isn't too wide as well (ours has a numpad).
7 | Extra Camera Lens(es)
[eafl id=4389 name="Nikon 50mm – Amazon" text="Amazon (US)"]* || [eafl id=4374 name="Camera Lens" text="Lazada (PH)"]
This has been in the partner's wishlist for a loooong time, perhaps as soon we brought our Nikon D5200 camera. We got the kit, which included an 18-55mm lens, but he would like a few more starting with a 50mm lens to have more flexibility in his shots.
8 | Extra Memory Card(s)
[eafl id=4391 name="Sandisk Memory Card – Amazon" text="Amazon (US)"]* || [eafl id=4375 name="Memory Card" text="Lazada (PH)"]
So far, we haven't had a problem with memory but when we venture into taking videos soon, we would definitely want to have this on hand.
9 | Basic Phone with Flashlight
[eafl id=4390 name="Basic Phones – Amazon" text="Amazon (US)"]* || [eafl id=4376 name="Basic Phones" text="Lazada (PH)"]
We've been caught in the trails during the dark twice already. While we have headlamps, basic phones with flashlights are great additions because these things take a really loooong time before they run out of power. They're awesome for when you need a line that is always open for emergencies and they take a good beating so you can use them anywhere and everywhere. Plus you do not have to worry so much if it gets lost or broken because they're extremely cheap.
10 | GoPro Camera
[eafl id=4392 name="GoPro Hero 4 – Amazon" text="Amazon (US)"]* || [eafl id=4394 name="GoPro Hero 4 – Lazada" text="Lazada (PH)"]*
We can certainly make do without a GoPro camera but it's a nice thing to have when you're a travel blogger and you'd love chronicling your hikes or beach escapades, this would be neat to have…right?
XX
What other products for travel enthusiasts would you recommend?
---
---
Disclosure: This post contains affiliate links (marked with an asterisk). Any purchase/booking made through this links will earn us a commission, at no extra cost to you, which helps in the upkeep of this site. Thank you very much for your continued support!