How We Got Started as An Outdoor-Loving Family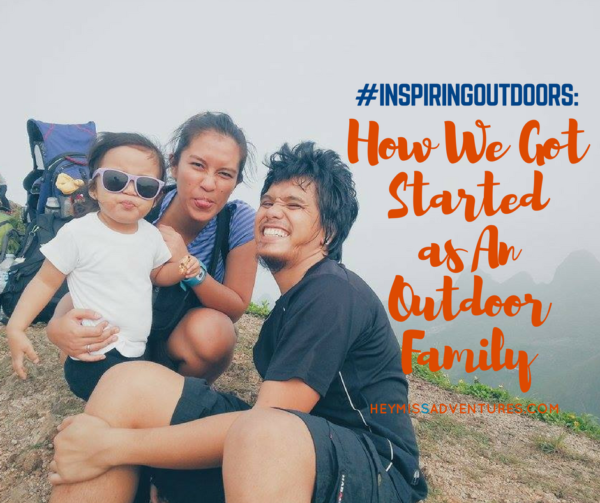 I was never the athletic type when I was younger and I don't think I still am.
Back then, I had Scrabble as my sport and I even got to compete during the school's intramurals and was even sent once to compete with other schools. Yeah, well, I was a nerd and an introvert and a *very* serious person.
The closest I got to do an actual sport was in fourth grade when I got drafted as a substitute volleyball player. Would you believe it? I couldn't either. I only really made the cut because I was one of the very few whose serve went over the net and on to the opposing team. The actual game got me really nervous; I was afraid of flying balls (our school's quadrangle is really small, just enough to fit two volleyball courts). Thankfully, I never got the chance to play but the actual game was really boring — no rally took place and each team only earned points from serving.
In high school, I was one of the boys (although technically, there weren't around since we were an all-girls high school). I would run around and played tag or hide and seek and I did that even as I got a boyfriend (yeah, I was 14 then, get over it).
Mountaineering Dreams
Fast forward to college and I became more confident with myself.
Perhaps it was also because of the influence of my then boyfriend who was very athletic? Then again, being surrounded by a lot of males (I graduated Computer Engineering; get over that, too) may have also helped boost my confidence and taught me how to play it rough.
In fact, I felt so confident that I decided to sign up to join the USC Mountaineering Club but, alas, a bf-gf team cannot join the group for obvious reasons. I guess I wasn't as confident as I thought I was because I didn't pursue with the application on my own.
Years passed and boyfriends came and went (LOL, kidding) and I finally got the boost that I wanted. I was single after a very long time and wanted a change in my life so I signed up yet again on my last year in college.
I joined a day of BMC and, after a few weeks, we were scheduled to go on our first ever minor climb. As expected, my parents didn't allow me to join and so I told them that I was not joining the night before the climb. I was so dead set on becoming a true-blue mountaineer, I even joined the pre-climb meetup.
Also read: 13 Must-Visit Mountain Peaks and Camp Sites in Cebu
Sigh. I had been a frustrated mountaineer since then.
The Opportunity Comes!
And then fast forward…I had my little one and, somehow, my partner's and my brain were focused on the same goals: to travel and to explore the outdoors.
I wasn't really sure how that came about. The first time we roughed it out with our kid was when she was just six months old and we went to Kalanggaman Island to camp overnight. It was humid and not the most pleasant experience for us and we were thankful to our friends who allowed us to sleep in a more comfortable room later on in the night.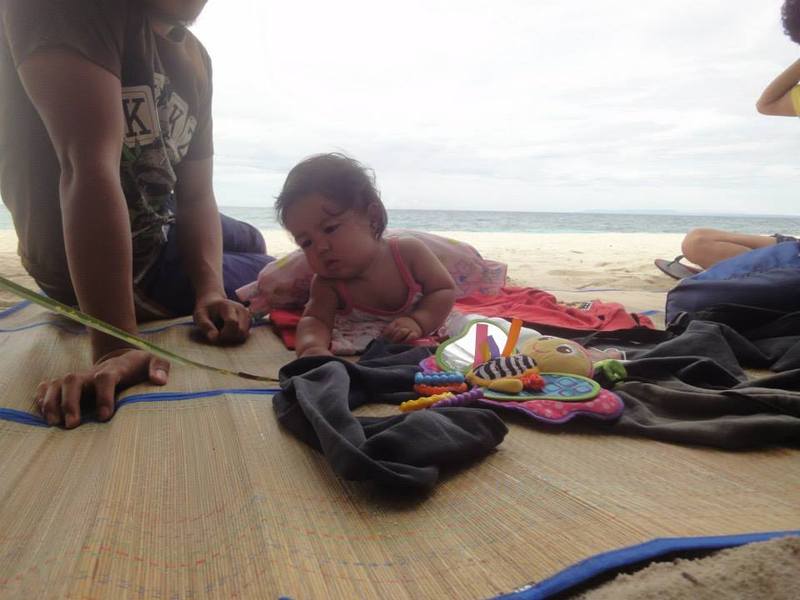 Of course, the kiddo had been out even before that. We brought her to a nearby restaurant when she was just a few weeks old and also went on our first long-distance travel to Negros Island when she was three months old.
We became more and more confident as parents to take our baby out on camping trips but no two experiences are ever the same. Sometimes, things went smoothly but there are also times when it was so horrible, I just wanted to pack up and go home.
Also read: 8 Simple Ways to Encourage Your Kids to Love the Outdoors
But somehow we still pursued it and I guess that's how hikers also are. Sure, a 10-hour climb traumatizes you but then you still get back on your feet and plan for the next climb.
One day, we decided to buy our trusted outdoor tent (we were just looking around, actually) and since we had invested a lot, we knew we had no choice but to make the most out of our purchase. Paying ₱6,000 for a gear is no joke, after all.
Thankfully, our now-constant travel buddies invited us to a camping night in Sirao Peak and I think that was the beginning of it all.
We fell in love with the experience and hungered for more.
Keeping the Passion Burning
From then on, we would go on spontaneous camping trips, both on mountains and on beaches.
We were cheapskates and didn't mind a little discomfort if it meant it would save us money. We always brought our tent with us and we could definitely say that it has given us an ROI. In fact, whenever we decide to travel, we don't book accommodations (planning itineraries make me nervous so I just give a rough estimate on the days and amount we spend on a particular place) but instead try to find if there are nearby campsites available. I honestly wish there are more campgrounds in the country.
We have since invested in two pairs of *couple* hiking shoes and a 50-liter backpack, all of which already need to be replaced. We also recently bought our cookset (finally!) and that's how we realized how awesome my partner was at cooking and budgeting for our food. Oh, and how can I forget our beautiful and iconic backpack carrier which shaved around ~₱6,000 from our pockets (₱2,000 for the secondhand product from the US and ~₱4000-₱6000 for shipping)?
Laying Low…For Now
It has been a year since we decided to quit our corporate jobs and work from home (although, we've actually switched roles). We have taken it one step at a time: we wanted to be with our kiddo and also have the chance to travel whenever and wherever we want to, Internet-permitting.
Freelancing has been awesome but it has its ups and downs. I've traded security for instability which is also the reason we have laid low in our outdoor activities. I have been living a sedentary life about 80 percent of the past year!
Our recent trip in Mindanao was a wake-up call of sorts. There, we talked about plans for the future like moving in to our new house and going on yet another long-term (indefinite?) trip around the country. We might have also talked about getting active again if we wanted to climb mountains along the way (Rizal Province is a haven).
Sometimes, I feel like a fraud not being able to travel or climb mountains as much as we did last year but life happens and we just have to deal with it. The partner and I like to think about it as a "preparation" for a much bigger trip.
What's Your Story?
It has been a long time since I actually wrote and told stories on the blog thus this very long post.
Now, over to you: how did you start about becoming an outdoor person? Or…do you ever wish to be one? Which places do you wish to visit?
Me? I don't think I will ever be able to climb Everest, not even base camp, but my biggest dreams include climbing the highest mountains in the country and walking the Pacific Crest Trail or the Appalachian Trail (these two can take around 4 to 7 months so it needs a lot of preparation in terms of money and stamina).
---
This post is a part of a new weekly series called Inspiring Outdoors. The series, which comes out every Wednesday, aims to inspire and motivate readers to get out of their office cubicles, ditch the gadgets and explore the beauty of life outside. Go and explore the outdoors!
Want more inspiration? You can also check out #FamiliesOutside, an interview series to help encourage families to go out and explore places, near or far.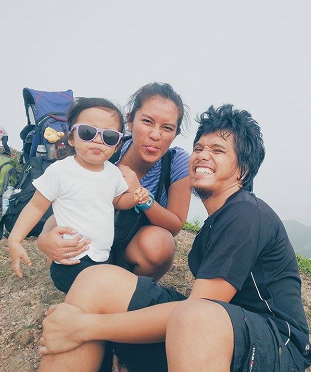 Pam is an outdoors-loving millennial momma who loves to hike, trek and camp in the beaches and mountains with her partner and their 3-year-old daughter. When not exploring the great outdoors, she moonlights as a freelance writer specializing in the travel, parenting, personal finance and digital marketing niches. You can also follow her via social media: Facebook, Twitter, Instagram and Pinterest!