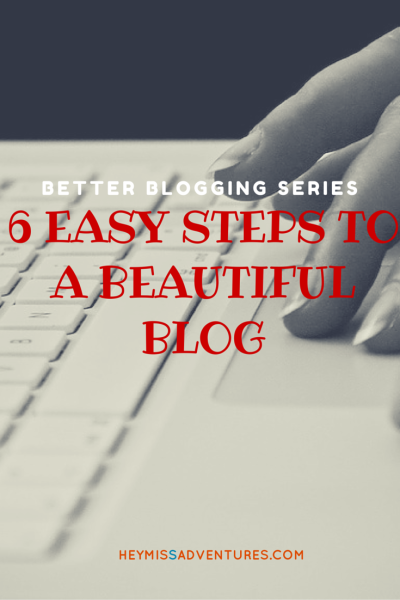 Hey, everyone!
I know the sequel to this post series has long been overdue but here it is – finally!
So, now that you have started a blog in five very simple steps, the next step is to get it as aesthetically good-looking as possible (hey, content is STILL king but we'll talk about that in another post). Your blog layout, after all, is the first thing that potential regular readers will be seeing so you want to make sure that it is not an eye sore – right?
While a reader may have stumbled upon your blog looking for a particular information, having an eye-candy blog will help it stand out and will give you a better chance of getting your readers to come back.
Here are the top six places you should improve on your blog to make it look beautiful:
1) HEADERS
The header is among the first components in your blog that gets seen first (unless there is a # URL encoding reference but that's another story) so you have to make sure that it stands out so your reader takes notice of it and remembers it.
Headers should have your blog's name in them as well as a tagline, if you have one (I have yet to decide if I should also include my blog's tagline in my header). Logos are also best incorporated in your header but they are also optional if you have a beautifully designed blog name that can pass as the logo.
2) MENUS and CATEGORIES
Ideally, menus and categories should also be found at the top of your site, just below the header, to give your readers access to easy navigation. You certainly don't want them to spend minutes looking for a way to get to a particular page or category on your blog – right? Besides, about 55% of website visitors spend less than 15 seconds on a site. You would want to make sure that you make the most of those first few seconds my giving them what they need and giving them directions to the right places, too.
3) COLORS + TYPOGRAPHY
Colors and typography are very important in any website. Use too many of these two and your site will look like a jumbled mess. Use too few and your site will become dull and boring. Also, the right combinations are very important if you want to achieve that beautiful yet professional-looking website that will lead your readers to think of you being an expert on the particular niche that your blog is talking about.
4) SIDEBARS
Minimalist bloggers think sidebars just add clutter to a site but they don't necessarily do that if used wisely. Just make sure that your sidebar has the most basic elements it needs: an about + social media section, popular/recent posts section, subscribe section and perhaps a few advertisements and/or sponsor banners. Make sure to create a clear distinction among these sections by creating a uniform sidebar section header that stands out.
While you can certainly use your blog sidebars to put in social media feeds, I find them annoying and just adds to the clutter.
5) FOOTERS
If you really want to put in a social media feed – maybe one or two but not more! – then you can have them in this section of your site. Currently, I have my instagram feeds at the third column in my footer. If you would like to highlight your photography, this is the best way to do it. If you are into DIY projects, perhaps showcasing your Pinterest boards here would help you gain more exposure, too.
Footers can also have a subscription section (again!) as well as banners for your affiliations, disclosure statements, archives and social media links.
6) ABOUT ME PAGE
I don't really visit a site's about me page unless I become really interested with a blog (homeschool blogs, women travel bloggers, family travel bloggers from/in the Philippines). But, just in case you do get a few of your readers genuinely interested in you, you have to make sure you are prepared – right?
Your About Me page is basically the soul to your blog and you have to make sure that you allow your readers to get to know you better (to the point where you are comfortable sharing, of course). The About Me page should also let your readers know what you have in store for them and what you aim to accomplish if you want them to keep reading your blog.
BONUS: PHOTOGRAPHY
Who doesn't want good photography? Humans have such short attention span that they often just really look at the visuals (pictures, GIFs, infographics, graphs) and skim through the text. As such, you have to make sure that you offer them the best photography you can possibly give them.
I'm currently still learning on how to improve my photos and other visuals (although it's really the partner who takes care of most pictures on the blog) and there is still a lot we both have to learn in terms of using our camera, composition, editing and so on.
---
Resources:
What other resources have you used to make a beautiful blog?
BETTER BLOGGING SERIES
[1] Starting a WordPress.org Blog in 5 Easy Steps
[2] Six Easy Steps to a Beautiful Blog (YOU ARE HERE!)
XX
Disclosure: Links with asterisks are affiliate links. Any purchases made through them will earn a commission, to help in the upkeep of this blog, at no additional cost to you. Thank you very much for your continued support!