A Quick Visit to Apo Island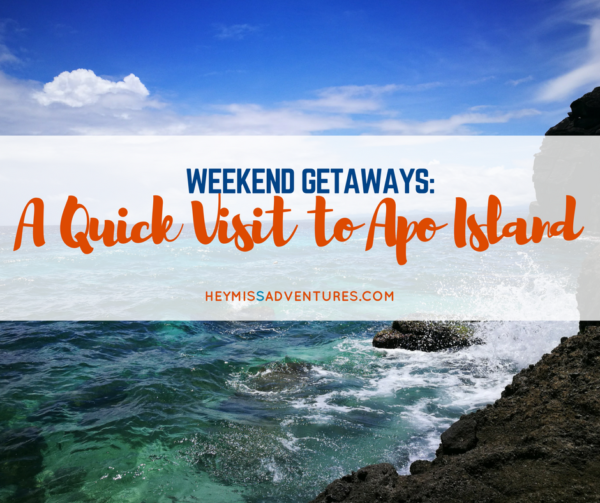 I can now finally confirm that Apo Island is not for the budget traveler.
Or maybe not for the traveler who wants to make sure that they are not being treated as a tourist with endless supplies of cash and every step is being charged.
My friends and I went to Negros Oriental and Siquijor one long weekend and, since we were already in Dauin to attend the town fiesta, we decided to grab the opportunity to visit the famous Apo Island and its sea turtles.
I have been to Dauin for most of my childhood, as it is my mom's hometown, but I have never set foot in the nearby Apo Island for all (nearly) 26 years of my existence. We had the chance so after having our fill by lunchtime, we set off to Malatapay, which is where the boats going to Apo Island are docked.
Our haggling skills were immediately put to the test (I have none). There were no jeepneys or buses passing by the highway so we had to find a way to bring all five of us (and a toddler) to our destination. One of my friends looked like a Korean and we had our share of laughs after one driver tried to sell him a tour package. Haha!
In the end, we were able to haggle with a tricycle driver who drove us to Malatapay, many kilometers away, for just P10 each.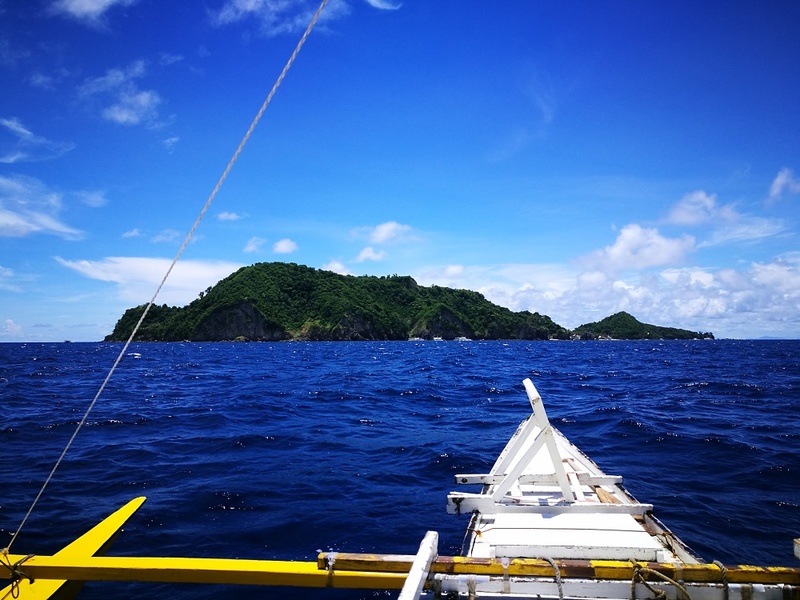 When we got there, we were slightly sad to know that the only available boats were good for six people. We could have gotten a smaller boat then paid for the extra person (we are obviously very stingy) but apparently our little one was charged full. Thankfully, my friends agreed to share the expenses between the five of us. Whew. Paying for three will give a huge dent in our pocket.
So off we went.
I had no idea the boat ride would take that long. It was probably around 30 minutes in rough seas. You should never go to Apo Island expecting that you will never get wet because you will. Be sure to have all your electronics waterproofed or you'll be sorry.
We also got the chance to see some dolphins about three-quarters of the journey. Our inner kids were squealing in delight.
We finally reached the fame island and, boy, was it beautiful.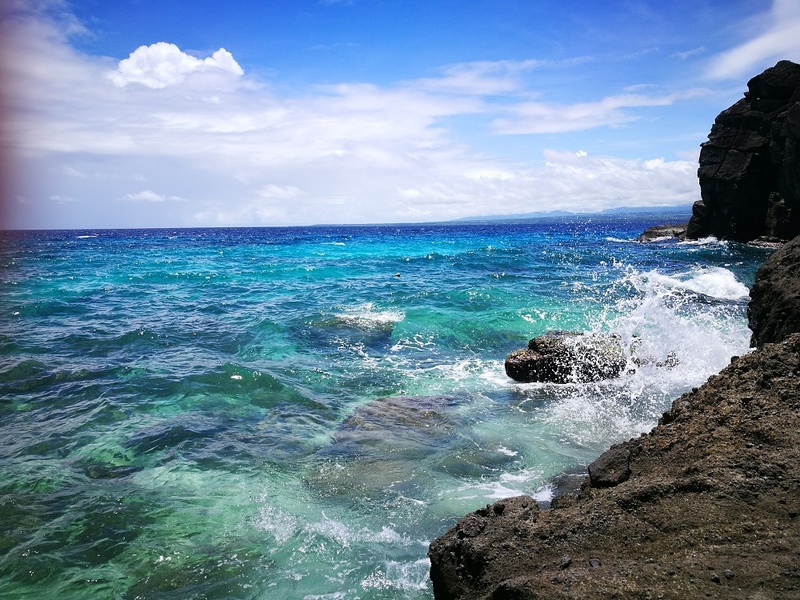 And also uninviting, at least for the non-swimmer. The boat drivers would not allow us to bring along their lifevests (I was dying to take a dip; my bladder was about to burst) despite us paying ₱2,500 for the ride. We had to rent out the lifevests for ₱100 each. Huhuhuhu.
We had no choice but to brave the waves. Did I mention that three out of five in our group were non-swimmers? Haha.
We first had ourselves registered at ₱100 each. Ugh. I can hear the cash register again.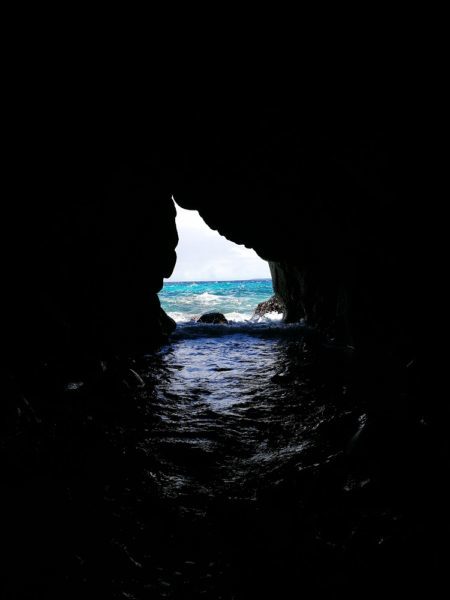 Locals were charged only ₱10 each. We told them first that we were from Dauin (my mom is) but because we spoke a different Cebuano and could not present a valid ID, we were declared tourists. We let it pass because there was no way we could get through that test.
We then headed off to where the guides were. To swim with the turtles, we had to get a guide for around ₱300 for a group of four. Since we were non-swimmers, we also had to get ourselves a lifejacket for ₱100 each. A snorkeling mask costs ₱100 each (you need it because how else will you see the turtles ugh) and a pair of aqua shoes means yet another ₱100 (because there are sea urchins around and — this part is true — the rocks are sharp and the waves are strong).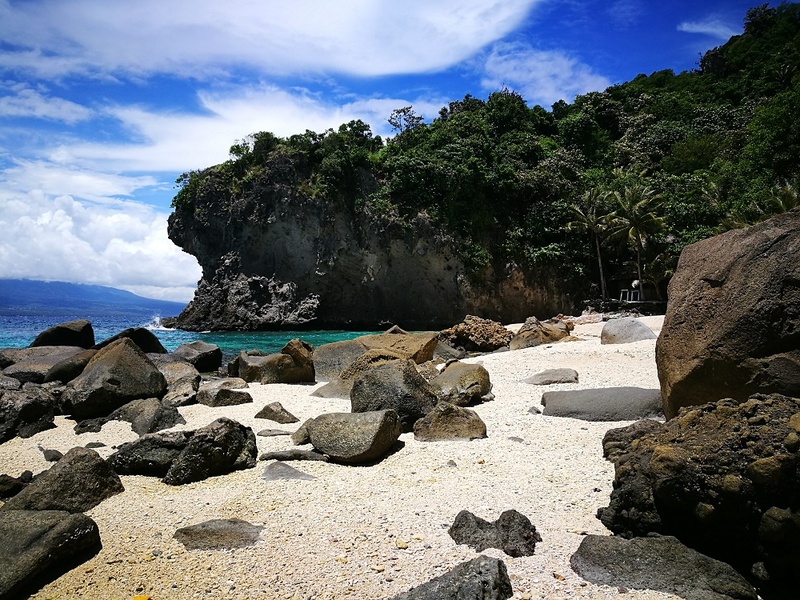 All those charges made us take a few steps backward little by little. How annoying. Perhaps if they had placed into a neat little package with "everything that we need", we could have taken the bait. But we didn't because we're stingy like that.
So we decided to go a little far away from the tourists and enjoy the island on our own. It was hot out and there was no place for a shade except under the rocks. The waves were very strong so it was hard to actually enjoy just dipping and there were lots of rocks on the seafloor. Ugh.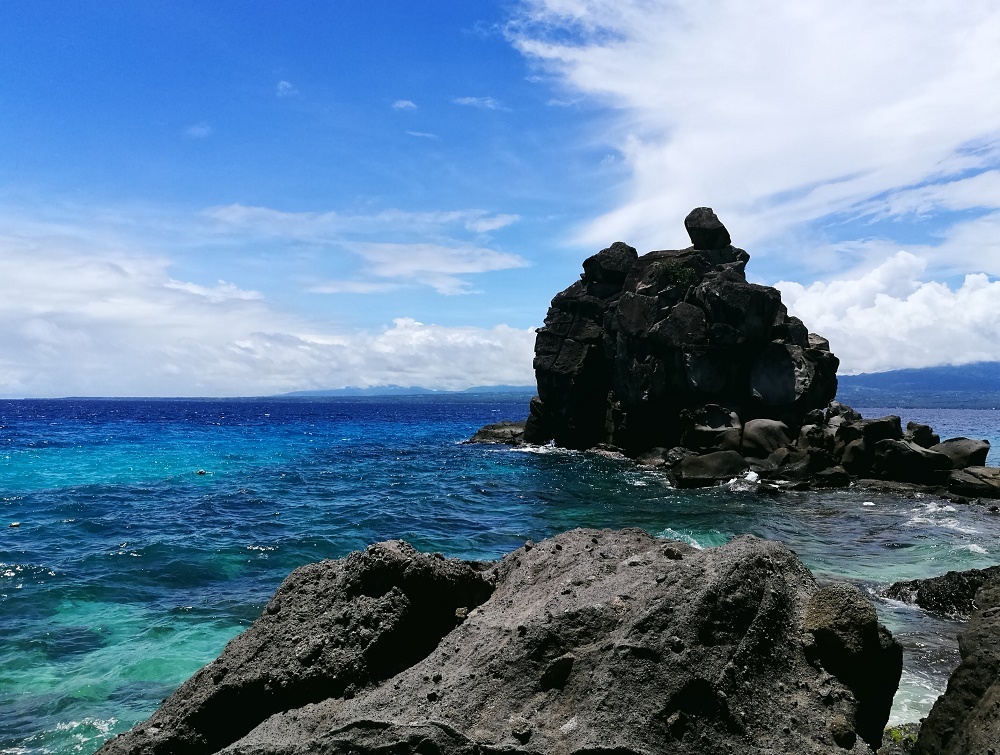 I decided to just carry our daughter while I sit on the sand (and sleep) while the rest took pictures of the beautiful rock formations.
We got out of the island about 2-3 hours after we arrived. They were very strict about getting back to the mainland by 1 or 2pm because the rough seas make it hard for the boats to navigate in.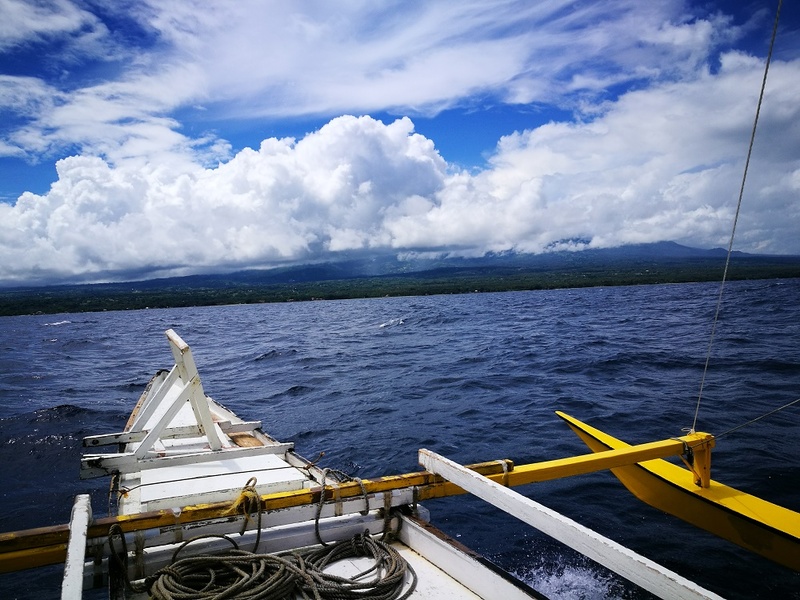 So much for having a good time in Apo Island. Perhaps we'll come back here when we have more money to spare. We probably should be better equipped, too. (Think snorkelling gear, aqua shoes, waterproof cameras, diving gears hahaha the list is endless.) I think I would like to stay overnight at one of the resorts here, too.
For now we had to be content with what our little budget could give us.

Quick Expenses Summary:
Tricycle from Dauin to Malatapay – ₱10 each
Boat to Apo Island (good for 4) – ₱2,500
Registration at Apo Island – ₱100 each
Tricycle from Malatapay to Dauin – ₱10 each
Detailed expenses + quick itinerary in this post.
Check out Bisaya Traveler's Apo Island post for a more detailed guide.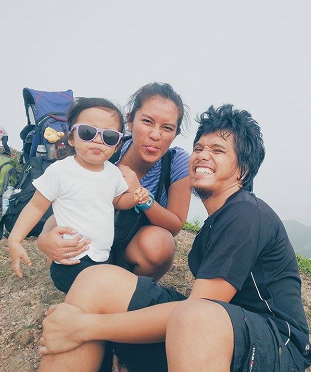 Pam is an outdoors-loving millennial momma who loves to hike, trek and camp in the beaches and mountains with her partner and their 3-year-old daughter. When not exploring the great outdoors, she moonlights as a freelance writer specializing in the travel, parenting, personal finance and digital marketing niches. You can also follow her via social media: Facebook, Twitter, Instagram and Pinterest!