3D2N Cebu-Apo Island-Siquijor Itinerary and Expenses Guide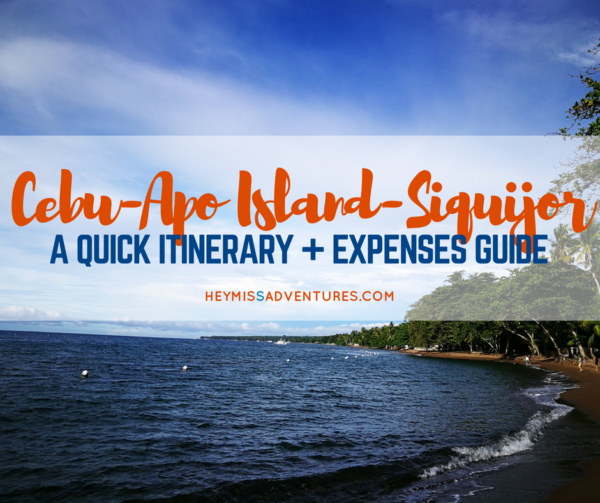 We did a quick trip to Negros Oriental and Siquijor over the long weekend, along with a few friends.
Before I get in to the details of the actual trip, here's an overview of our expenses. We went to a fiesta in Dauin, Negros Oriental so we saved nearly two days' worth of meals for five people. Awesome, no?
I'm excited about sharing photos from our trip but in the mean time, here's our itinerary + budget for you to devour.
Itinerary and Expenses
Day
Particulars
Group Cost
Cost/Person
Family Cost
Notes
1
Bus: Cebu City to Liloan
₱185
₱370
RoRo: Liloan to Sibulan
₱62
₱186
*toddler was paid in full
Multicab: Sibulan to Dumaguete
₱20
₱40
Multicab: Dumaguete to Dauin Proper
₱18
₱36
Tricycle: Dauin Proper to Malatapay
₱50
₱10
₱20
*haggled haha multicabs are usually the ones that ply these routes 
Boat to Apo Island
₱2,500
₱500
₱1,000
*boat was good for 6 but there are smaller boats; toddler was counted as an adult
Registration at Apo Island
₱100
₱200
*Neg. Or. locals paid only ₱10; we no longer availed of guides and other equipment because it had gotten costly
Tricycle: Malatapay to Dauin Proper
₱50
₱10
₱20
Accommodation
FREE
*stayed with an uncle's friend at Lowland Resort in Dauin for free; room costs ₱1,500-₱2,000 per night but you can all huddle together inside for no additional cost; camping is also possible
DAY 1 SUBTOTAL
₱905
₱1,872
2
Bus: Dauin to Dumaguete
₱16
₱32
Tricycle: Ceres Terminal to Dgte Port
₱10
₱20
*about ~5 blocks to port
RoRo + Terminal Fee: Dgte to Siquijor, Siquijor
₱185
₱425
*fare: ₱170 (Montenegro Shipping Lines); terminal fee: ₱15; child rate: ₱55
Breakfast at Dabarkads, San Juan, Siquijor
₱100
₱20
₱170
*ate at Dabarkads and had our fiesta takehome heated for ₱100; divided this by 5 then ordered a sandwich (₱70) and two calamansi juices (₱30 each)
Multicab tour around Siquijor
₱1,800
₱300
₱600
*contacted my uncle (0915 – 954 – 4667) to tour us around Siquijor; more friends joined and divided cost by 9; added tip (not included in cost)
Entrance: Enchanted Balete Tree
₱5
₱10
Entrance: Cambugahay Falls
FREE
Lunch
~₱200
~₱23
~₱46
*had leftover from fiesta takehome and bought a bit more at nearby market
Entrance: Salagdoong Beach
₱25
₱50
Parking Fee: Salagdoong Beach
₱35
₱4
₱8
Cottage: Salagdoong Beach
₱100
₱11
₱22
Dinner: Dagsa Restobar at San Juan
₱1,415
₱283
₱566
*ordered the ₱1,200 buffet, good for 6 (5 of us + my uncle); ordered drinks
DAY 2 SUBTOTAL
~₱882
~₱1,949
3
Homestay at Lazi, Siquijor
 ₱1,500
₱300
₱600
*Ates Homestay, near Lazi Church and Convent; room is good for 5-6 persons
Breakfast at Joel's Lechon Manok, Siquijor, Siq
₱220
₱44
₱88
*near port in Siquijor, Siquijor
RoRo +  Terminal Fee: Siquijor to Dgte
₱144
₱358
*fare: ₱130 (GL Shipping); terminal fee: ₱14; child rate: ₱56
Tricycle: Dumaguete Port to Sans Rival
₱8
₱16
*a 3-min walk; it was raining very hard when we got off the boat and it seemed like it won't stop sooner (it actually did)
Lunch at Sans Rival
₱550
Tricycle: Dumaguete to Sibulan
₱30
₱60
*did our best to haggle haha
RoRo: Sibulan to Liloan
₱62
₱186
Bus: Liloan to Cebu City
₱185
₱370
DAY 3 TOTAL
~₱773
₱2,228
*per person cost does not include lunch at Sans Rival since we paid individually for our orders
GRAND TOTAL
~₱2,560
₱6,049
*family cost: 2 adults + 1 toddler
Key Takeaways:
Expenses go much lower when traveling in groups
Riding public transportation might be more challenging when traveling with a certain number of people
We saved money because of the fiesta so we splurged on our lunch on the last day
Traveling in a group means that a person sometimes have to pay for the fees (to be paid by the members later on) but tracing all those expenses at the end of the day can be difficult. Instead, we used a travel+finance app on Android (made by one of my friends who went with us on this trip) to make paying each other easier.
That's it. I hope you tune in during the next couple of days for more in-depth posts + photos of our trip.
Happy travels!
---
Related Reads: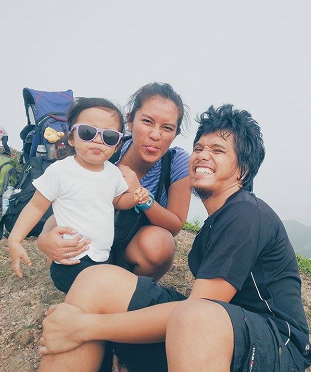 Pam is an outdoors-loving millennial momma who loves to hike, trek and camp in the beaches and mountains with her partner and their 3-year-old daughter. When not exploring the great outdoors, she moonlights as a freelance writer specializing in the travel, parenting, personal finance and digital marketing niches. You can also follow her via social media: Facebook, Twitter, Instagram and Pinterest!