With the help of a friend (who was also with us), we were able to rent a van to get us around for the entire day.
Hinagdanan Cave
Our first stop was in Hinagdanan Cave, located in Dauis, Bohol. The place reeked a bit of bat pee (hope it wasn't of humans haha) and I think it had quite a lot of bat poop around, too. The center of the cave had a deep pool that looked really cold. We stayed there a very, very short while, shortly after we took a few pictures. I forgot how much we paid for the entrance fee but according to this site, it's 15PHP (~0.35USD) for adults or 10PHP (~0.23USD).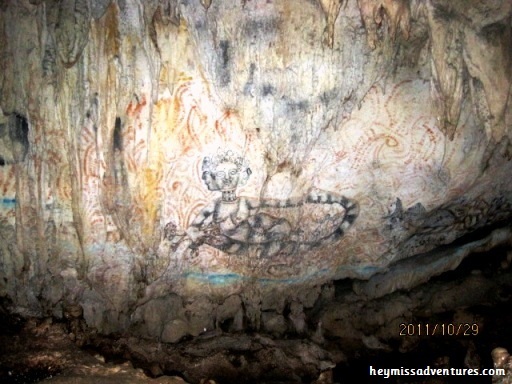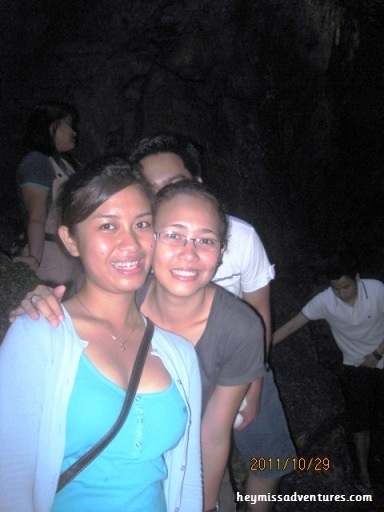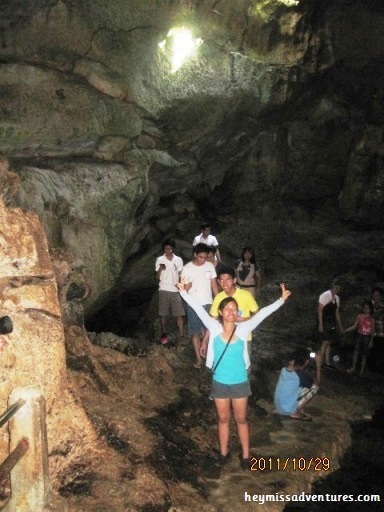 Blood Compact Site or Sandugo
The next stop of the tour was the Blood Compact Site or Sandugo, which is already a part of Tagbilaran City, Bohol. According to history books, it is where the blood compact between Spanish explorer Miguel Lopez de Legaspi and Datu Sikatuna, considered to be the first ever treaty of friendship between Spaniards and Filipinos. Entrance is free and you can take all the pictures that you want. (I don't have any from this trip, unfortunately.)
Baclayon Church (Update as of 2014: The church no longer stands because of an earthquake.)
After our short stop at the Sandugo site, we next went to Baclayon Church, details of which could be found in this picture: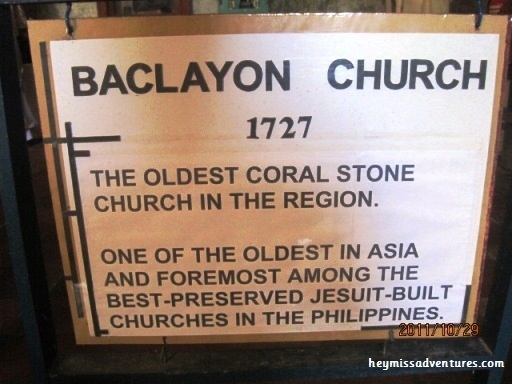 I don't think the inside of the church allowed for pictures or very short shorts. If you happen to wear one like I did, don't worry – they will let you borrow a sarong/shawl that you can wrap around your waist so you could cover your entire thighs and possibly your legs, too.
Oh, and we found a really great place for picture taking at the back of the Church. At the back, you could find the exit (or entrance? I'm not sure) of the Church museum located upstairs. There is also a small wishing well next to the stone stairs. Here our a few of our great shots.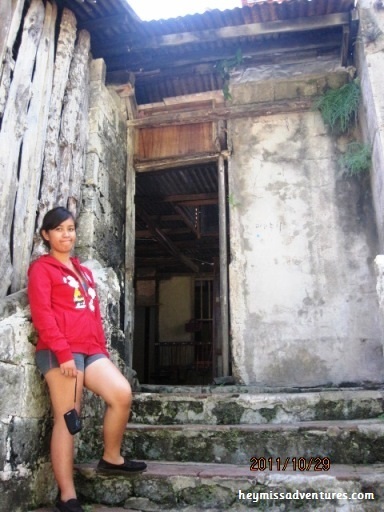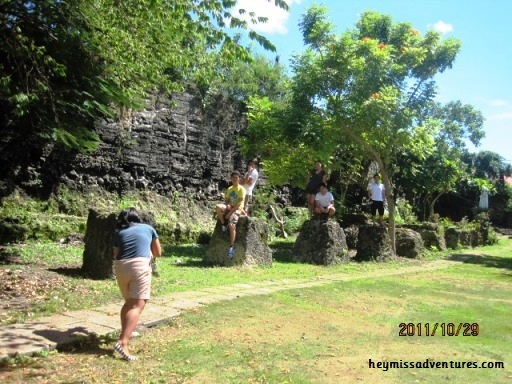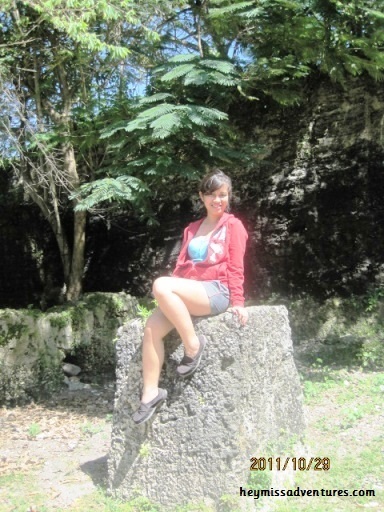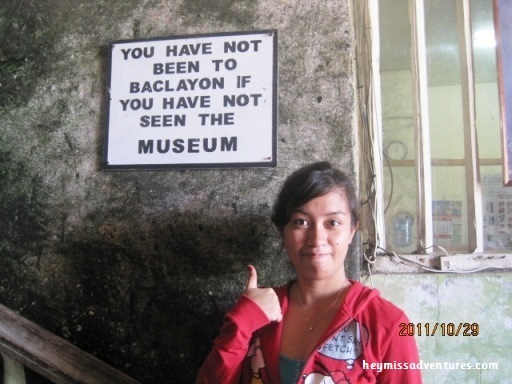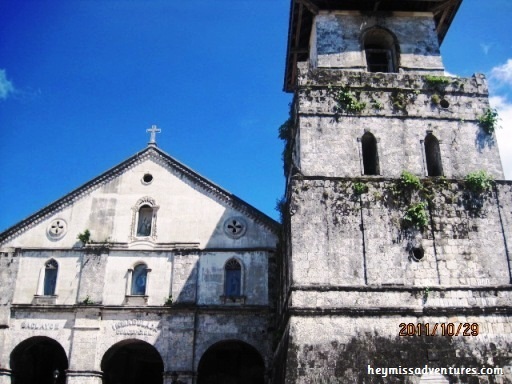 Albuquerque, Bohol and Prony (Update as of 2014: Prony already died.)
Albuquerque, Bohol is the home of the famous Philippine python famously known as Prony. I found out just today that she died about two months ago. We all had a chance to have a picture with her – well, at least, most of us. I tried to touch her really oily skin (I think they put something on her) and it was moving. They said she was still full so she won't be moving too much – I think her tummy was digesting something then. Still, it was frightening.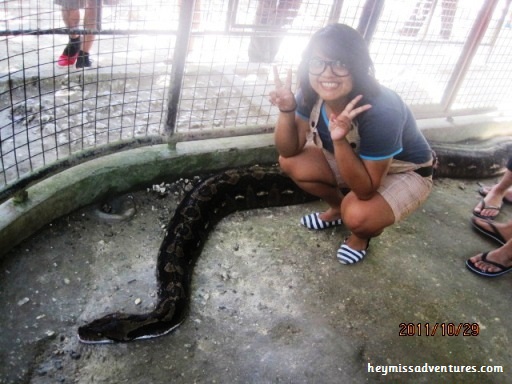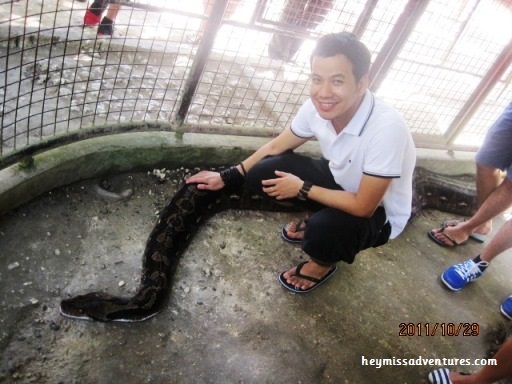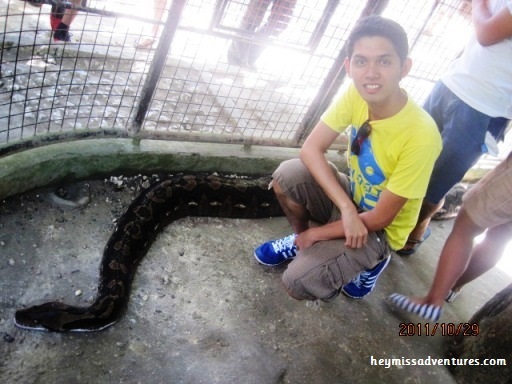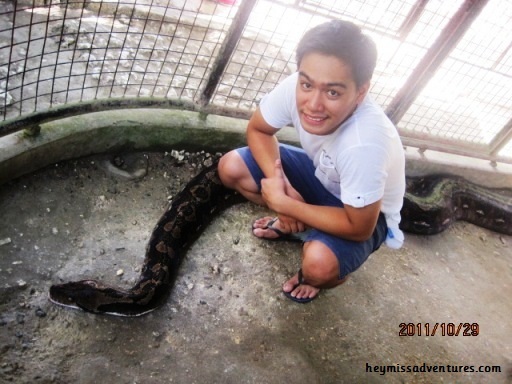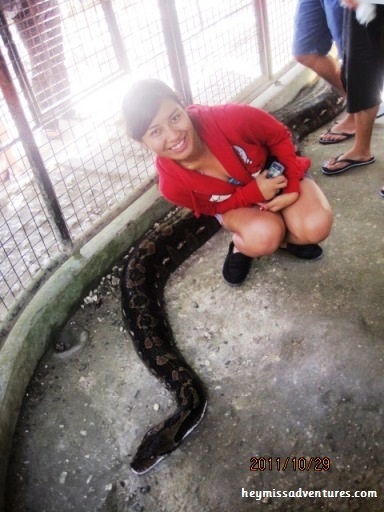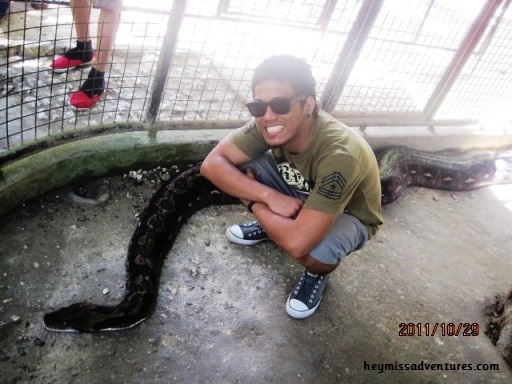 There were also many other animals including a gay performer who did monkey-like stunts in her/his little wooden hut.
Bohol Hanging Bridge
Bohol is also known for its hanging bridge, pictured below. At the other end of the bridge was the Buko King who could de-husk a coconut with his bare hands and teeth. Yes, that's how strong he was. Unfortunately, we didn't get to see his performance since we were scared we had to pay extra.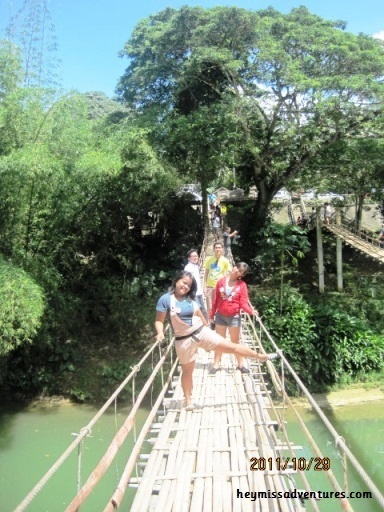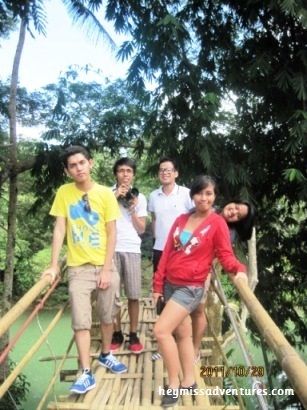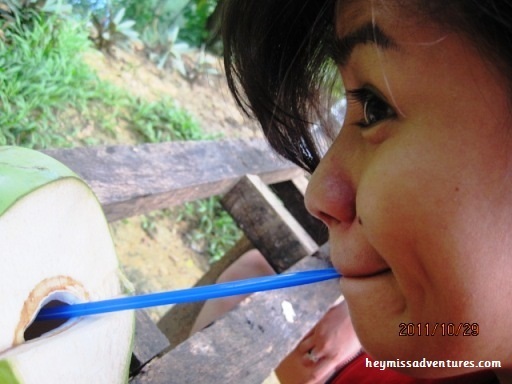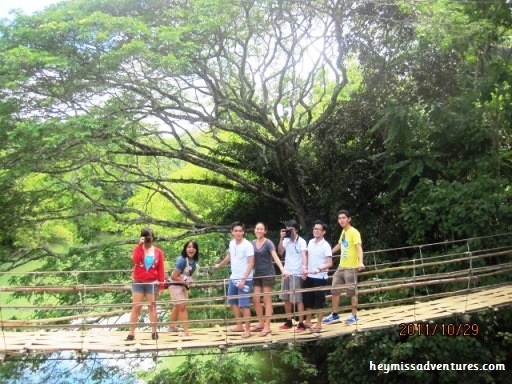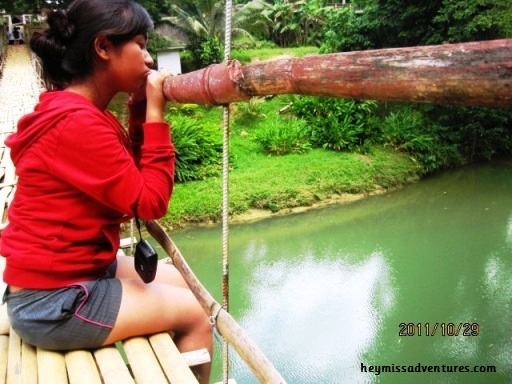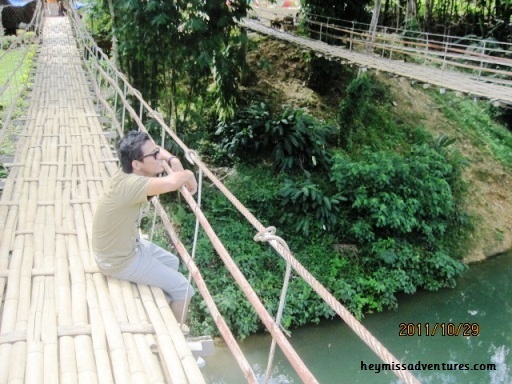 Tarsier Conservatory
According to our van driver, the tarsiers, which are also the world's smallest primates and could only be found here (I think), were placed together in a single place. I forgot the name of this place though but it is like a Tarsier Conservatory of sorts.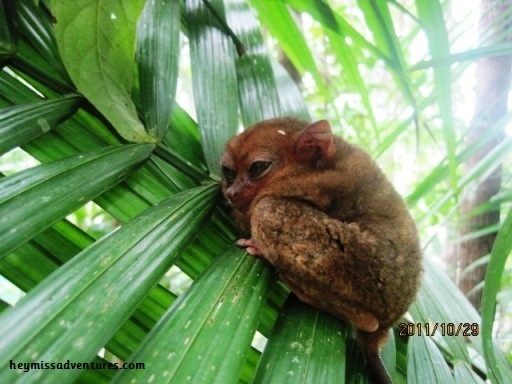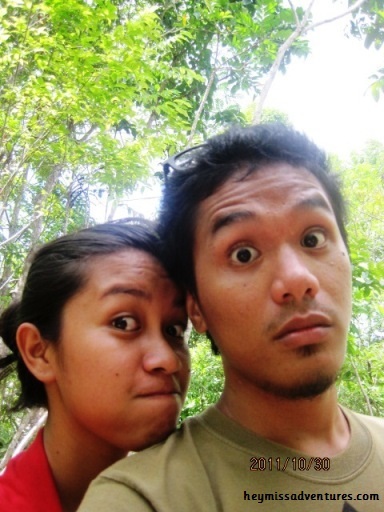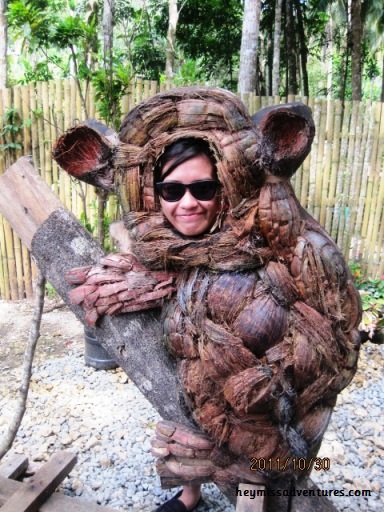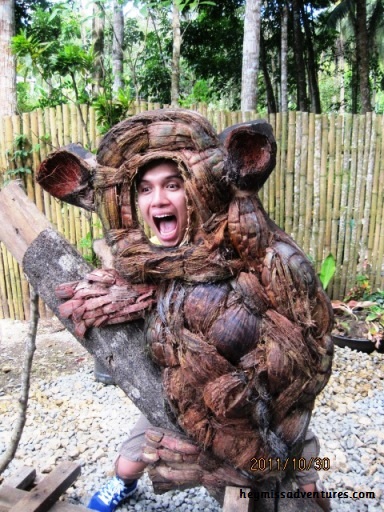 Manmade Forest
And then a short stop at their Manmade Forest. It's usually cool here, at least during those times I got to stop by the place. It wasn't that much at the time of this picture, though.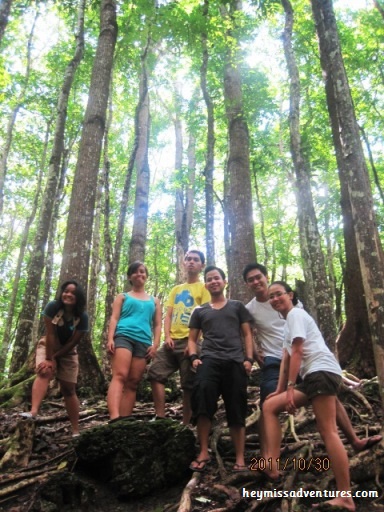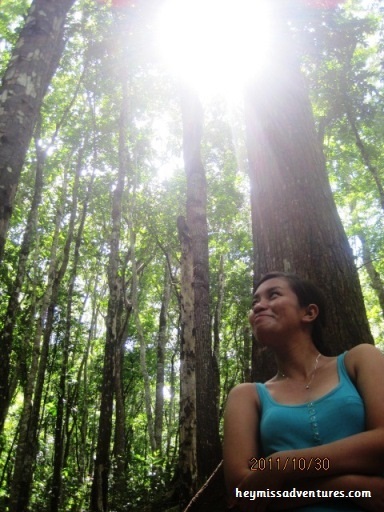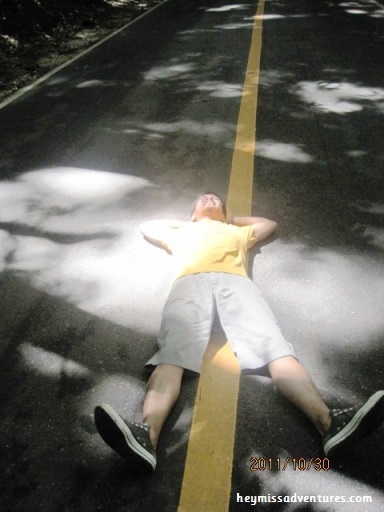 Chocolate Hills
After our very short lunch, we went to the famous Chocolate Hills. During summers, the grass that covered these hills dried up and became brown thus giving it its famous name. For the rest of the year, the hills are covered in greens.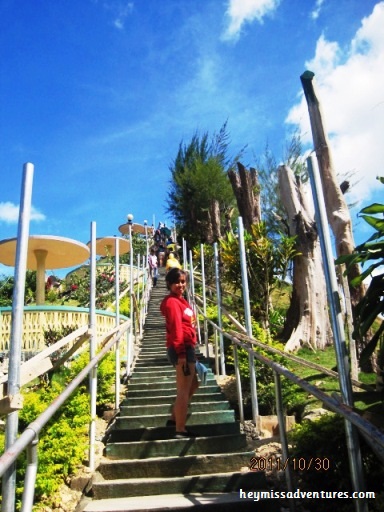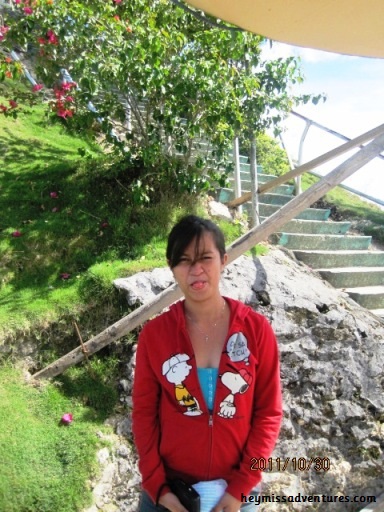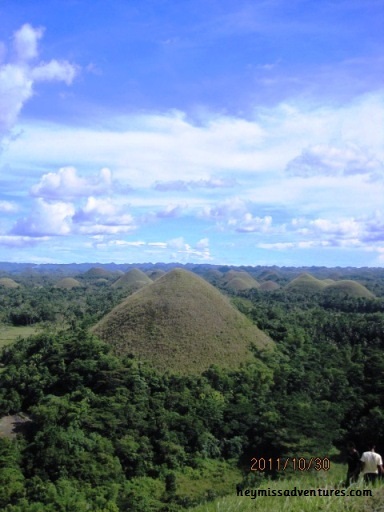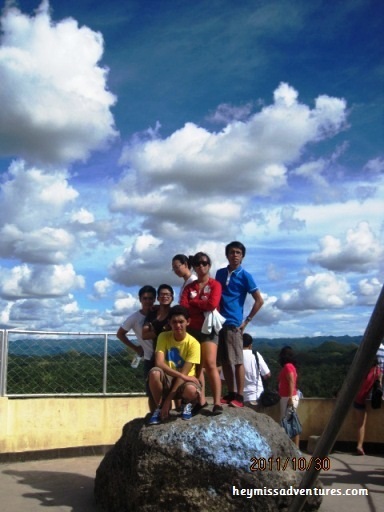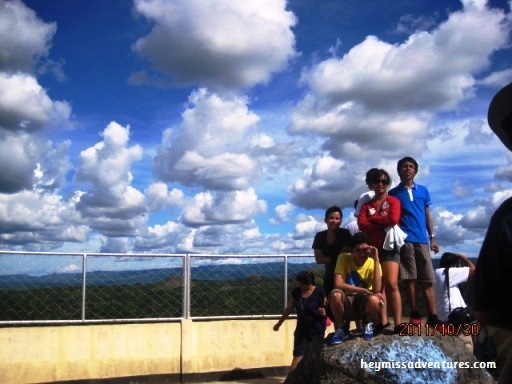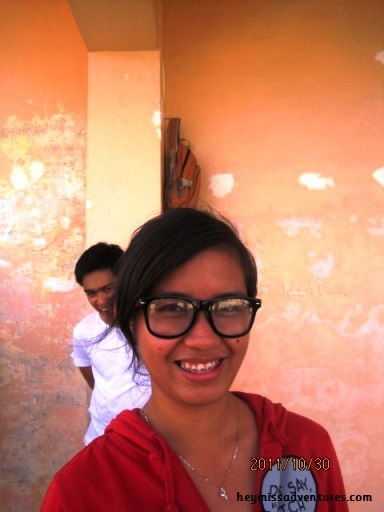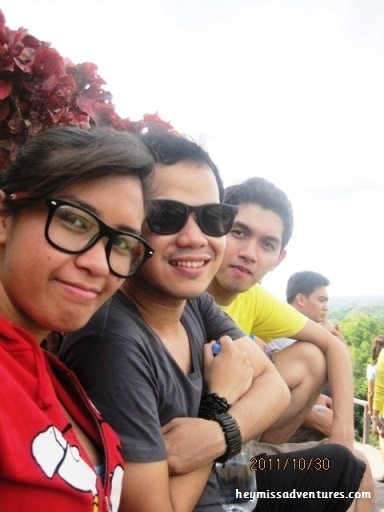 That's it for our day tour. I'll try to look into my notes to see if I still got the record with entrance fees and our budget – for two – for the entire tour. I don't think we got to spend more than 5000PHP (~115USD) for both.
XX
_______________________
The Great Bohol Adventure Part 1
The Great Bohol Adventure Part 2