Short and Sweet Samal Retreat in Davao del Norte!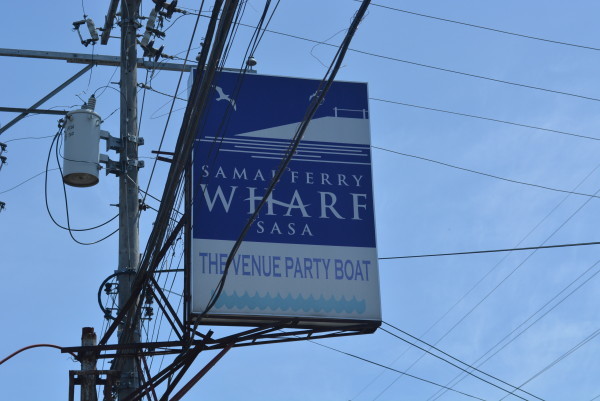 We arrived in Davao City at around 9AM on a Sunday morning, just in time to find a good accommodation and get a glimpse of the Araw ng Dabaw 2014 festivities. But, despite wanting to follow the slow travel mantra that day, we had to act all tourist-y and make the most out of our 3 days and 2 nights soujourn.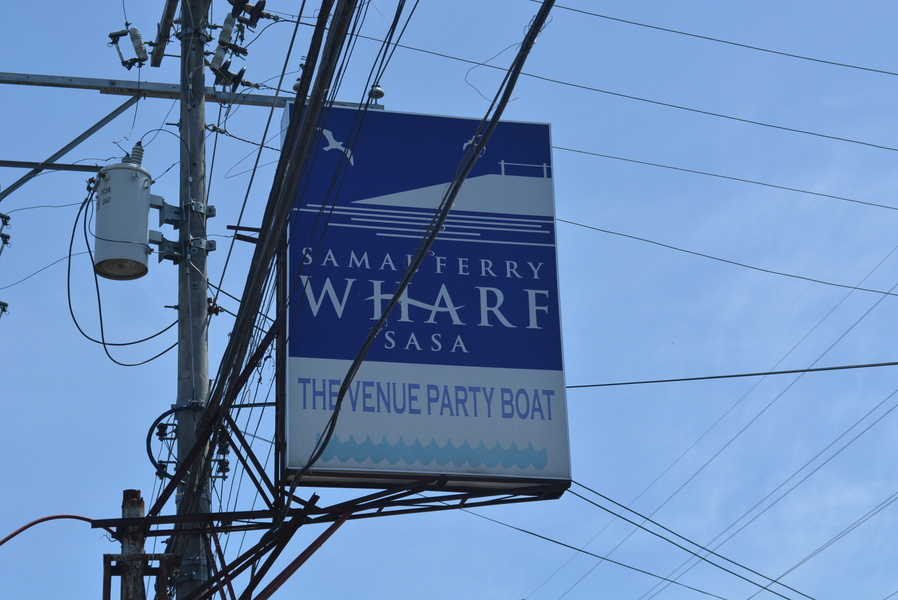 After a few misadventures, we finally got to Sasa Wharf, one of the jump-offs to Samal Island. Upon entering, you will pass by a counter where they give you a token in exchange for your 10PHP (~0.2USD). You just need to insert the token into the coin slot of a revolving "gate" since it's not really a door. This also serves as your fare for the short boat ride to Samal Island.
It takes only about 10 to 15 minutes to get to across but I think the sea is pretty deep within that short distance. The RoRo we went aboard on was so huge it doesn't seem like it is moving at all. But, alas, we arrived at the the other side anyway.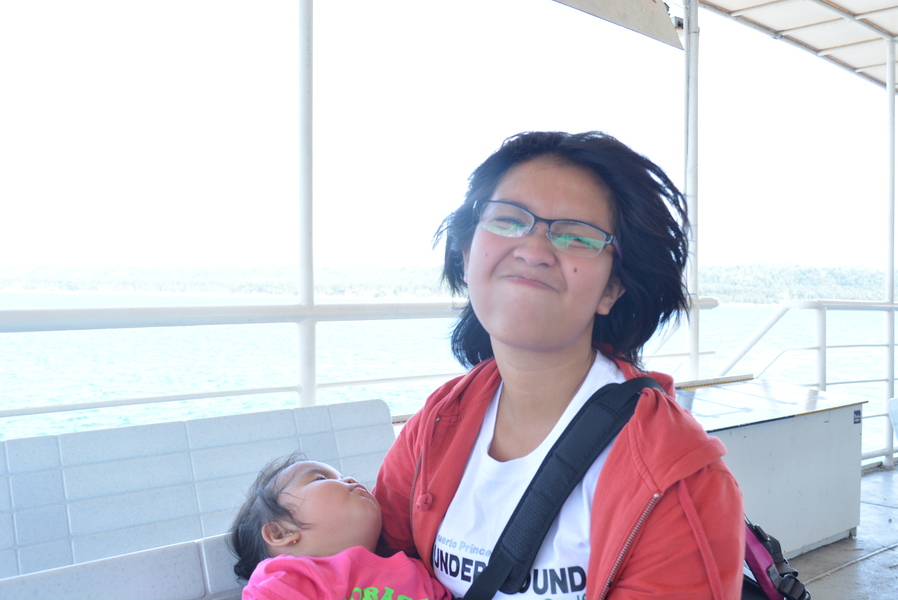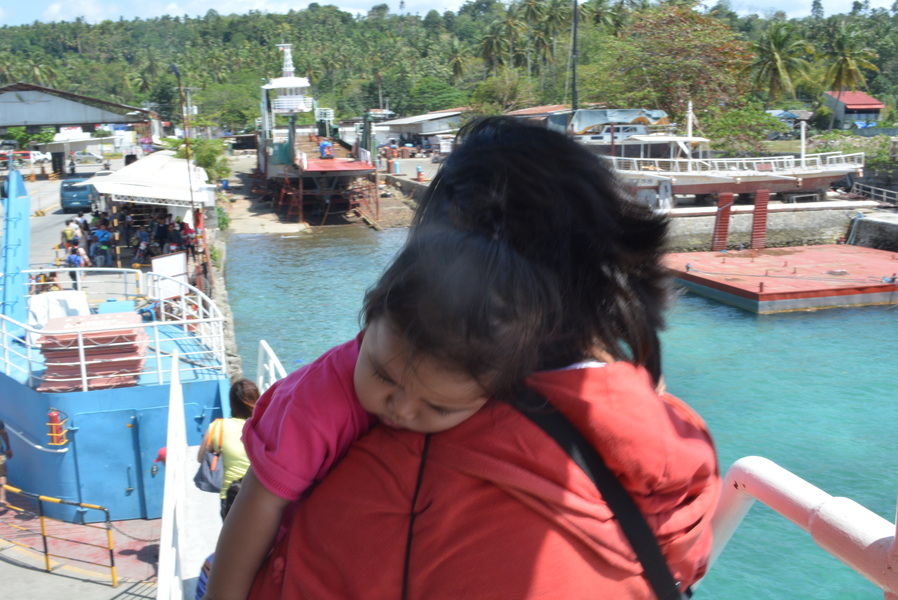 Oh, it's also possible to get to Samal Island via Island City Tours. I'm not sure if they have airconditioned rides since most I saw were non-aircon ones. Just click on the pictures below for destinations and fares (I hope they are clear enough).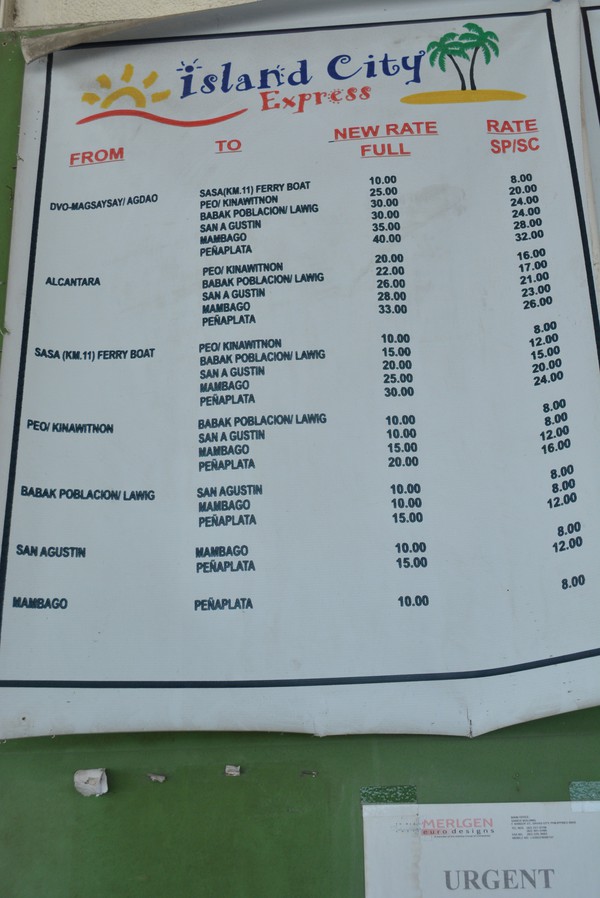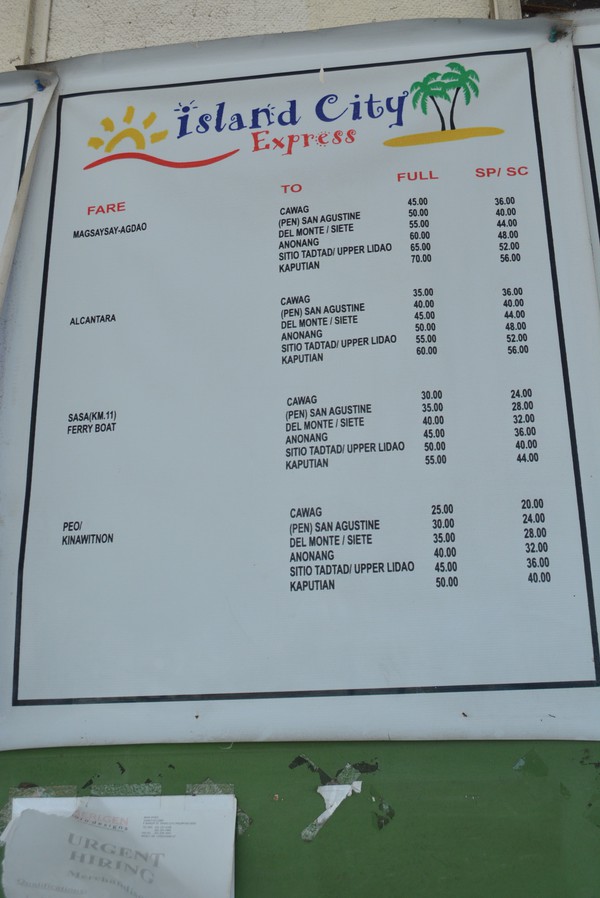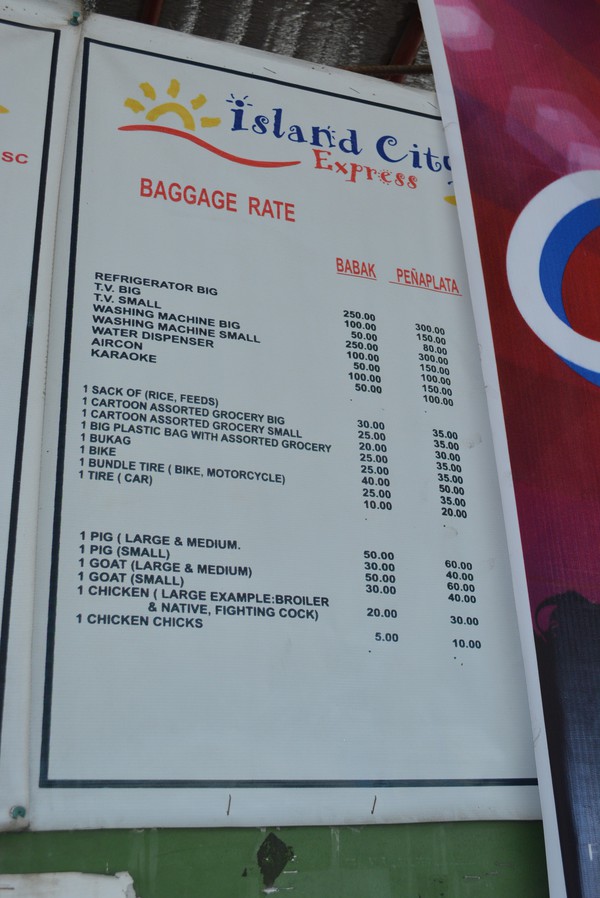 So, the first stop at the island was at the Monfort Bat Sanctuary (about 17km from Babak Wharf). The cost is pretty hefty at 100PHP (~2.2USD) per adult and 80PHP (~2USD) for kids although I guess you learn quite a bit from the short tour. According to our guide, the bats here are the fruit-eating kinds. There are four large holes that you could feast your eyes on but all of them are connected to one tunnel. Getting near these caves can be an act of bravery of sorts as the smell is pungent like those of chemicals.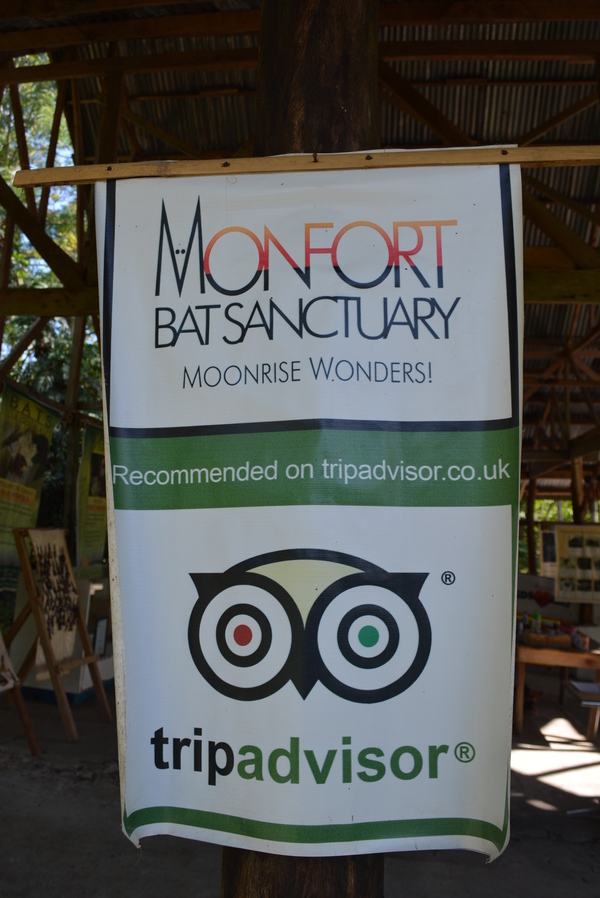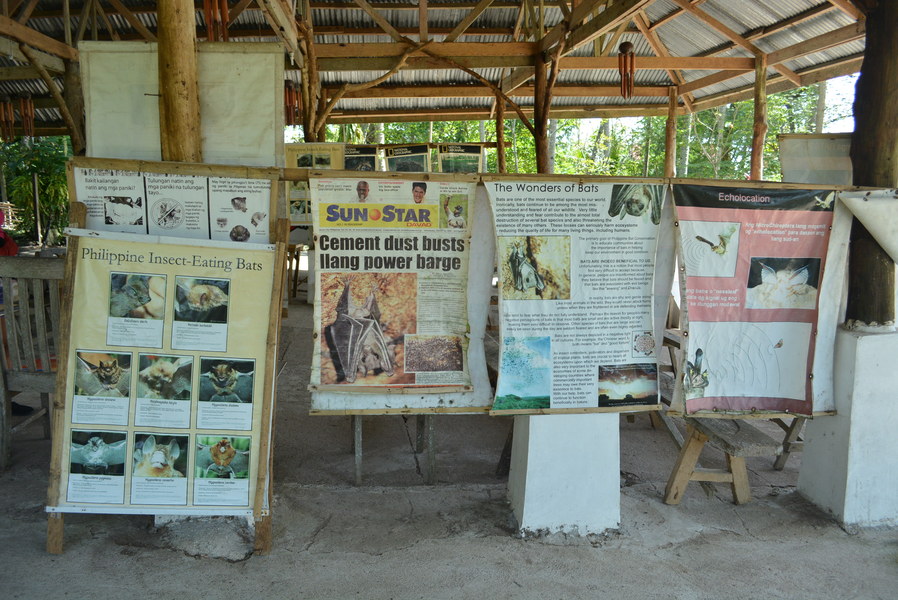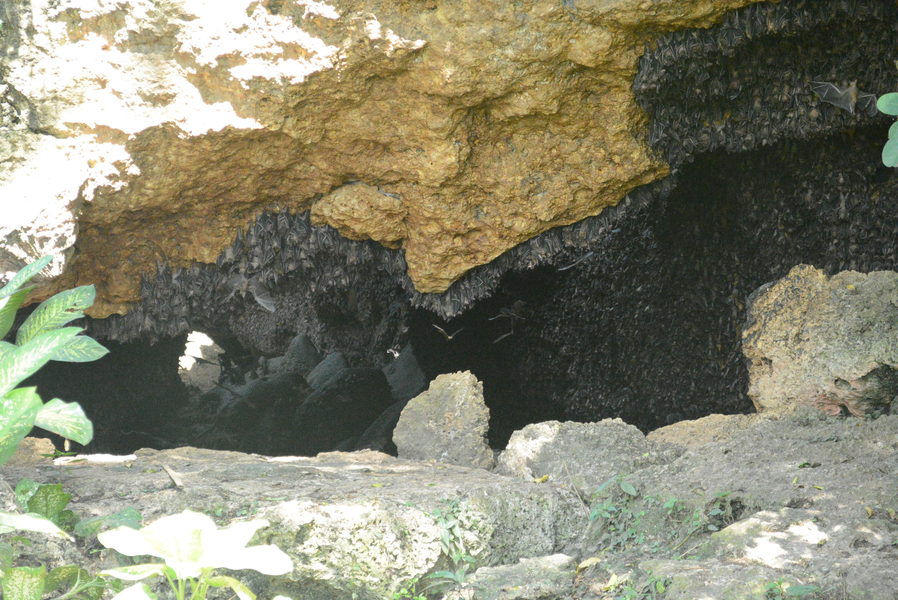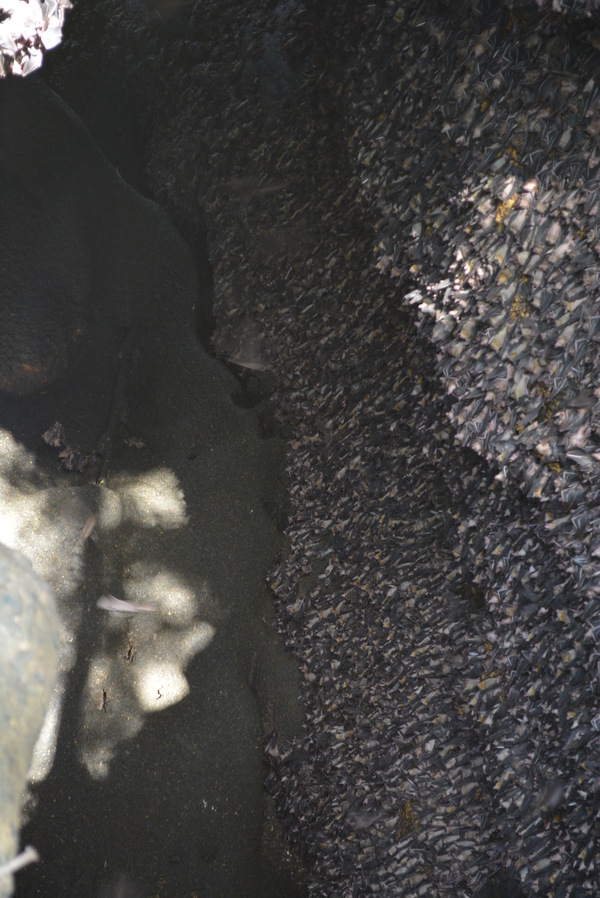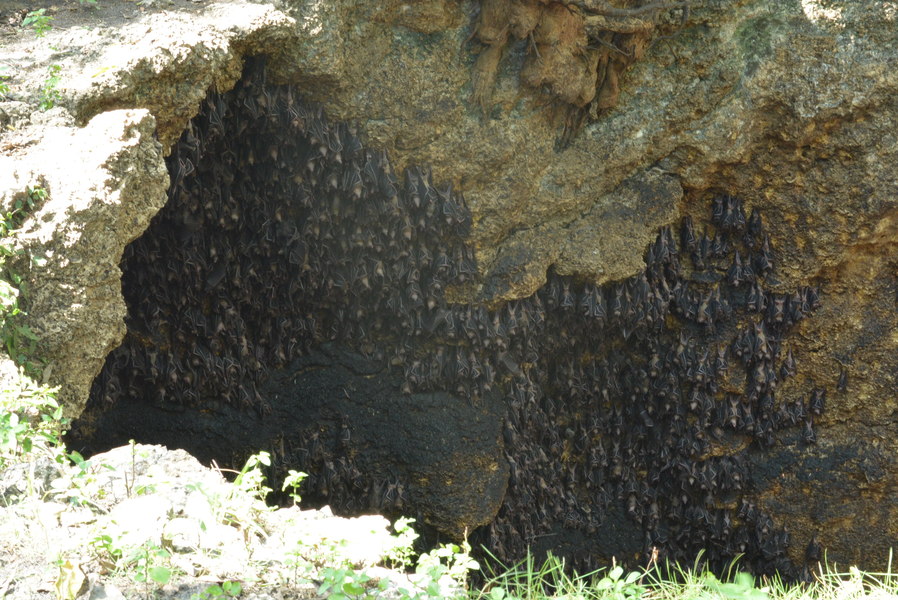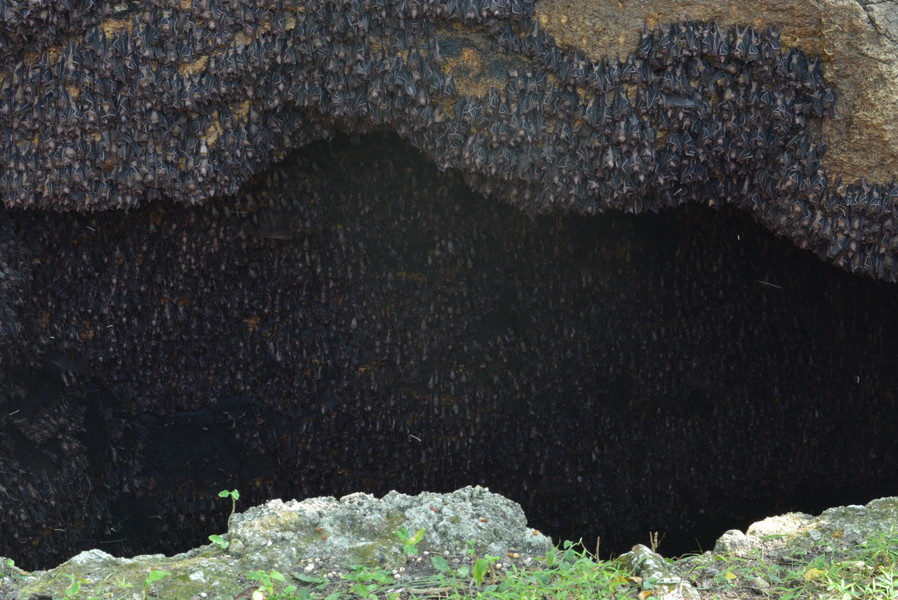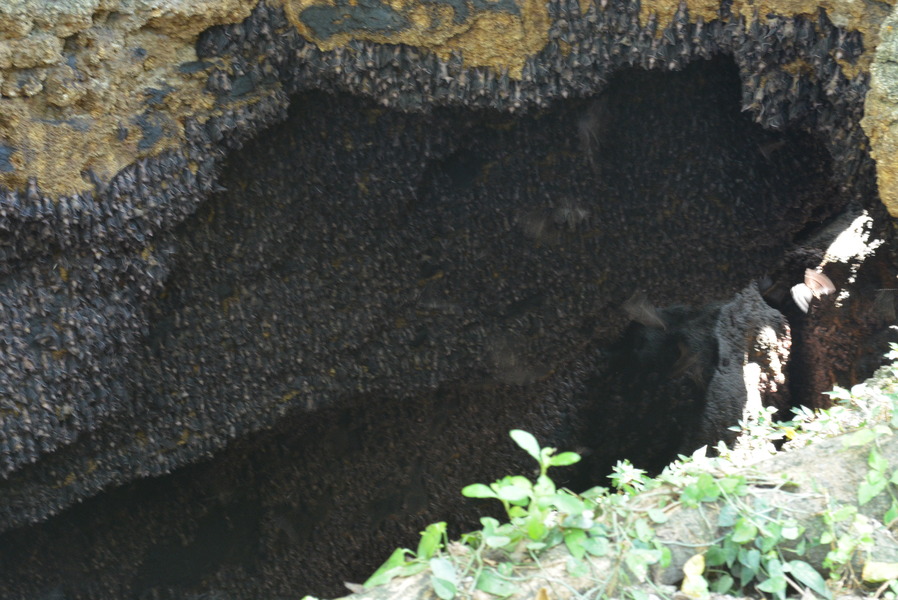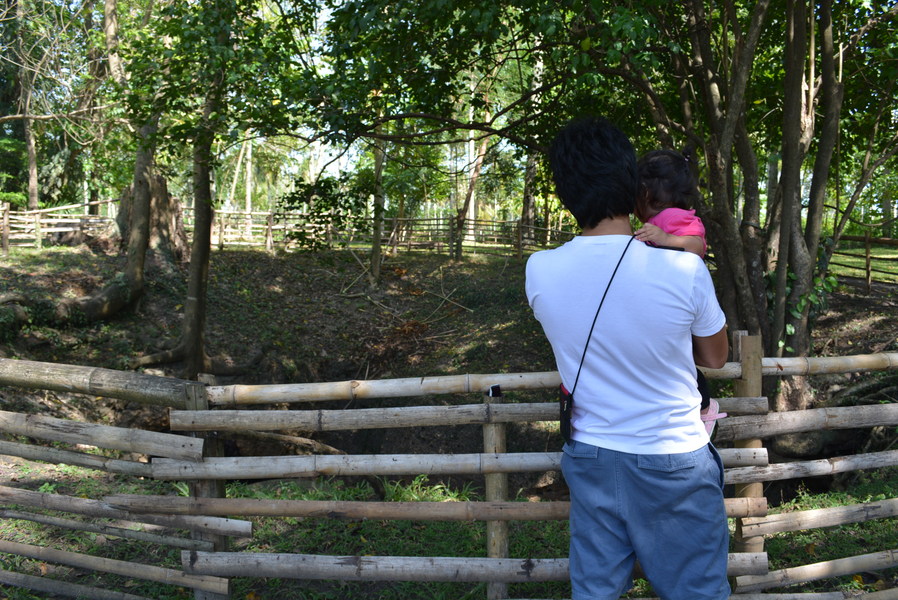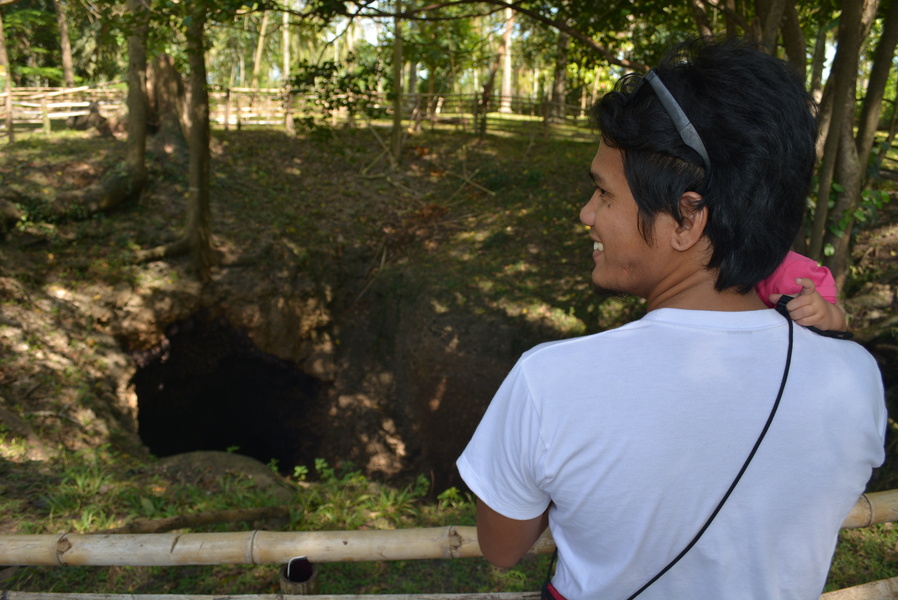 Our trip there was short and sweet – we would have wanted to stay a little bit longer so we could maximize the pretty expensive fee.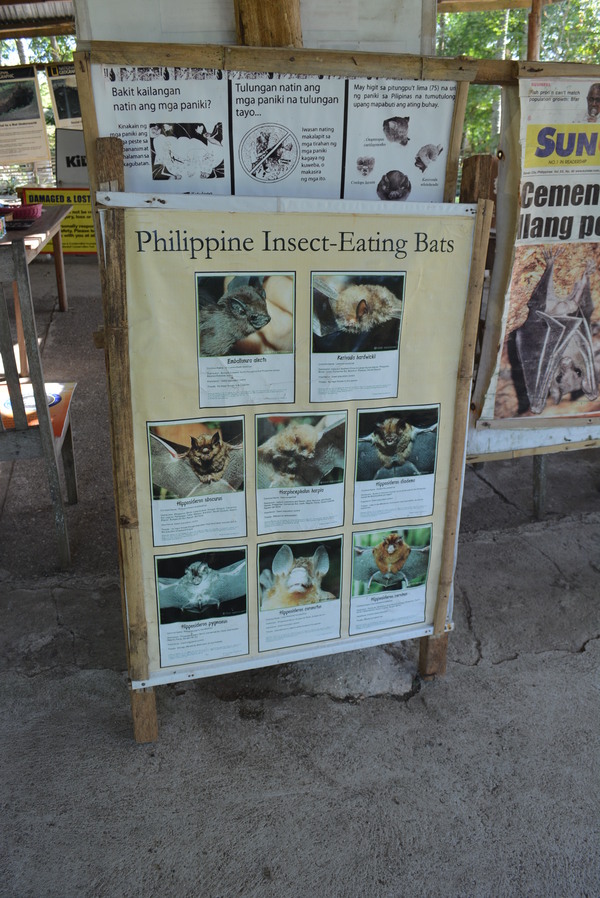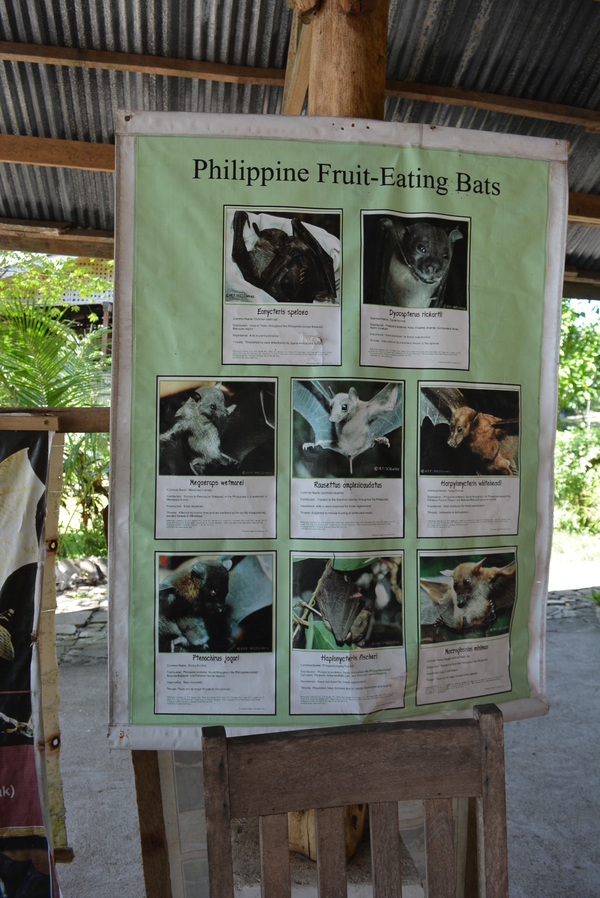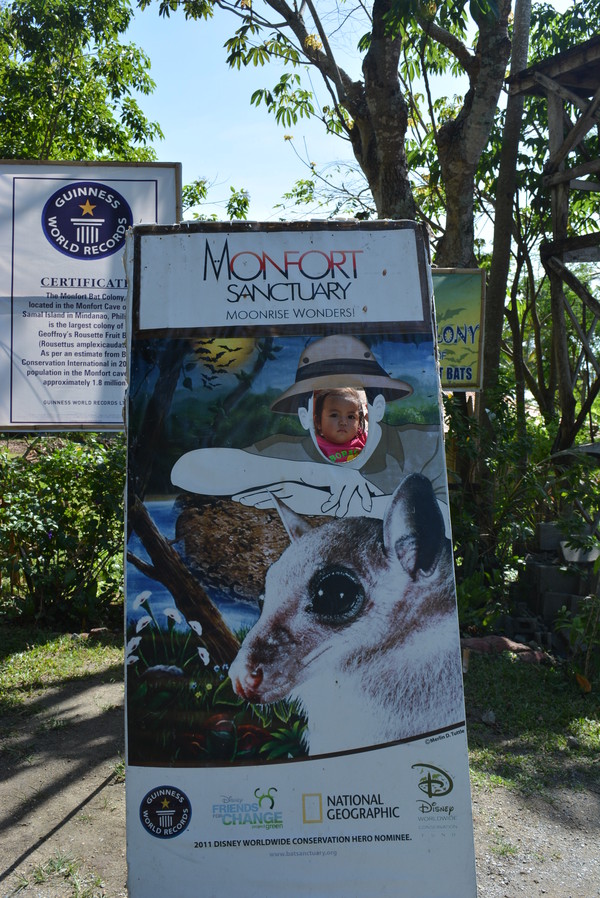 By the way, from Monfort Bat Sanctuary, it is also possible to get a glimpse of the Vanishing Island (the time we went there it was high tide but the sandbar was still quite visible beneath the clear seawater).
The original plan had been to simply visit the Bat Cave, as locals would call it, and then find camping ground at some neighboring island. We still had a few hours before sundown so the partner and I decided to head off to Haguimit Falls. We also wanted to cool down and the driver suggested we take a dip there since the water is pretty cold.
Entrance to the falls is 40PHP (~1USD) for adults. It's a pretty long walk from the top and then later on, I realized how much effort it would be going back up. I wanted to cry – it has been a long time since I actually put any effort into any form of exercise.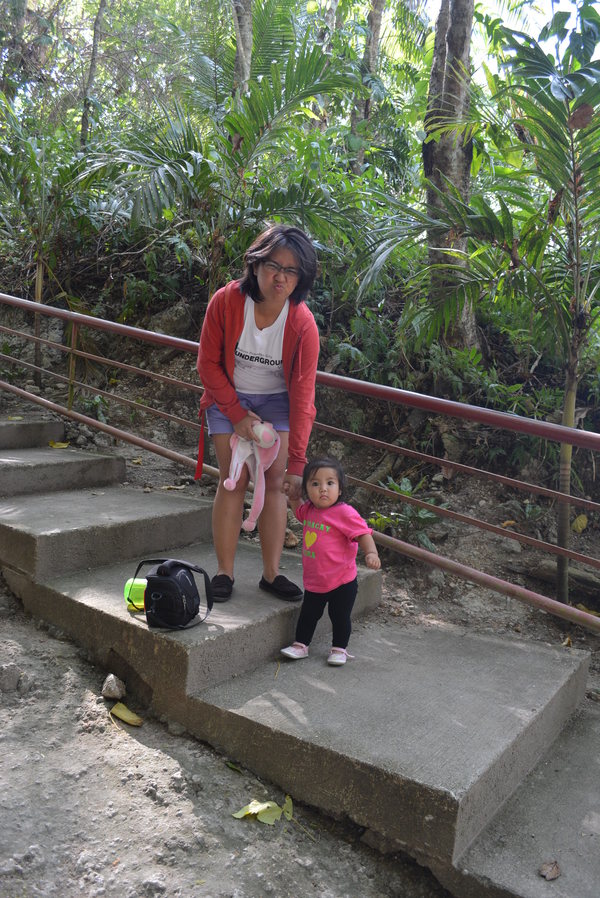 I would have wanted to simply put our stuff at some empty space around the park but the partner wanted to get a cottage for us so we did. I think it costs 250PHP (~5.5USD) if I remember correctly. I have no idea how much the other accommodations cost (they also allow overnight stay) making me the worst travel blogger there is. Haha.
Since there were only three of us, we got the open cottage right at the center of the "pool" so we could see our things even as we swim. We enjoyed a refreshing dip for more than an hour or so.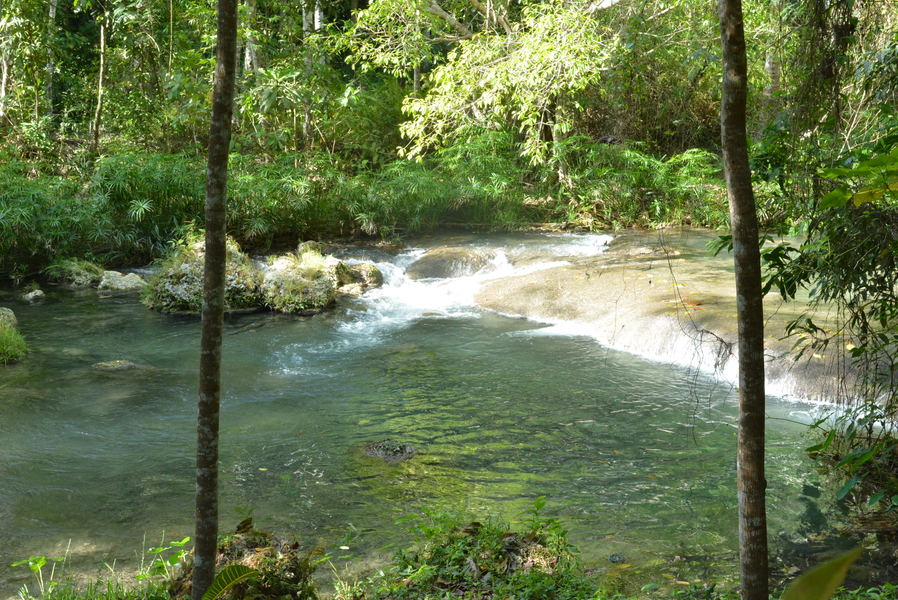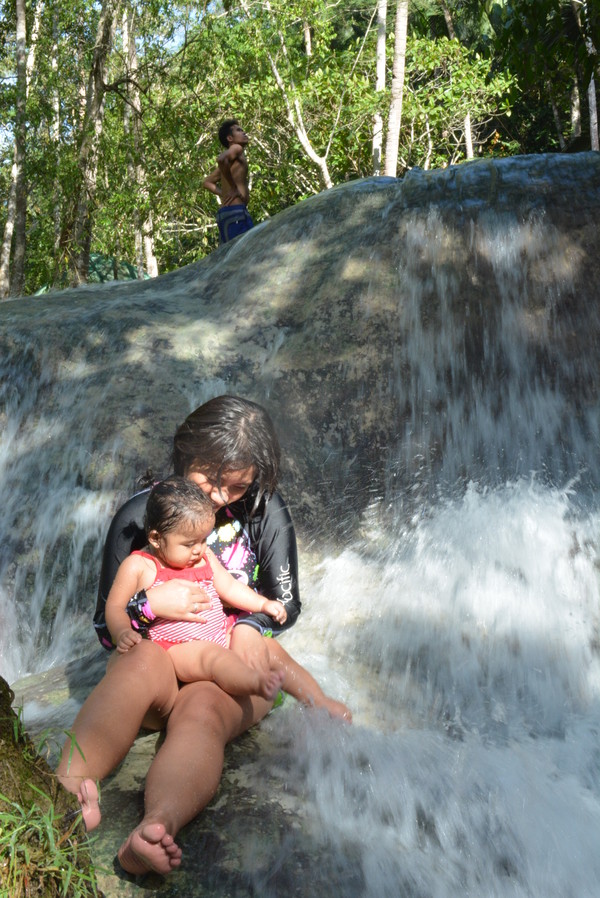 There was a shorter route to get back to the entrance of the nature park but they are limited to the Mahal Resort customers only. That was where we got our open cottage. Hooray. But it is still a long and pretty steep walk. We had to take a break a few times.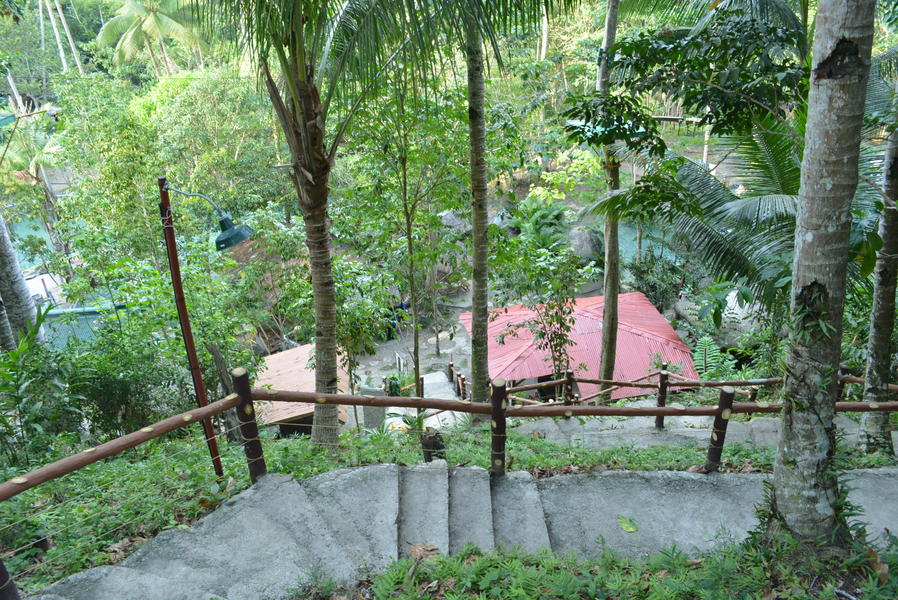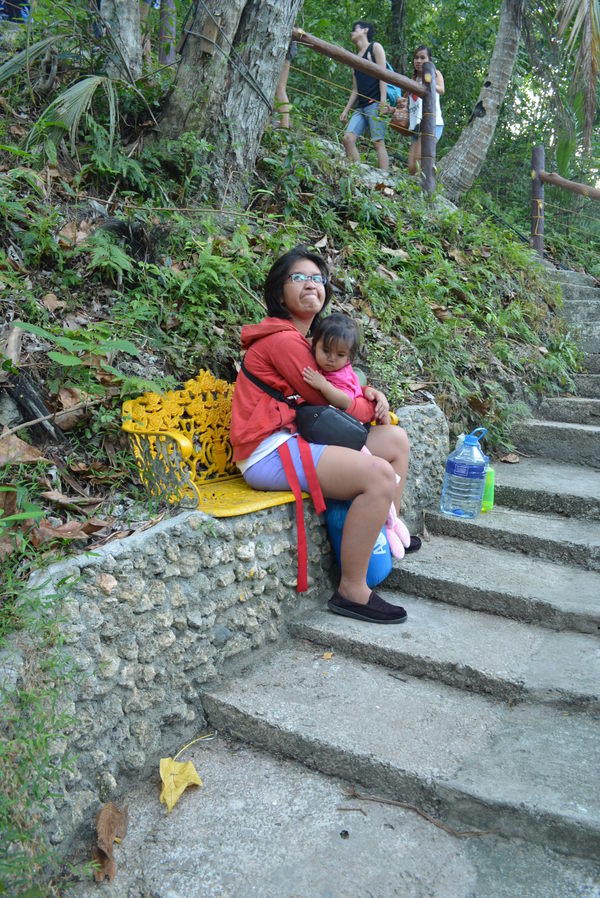 We also noticed that they had adventure activities around but I guess they were no longer operating. Some of the ropes in their "obstacle course" had snapped.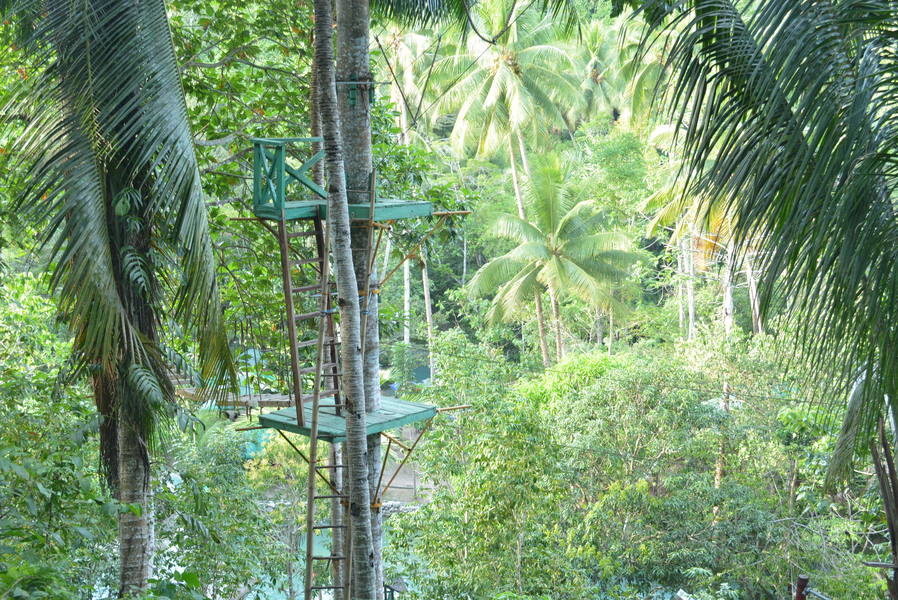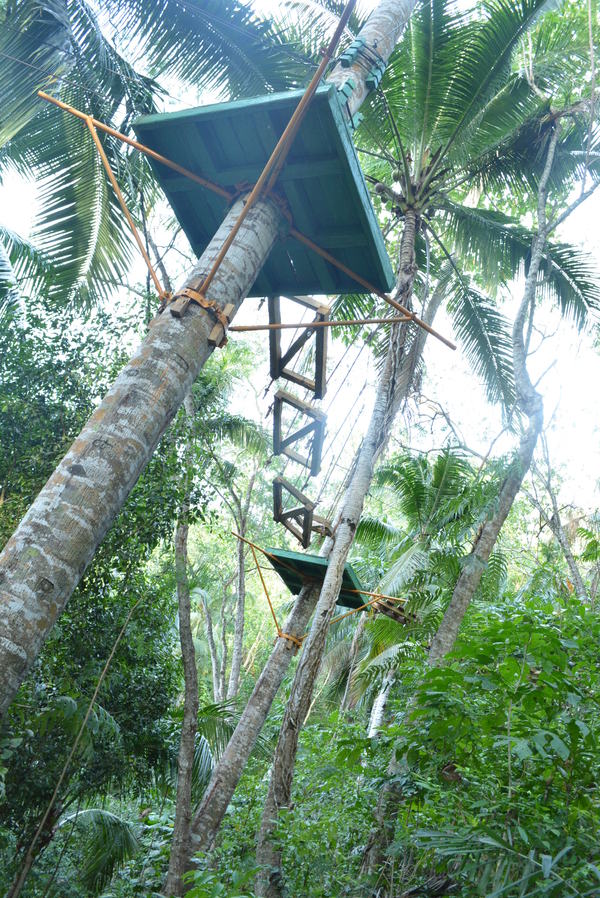 It was really time to go. We still had a boat to catch if we wanted to go to that other island to spend the night at.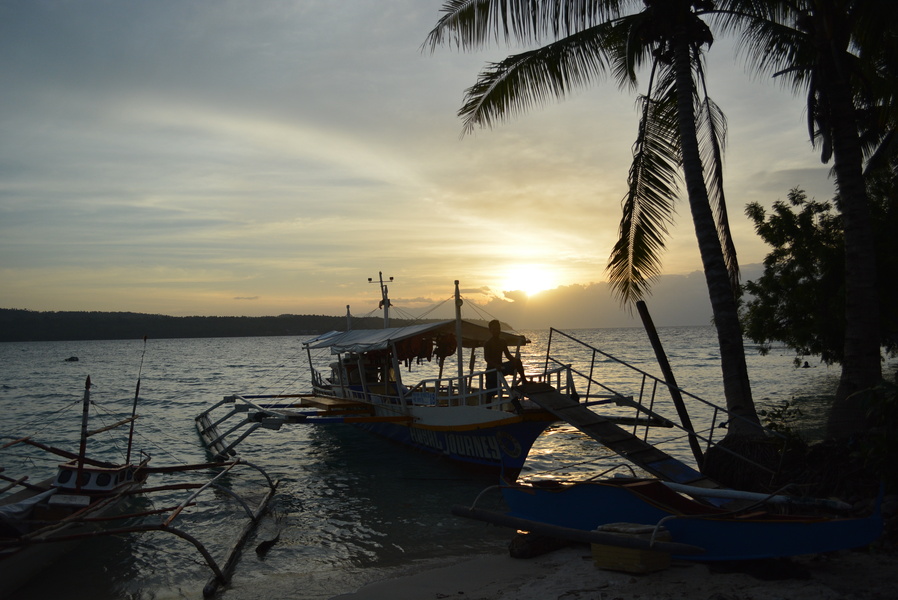 PS. We hired the tricycle to get us from Babak Wharf to Monfort Bat Sanctuary (~5km/~3.10mi) then from Monfort Bat Sanctuary to Haguimit Falls in Penaplata, IGACOS (~16km/~9.9mi). It costed us 300PHP (~6.6USD) for the entire trip.
*Distance calculations via GoogleMaps. The ones we heard from the drivers seemed to be off by at least 2kilometers so I couldn't really be sure about the accuracy.
**PS. Both attractions also charges a 5PHP (~0.1USD) environmental fee at the entrance.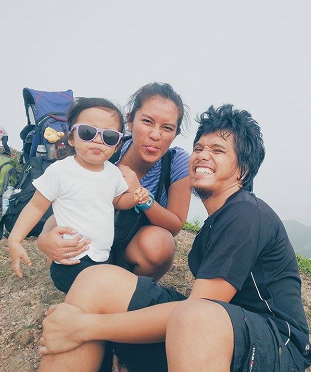 Pam is an outdoors-loving millennial momma who loves to hike, trek and camp in the beaches and mountains with her partner and their 3-year-old daughter. When not exploring the great outdoors, she moonlights as a freelance writer specializing in the travel, parenting, personal finance and digital marketing niches. You can also follow her via social media: Facebook, Twitter, Instagram and Pinterest!