The Philippines is composed of 7,107 islands, all visible during low tide. In my 23 years of existence, I've only covered about 14 islands or only about .02% of the total number, as of writing, – and I proudly call myself Miss Adventures. Sheesh. I am such a hypocrite. (*rolls eyes*)
Well, let's just say I have a few excuses on hand: 1) no time since I've already joined the workforce, 2) no money because there are parental responsibilities to take care of, 3) no one to come with me but that's not really an acceptable excuse because I now have two travelmates and I can also go on solo travel if I want to, and 4) actually, I guess that's just about it.
Now, there is definitely no reason not to try more adventures in the future because I have mostly got things covered. Here is a flashback of my Olango Island adventure (together with the partner) back in 2011, to serve as an inspiration for our future plans.
Olango is a small island just off the coast of Mactan Island, in Cebu, Philippines. The name Olango actually refers to the group of islands clustered around this area which is composed of Olango, Sulpa, Gilotongan, Nalusuan, Caohagan, Pangan-an and Camungi. This particular post is our travel to Olango Island, where the famous Olango Island Wildlife Sanctuary is located.
I have been here before, back in my elementary days, when my mom went for an outing with her classmates in graduate school. That was when I first visited the Wildlife Sanctuary. Also, two other islands from this area (Nalusuan and Gilotongan) are among those included in my "been-there" list but they are just really small islands that they are almost negligible. Haha.
By the way, this is a DIY trip. Small machine-operated boats are easily available in the small port beside Moevenpick Resort and Spa (formerly Cebu Hilton Resort and Towers). Boat fares are around 15PHP, if I could remember it right, or around 0.34USD. An additional terminal fee of 1PHP (~0.02USD) is also paid upon entering the terminal.
Not much goes on around the island since it is very small. It may be hard to find public transportation in the form of tricycles from elsewhere on the island. Just to be sure, we rented out a tricycle for the whole day. The driver took us to the places we wanted but the price though is much, much higher than the usual. We probably paid around 200PHP (~4.5USD) for a whole day tour.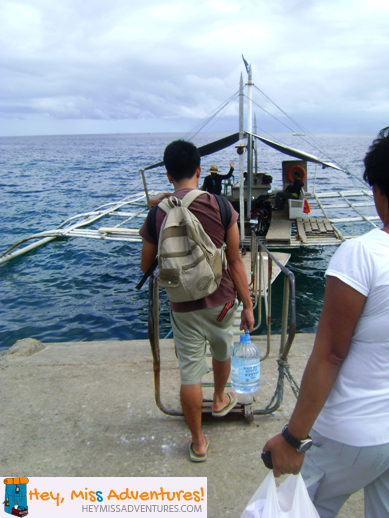 Once we go about our plans five years from now, we will no longer be touring. Instead, we plan to live as locals in the place (whether here in the Philippines or abroad) since it is a much cheaper approach. Plus you learn more about their culture, too, thus contributing more to the world schooling lifestyle we plan to inculcate on our daughter.
First off, we decided to go to a cheap resort so we could take our lunch. I could no longer the specifics of this trip as it happened almost two years ago. The driver did suggest us to a really cheap place although I think there are other resorts that are much cheaper.
Obviously, the place was not first-class level but there was a small roofed area where we could eat our lunch. It's called a "payag" in the Cebuano dialect.
BUDGET TIP!

 Bring your own food with you when you go on trips.
We bought meat the day before and cooked it in the morning. We also brought along rice (a staple in Filipino meals), lots of it. Of course, we had to share some of our food to the driver who was waiting for us outside the resort.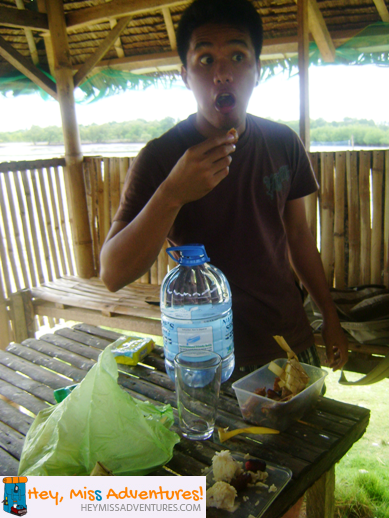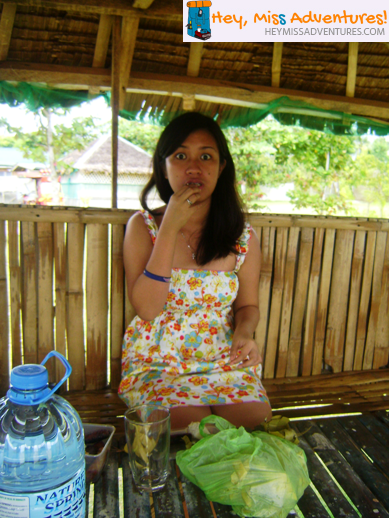 After eating, we went exploring the place and rented out the kayak. It was low tide so you would have to go a little further to get to deeper waters. I am no good swimmer and we were in a kayak which could easily topple over, we just explored areas nearby. Of course, we had A LOT of picture taking in between.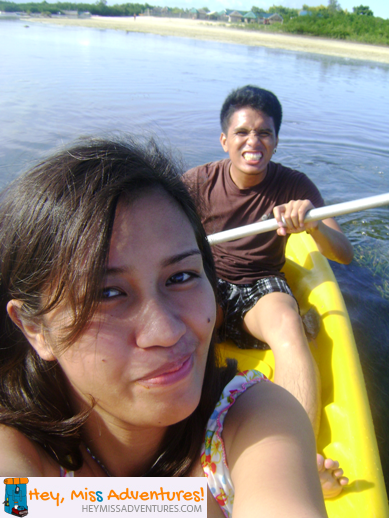 We also took picture of a lone bird that perched on one of the branches in the water. Okay, well, the bird in the picture is a little too hard to distinguish.
There are also times when I feel OC-ish. Lots of garbage were floating in the waters so we decided to pick them up. Doing Bantay Dagat (Sea Guard) duties were how we spent most of the time while kayaking.
One of the main reasons why I wanted to visit Olango Island was the birds. Migratory birds flock the island around December each year (or during winter season on other parts of the globe). I am no expert nor fan of birds actually but I just thought that being able to watch them, especially colorful ones, would bring great delight.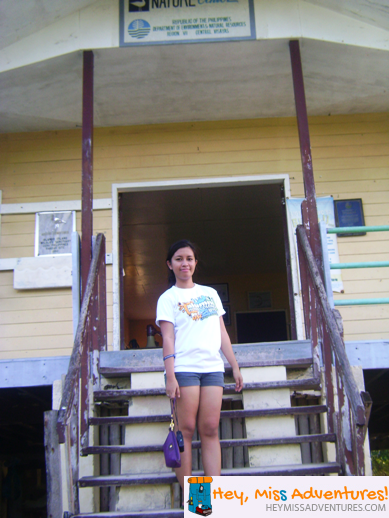 You can actually get a guide to tour you around and tell you which birds are which. I can't remember if we didn't get one because no one was available or because we would go out of budget if we did that. Haha. Anyway, we just rented out binoculars.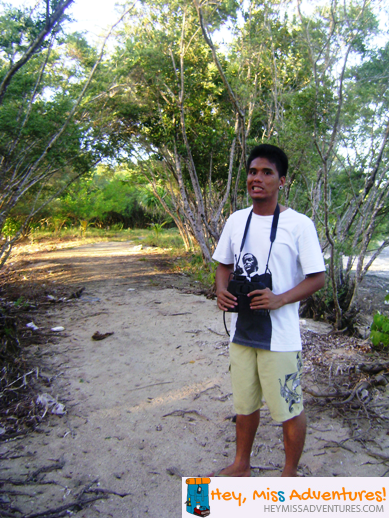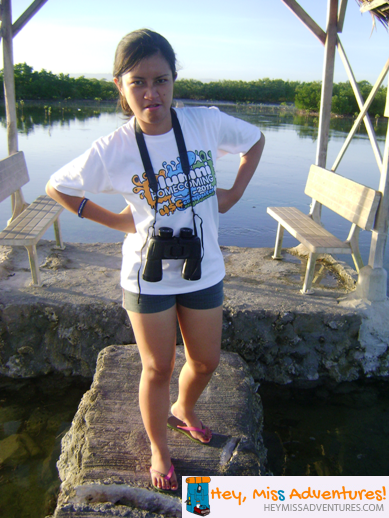 We had a few great pictures that were actually my idea (proudly so). It's times like these when I feel like an advertising student. I think the right side of my brain has creative juices waiting to be extracted.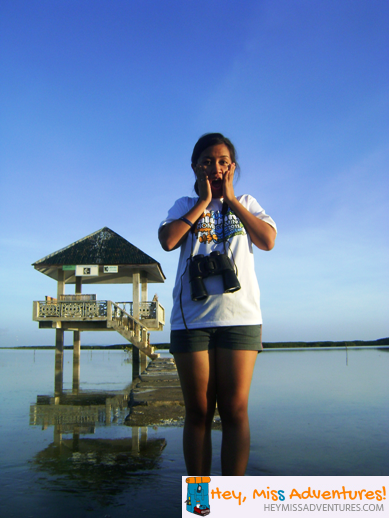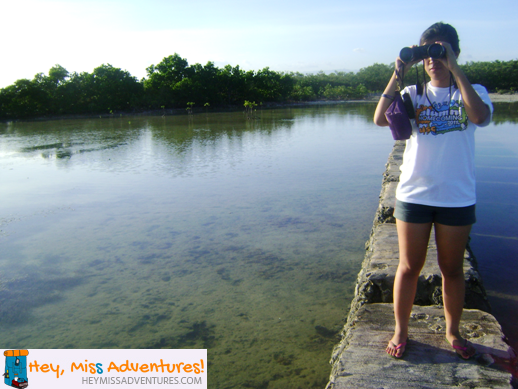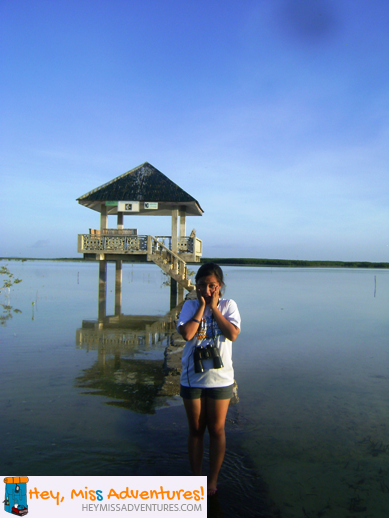 Then, it was time to go home. We had to make sure we caught the last trip back to Cebu (technically to Mactan Island). I didn't tell my parents I was taking a trip to another island for the day.
But, of course, not without taking a picture of a lonely house sitting in an islet, with the sunset as backdrop. Beautiful.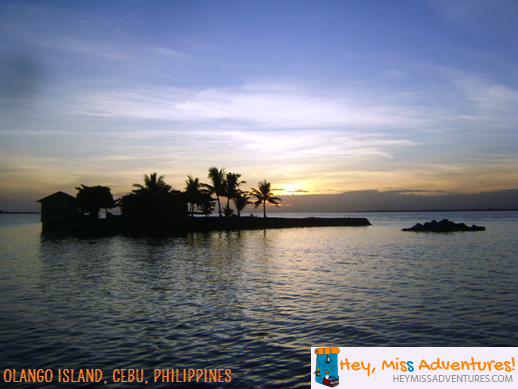 What fun adventure. I'm sure more will come in the future!
XX
Update: There's a new place in Olango where you can camp, check out our post about the Payag sa Asinan!