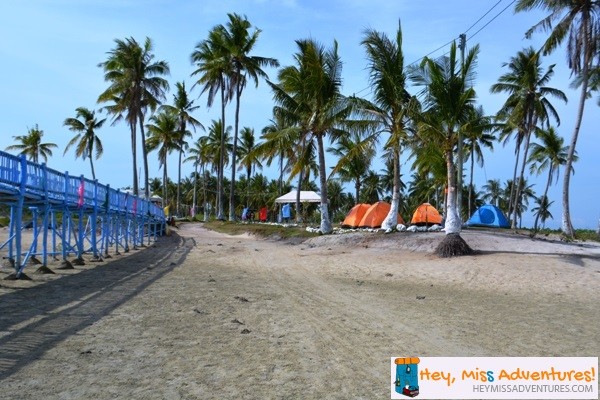 This weekend, we decided to hit the beach. It is summer after all here – no wait, scratch that – it's the hottest of the year-round summer months here in tropical Philippines. There was a new-ish attraction (since August 2014) in a nearby island that allowed visitors to camp which was just the perfect fit for us. So, on a Saturday night, it was Olango Island for us. Hooray!
The partner and I have been to Olango Island before to visit the bird sanctuary. This is the first time that we took our daughter there (another island off of her list, yay!) but we didn't go to the bird sanctuary this time around because we figured out that she might not be able to use the binoculars properly yet. Plus, it probably was already past migration season so we weren't sure if there are still a lot of birds around.
Getting to Olango Island and the Eco-Park
We were scared about missing the boat since we got out of the house pretty late already. Thankfully, when we got to the port near Movenpick Hotel, we found out that there was still another trip at 8PM. It was 7PM when we got there and just in time to load the boat for the second to the last trip of the day. (Sorry, I failed to ask for weekday schedules, but let's just assume they have trips until 6PM.)
Getting from Mactan Island to Olango Island is just a 20-peso, 20-minute ride. The wind blew strong and the waves crashed hard so it took us another 10 minutes or so before we got to the island. The daughter hugged and held on tight to her dad the whole time – she was not as used to sea travel as she is with land travel.
When we got to the port, we immediately took a motorcycle ride. The ride took a few minutes and costed us 20PHP each. Thank goodness they didn't ask for more.
Exploring and Camping at Olango Island
We got to the eco-park at around 8PM already and set up camp and cooked rice, too. We already precooked our viand just to make sure we had something to eat along the way (in case the daughter gets hungry). The caretaker was very accommodating and helped us with our tents. They actually let visitors rent out their tents for 100PHP plus an entrance fee of 15PHP. We only paid for the entrance fee plus tent space of 50PHP. Very cheap, no?
While waiting for our rice to cook, the partner took out our daughter to walk around the waters. It was low tide so for many kilometers from our camp area, the water was almost always just ankle level and never got higher than the daughter's knees. Of course, she tried to lower herself down many times to splash water which got her clothes and diapers all wet. Before she did get used to the sand being on her feet, she did hesitate to walk on it even with her slippers on and said there was rice on her feet. It was a funny moment.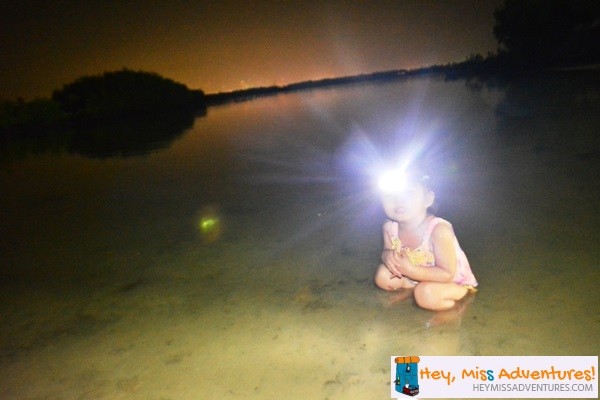 I was just mostly observing them from the tent. I was not in perfect shape because of some coughs and colds so I just enjoyed the cool – and slightly humid – sea breeze. After dinner, I got our sleeping bags out of the tent and laid it on the sand. I told the partner I would just rest my head (sinusitis sucks) and well, eventually fell asleep. The two enjoyed themselves until around 10PM.
The group of campers who arrived when we ate dinner had become very noisy during their booze party and, as told by the partner, were amazed at how well our daughter slept despite their noise. We finally decided it had gone too cold outside the tent so we transferred inside at around 2AM.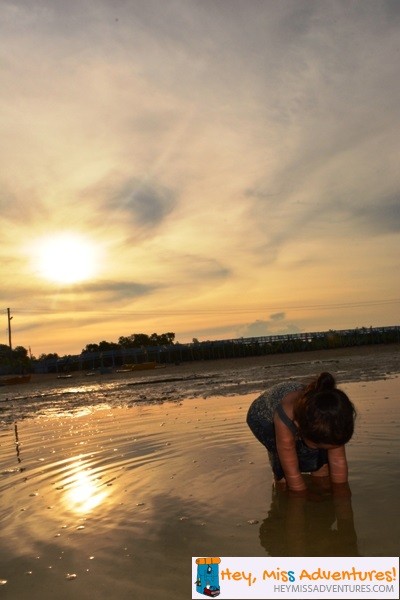 Things to Do at the Olango Eco-Park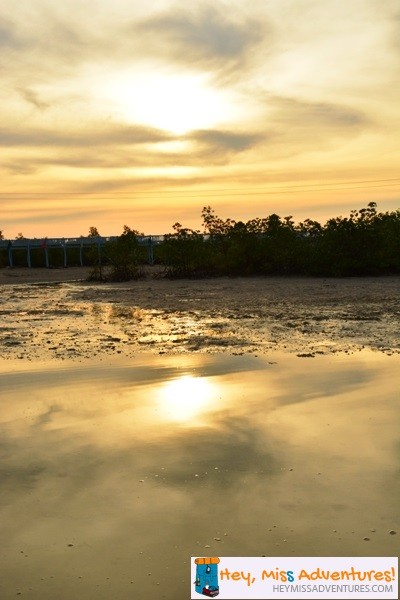 Among the things that I wanted for the daughter to experience at the eco-park was mangrove planting – I haven't tried that out myself, too. Unfortunately, I was not in the mood for such activities because of my runny nose so the whole morning, we just waded around the waters which had gone even farther away. High tide probably came in the afternoon.
We ate a big seafood breakfast which was pretty cheap compared to city prices. I had started packing up things, too, so that we could go home after we ate.
From their Facebook page, I also saw that it was possible to feed the fish or go canoeing. As it was low tide, we just tried to catch the crabs and the other little creatures by the shore. It was a great way to introduce the marine life to the daughter, who shouted "Ladybug!" every time she sees a little crab scurrying past.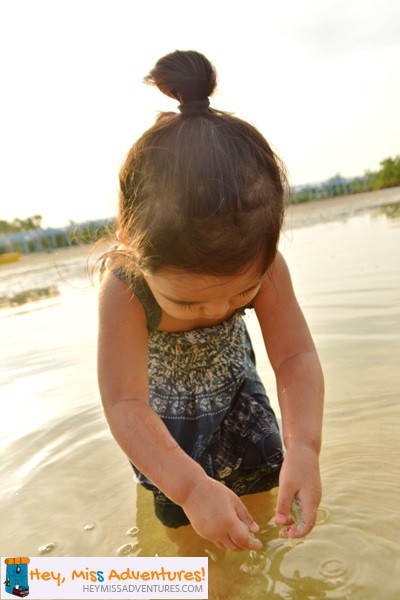 At around 8:30AM, we decided it was time to go home and walked our way out of the place. It had been a great Mother's Day for me.
Tips for Camping at Olango Island
Bring a sleeping bag/mat for sleeping by the shore, under the stars. You may also opt to camp a little farther away from the shore, in a lawn of bermuda grass.
Expect to get wet so bring extra clothing.
Slather sunblock but sunshine before 8AM is great for your skin, too.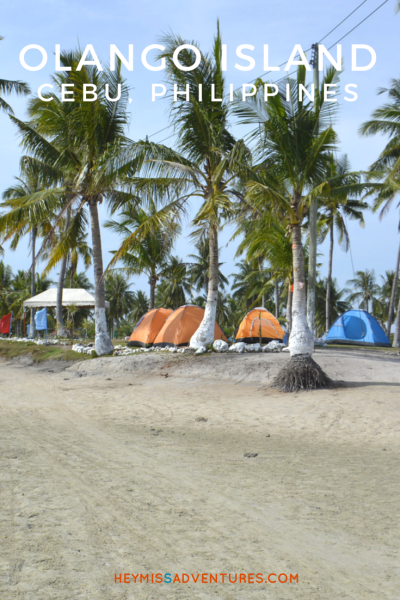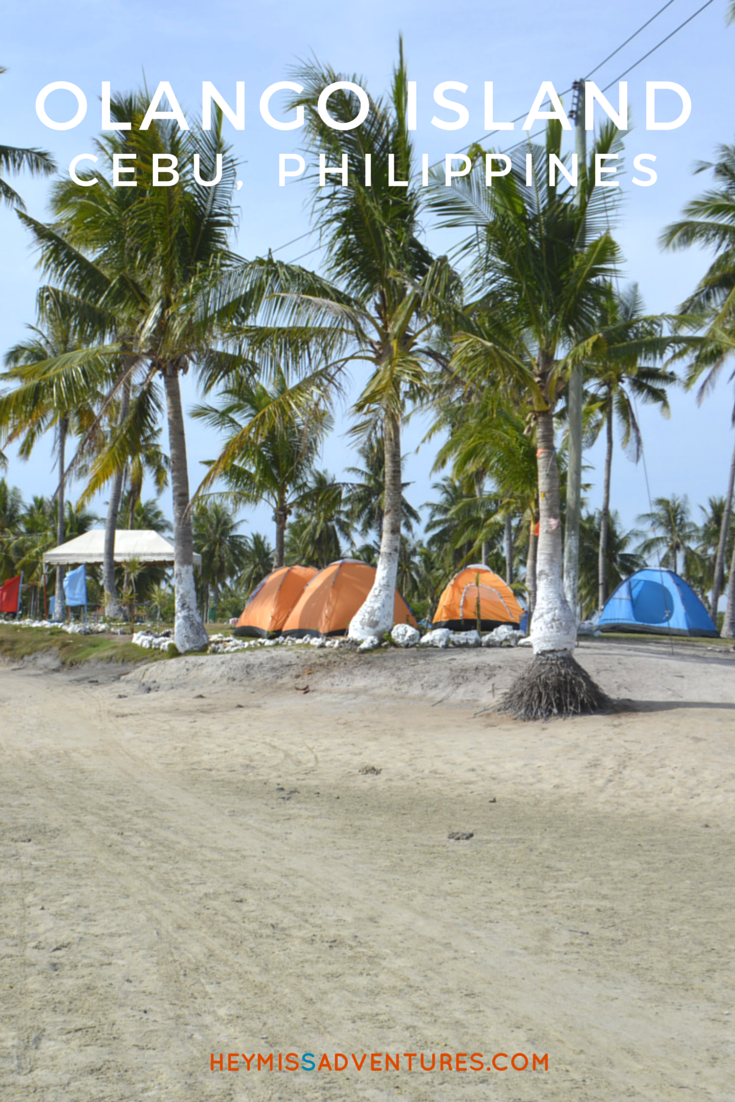 Olango Island Camping Expenses Summary
Highway to Movenpick Port – PHP15 per head
Boat fee to Olango Island – PHP15 per head
Terminal fee – PHP5 per head
Motorcycle ride from Olango port to Eco-Park – PHP20 per head
Olango Island Eco-Park entrance fee – PHP15 per head
Tent rentals – PHP100 per tent OR
Tent space fee – PHP50 per tent (if you brought tents along)
Food: Saang – PHP7 per shell; Fish – PHP200 per kilo, bargained at PHP150
Ang Payag Sa Asinan Eco-Tourism Park Facebook Page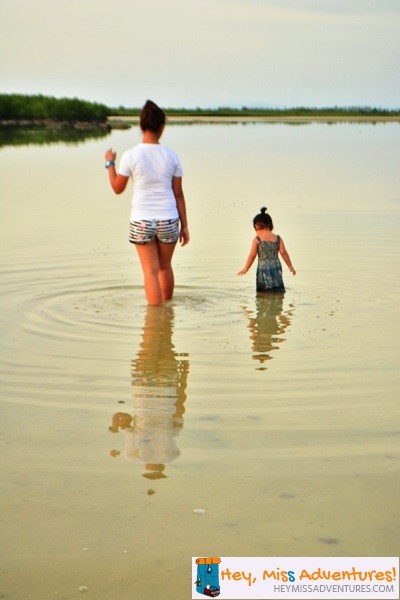 Where have you been this Mother's Day?