Family Hotel Review: Bluewater Maribago Resort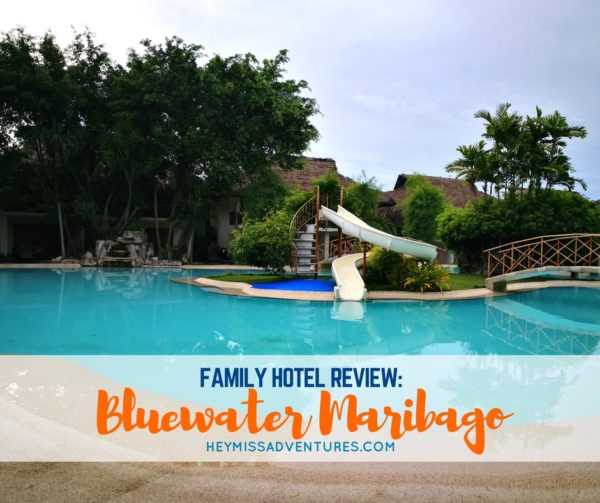 Nothing beats all-inclusive resorts, especially when you have kiddos to look after and entertain. In fact, when we look for places to have a staycation in, a swimming pool is always top priority and a decent WiFi (so I can work). Bluewater Maribago has been around in business since July 1989, a few months older than I am, but I have only been there once.
TLDR
Rooms: 5 out of 5
Facilities: 4 out of 5
Food: 5 out of 5
Service: 5 out of 5
WiFi: 4 out of 5
Cleanliness: 5 out of 5
Price: 4 out of 5
Total: 4.6 out of 5
Recommended for families? Definitely! In fact, you just stay inside the resort for the entire duration of your stay and you and the kiddos will surely have a grand time.
Check rates on Agoda Check rates on Booking
The Family Experience
The moment we set foot inside the property, we were treated very well. I had forgotten to bring my ID – lol – and it would be a waste to go back home. Thankfully, they were just okay with me emailing a screenshot of it.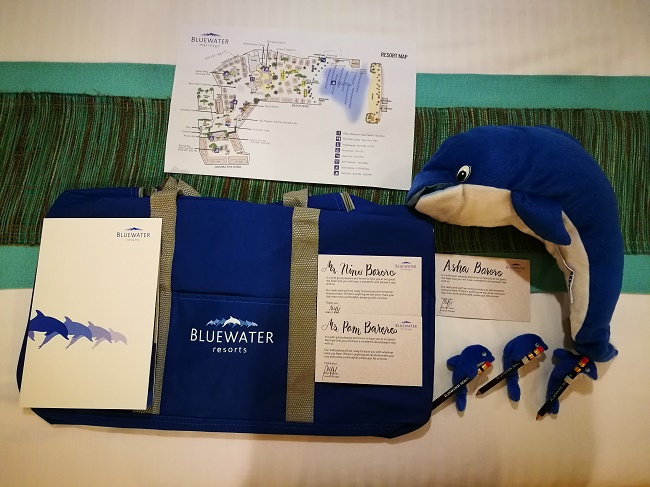 While this was a sponsored stay, it is in no way biased. Dave, our "tour guide", gave us the chance to rest after checking in. She was probably the only person who knew what we were there for, but the entire resort staff treated us well, just like the other guests. We slept that afternoon and, because it had rained, we had to postpone our tour of the place for the next day.
Rooms and Facilities
I had expected the cantilevered beds but I guess those were only in Bluewater Panglao (in Bohol); they also have another property in Sumilon Island. Nevertheless, we had a spacious room, with two huge beds, fronting the main pool.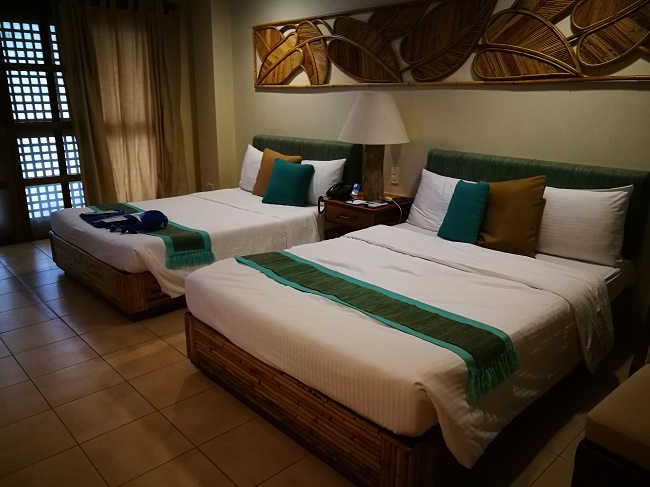 During our visit, they were fully booked so we didn't get the chance to see the other rooms. The place was full of Koreans – even Dave knew how to speak Korean which was awesome.
Check rates on Agoda Check rates on Booking
I'm not really particular about the bathroom, so long as it is clean, but the one we had was huge – probably a third of the size of the room. It also had a bathtub but they didn't have a rainshower though, which is present in my dream bathroom.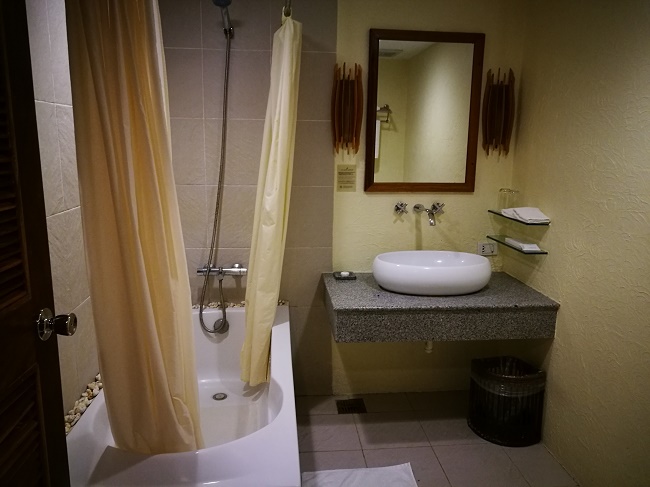 The highlight of our stay was giving our daughter the confidence to swim on her own. It rained sporadically during our two-day stay but that didn't stop her from jumping into the pool. (Who could resist when you have it right in front of you!)
Bluewater Maribago also has two other pools – one near their spa area, which is perfect for couples, singles and those who simply want some peace and quiet; and another one near Allegro Restaurant. We never got to try both – the former screams exclusivity and the latter is just too far from our room (and to cold to walk to; plus you would have to walk in the middle of the restaurant's al fresco area.
The resort also has a beach as well as a room on an island. Luxurious, yeah?
For the Kiddos
Bluewater Maribago is by far the kid-friendliest resort in Cebu that our family have been to.
Not convinced? Well, they have the Dolpo Kids' Club, which has tons of activities for the kids everyday. FYI: Dolpo is the dolphin, their official mascot. We also got to take some of them home – they are so cute!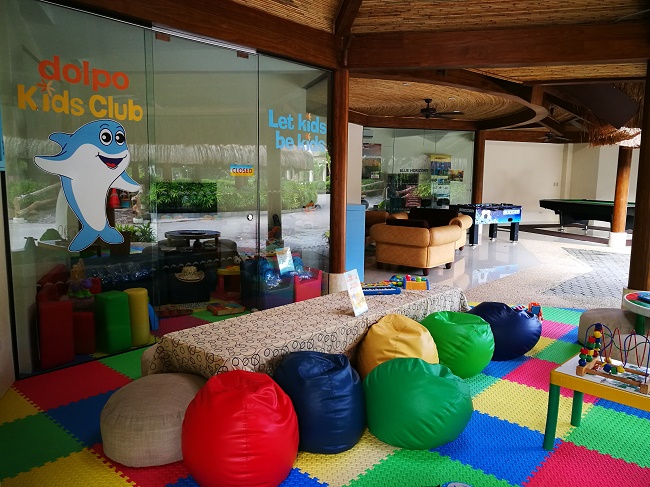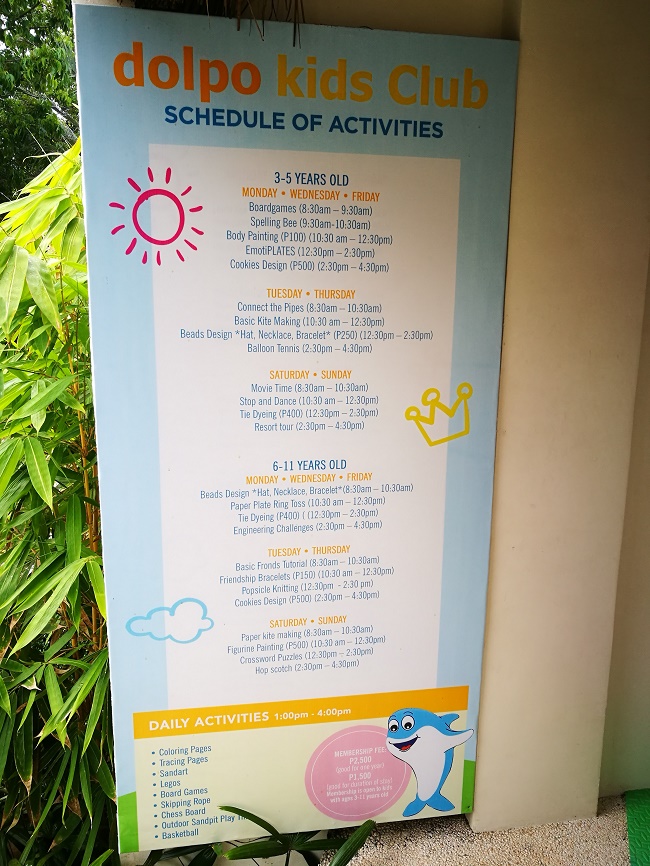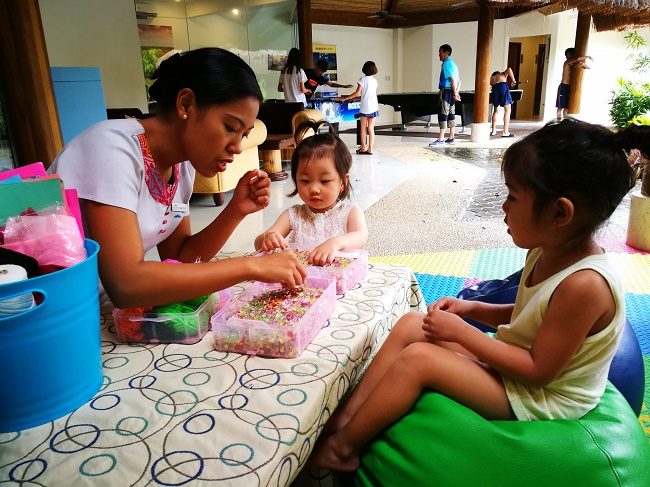 with Ate Dave in action
Beyond Allegro Restaurant and the pool, is a huge area with beautiful balete trees and a mini playground. We got to walk around the area in the morning and it was a sight to behold.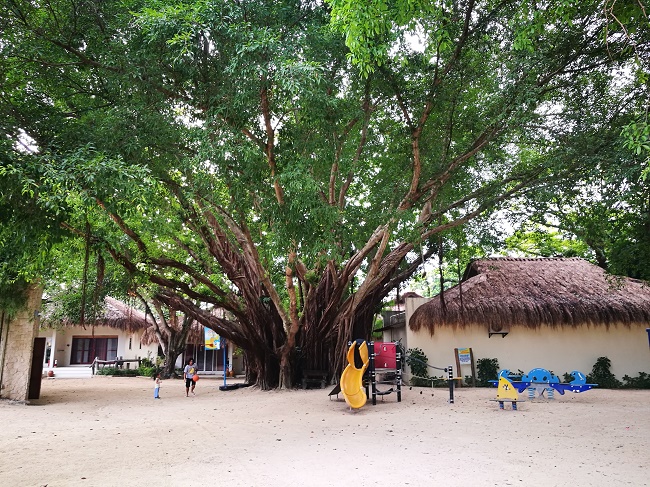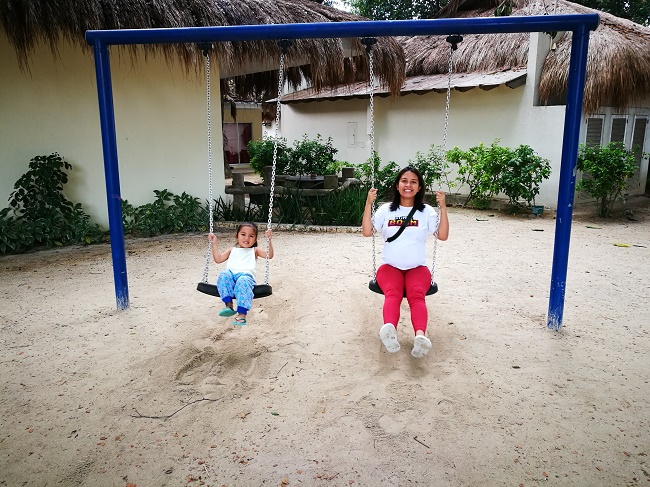 Restaurant
I'm a very picky eater but every single meal we had in Bluewater Maribago was heavenly.
Breakfasts are my favorite and I could munch on cereals and milk all day long. But, of course, we had to try a little bit of each, right? There was something for everyone – bread, salads, Korean food (lol sorry I am not a fan), fruits, Pinoy native food, eggs, pancakes, and a whole lot more.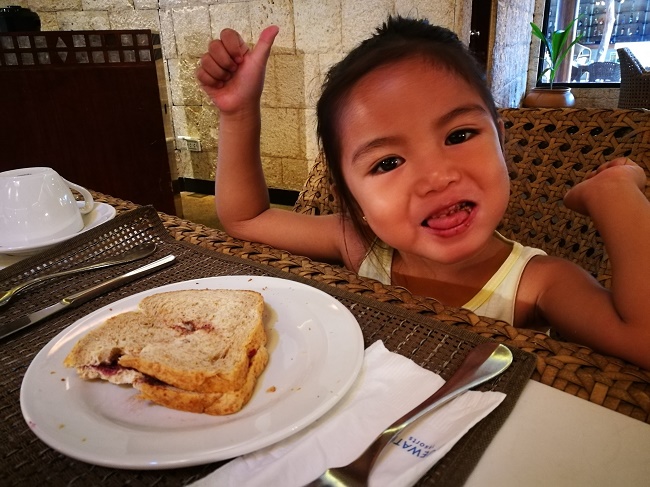 Lunch was all about seafood and siomai – and a gazillion sweets!!! Never mind that I was 8 months pregnant here.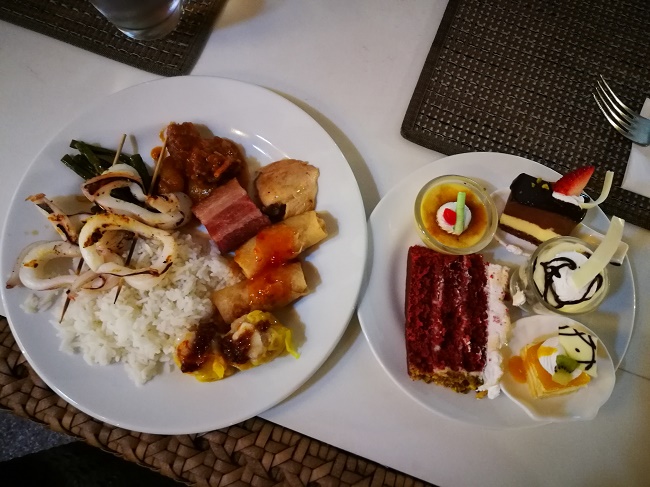 And, of course, the much-awaited dinner! Bluewater Maribago holds themed dinner buffets:
Sunday – All-Steak Night
Monday – Mondo Mediterraneo
Tuesday – Taste of Asia
Wednesday – Cebuano Street Fest
Thursday – American Backyard Grill
Friday – Fishing Village
Saturday – Barrio Fiesta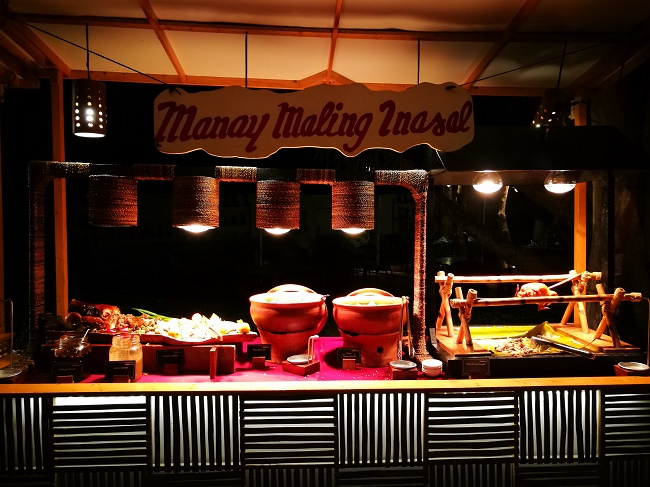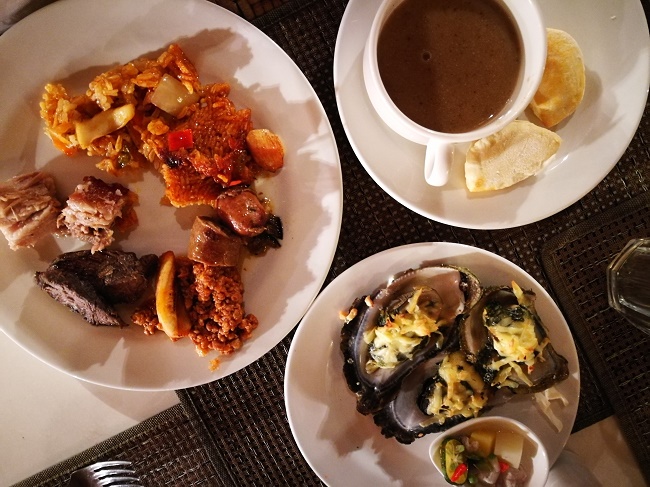 bad lighting but delicious food
We got to experience the last two themes and both had been awesome. On our first night, there was even a short power outage but that didn't stop us from having our fill – of course!
We dined at the Allegro Restaurant but they also have several other dining areas: The Cove, Oyster Bar, Pizzeria Delfino's, and Juice Bar Amuma Spa Cafe. You can find all info here.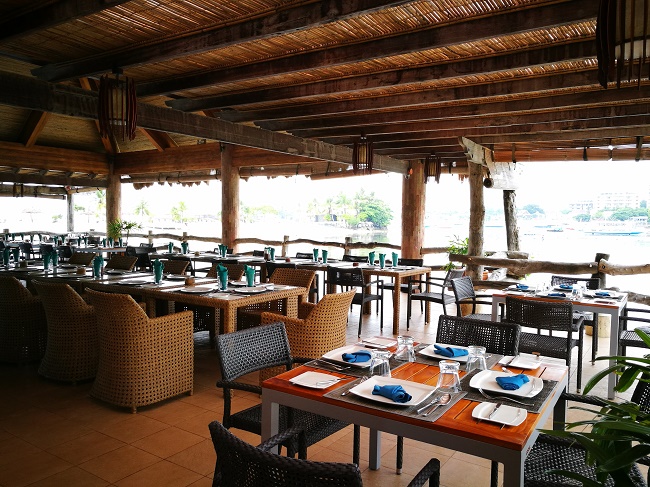 The Cove
How to Get There
The resort is around 20 minutes away from the airport and would be much easier to go there via taxi, Uber or Grab.
Of course, if you'd rather go on an adventure, go outside the airport complex where SaveMore/Marina Mall is located and take a jeep that says "Soong – Maribago" on the sign board.
Check rates on Agoda Check rates on Booking
What to Do Inside
I've discussed in full detail how the resort boasts of three swimming pools for the kiddos (one has a slide) or they can also join the Dolpo Kids Club for activities.
For the adults, there's the spa, several dining options, sunbathing and swimming, or well, just lounging around. There are also several water activities that you can do here!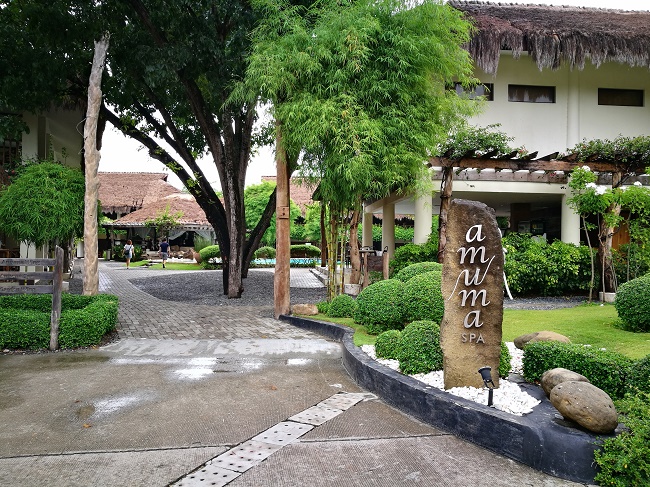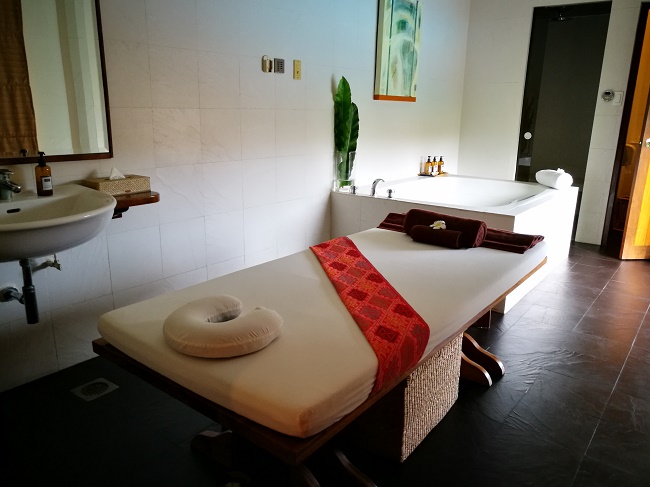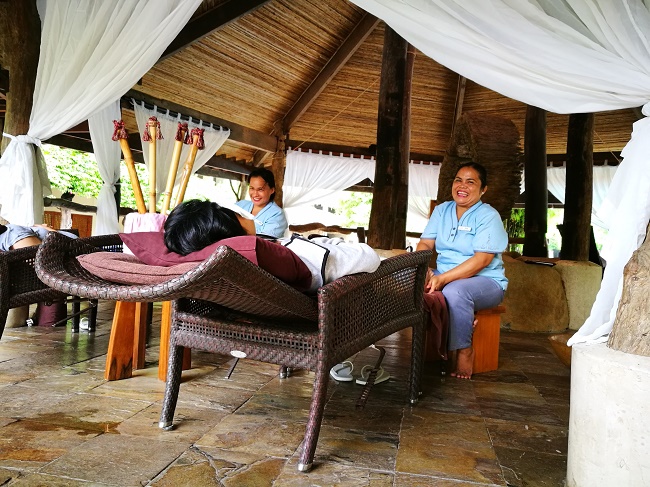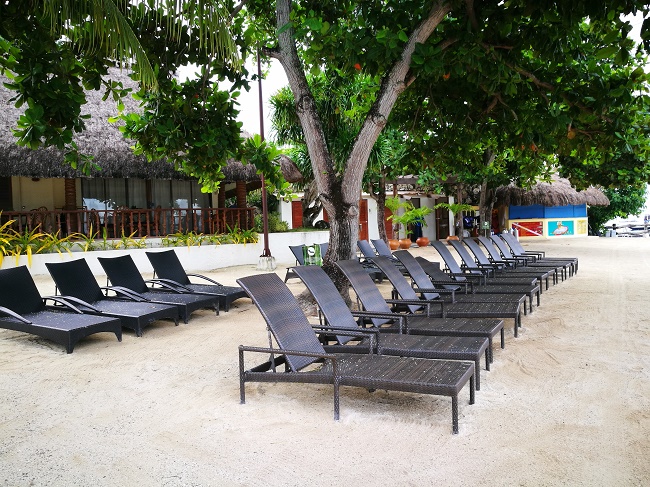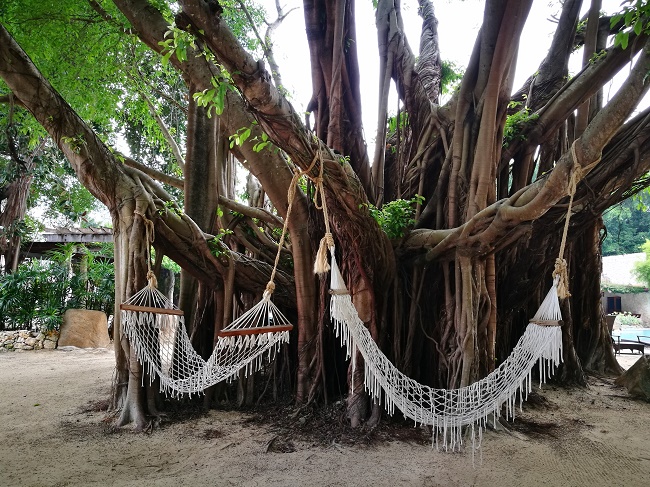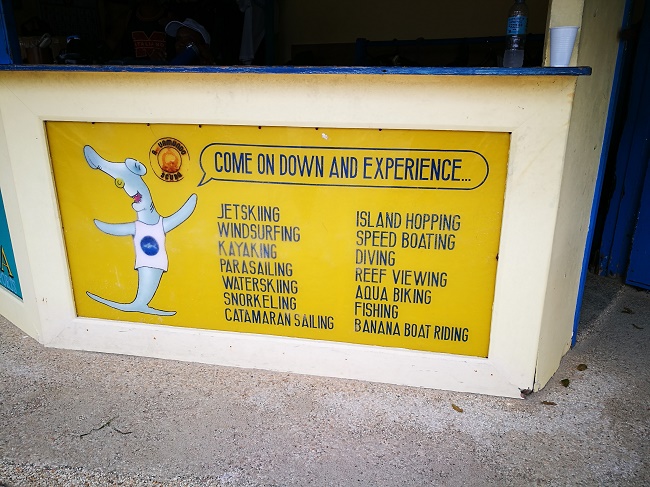 What to Do Around
We never got the chance to go outside during our stay but there are plenty of other restaurants (mostly Korean) as well as a supermarket in case you'd like to buy some food.
For the Digital Nomad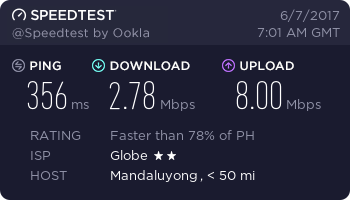 Maribago Bluewater's Internet connection was decent enough during our entire stay, and wherever we were. I was even able to make Skype calls without a problem! I think I even saw another person who was just outside his room, working on his laptop. Perfect for digital nomads!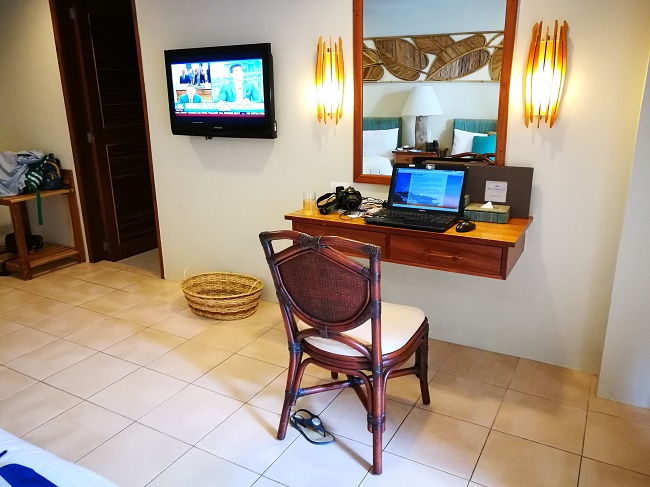 Conclusion
If you are looking for an authentic Filipino experience during your stay in Cebu, the 7-hectare tropical paradise that is Bluewater Maribago is the perfect getaway.
It boasts of a lot of activities and amenities for the whole family to enjoy – you will surely have a grand time here.
Check rates on Agoda Check rates on Booking
Hotel Details
Bluewater Maribago
Check-in and check-out: 2pm to 12nn
Buyong, Maribago, Lapulapu City, Cebu
Website | Facebook | Twitter | Instagram | YouTube
Disclosure: Disclosure: We were invited by Bluewater Maribago to experience their family-friendly resort for 2 nights – all-expense paid. It does not, in any way, affect our reviews – we stay true to what we have experienced.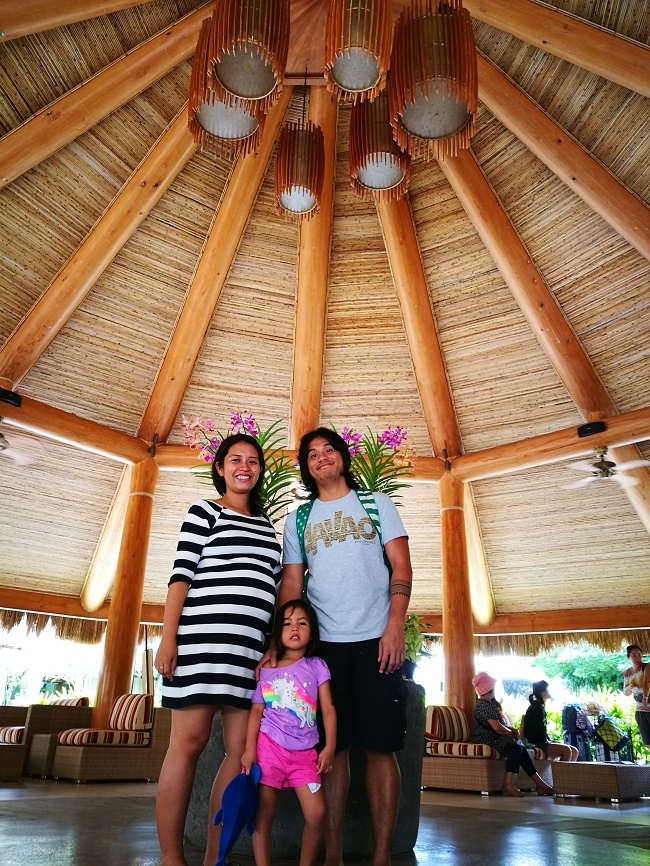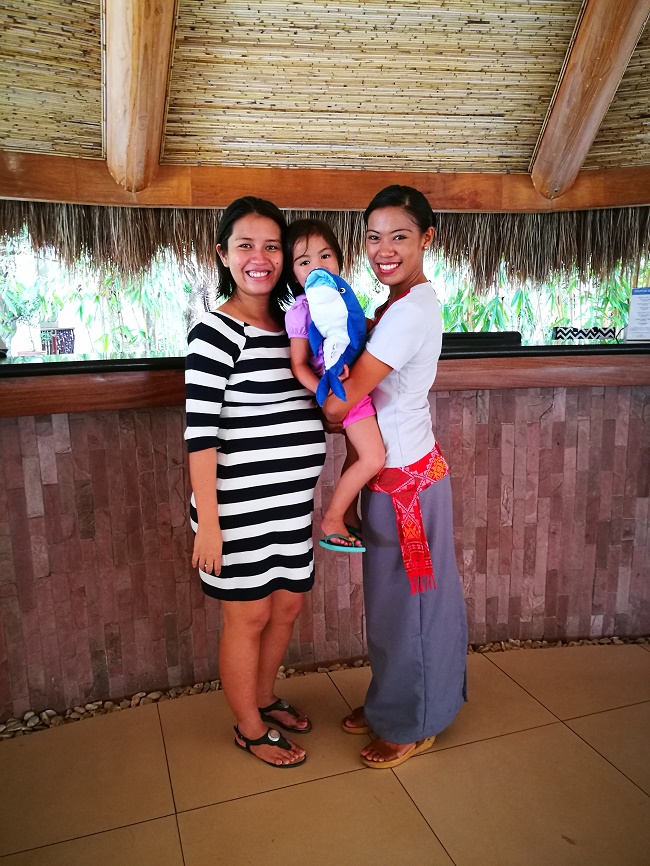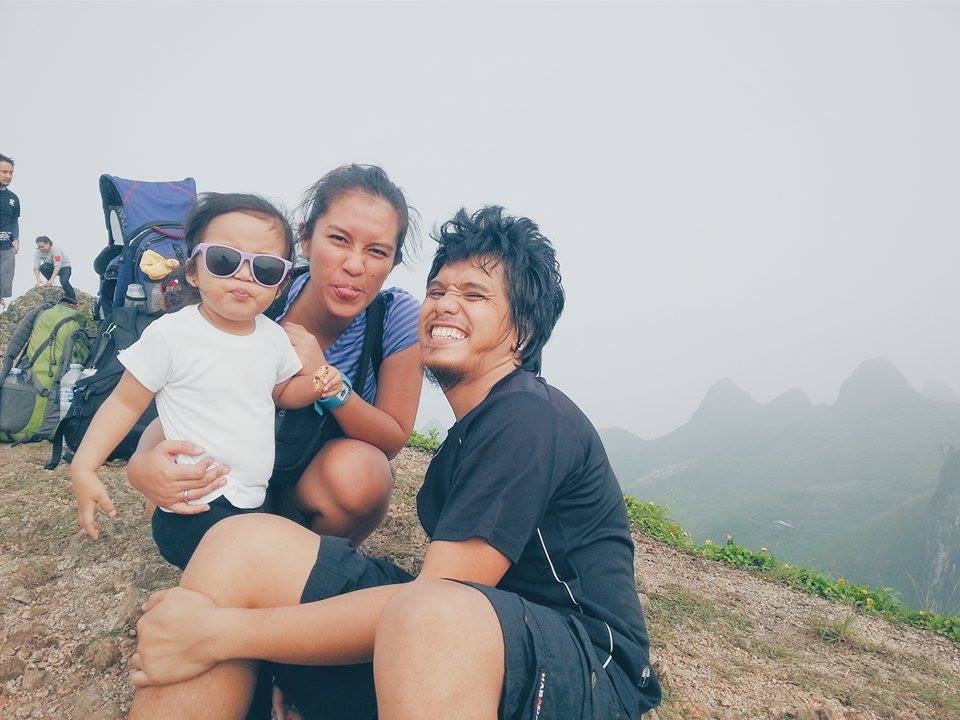 Oh, hello there!
Pam is an outdoors-loving millennial momma who loves to hike, trek and camp in the beaches and mountains with her partner and their kiddos. When not exploring the great outdoors, she works with bloggers, coaches and solopreneurs to free up their time so they can work on the things that they love and enjoy the most.