Celebrating Birthdays at The Playground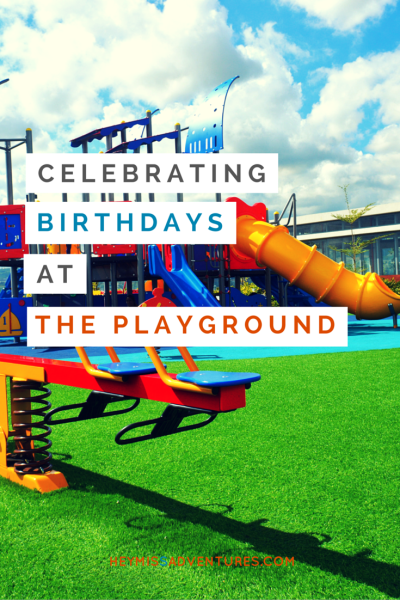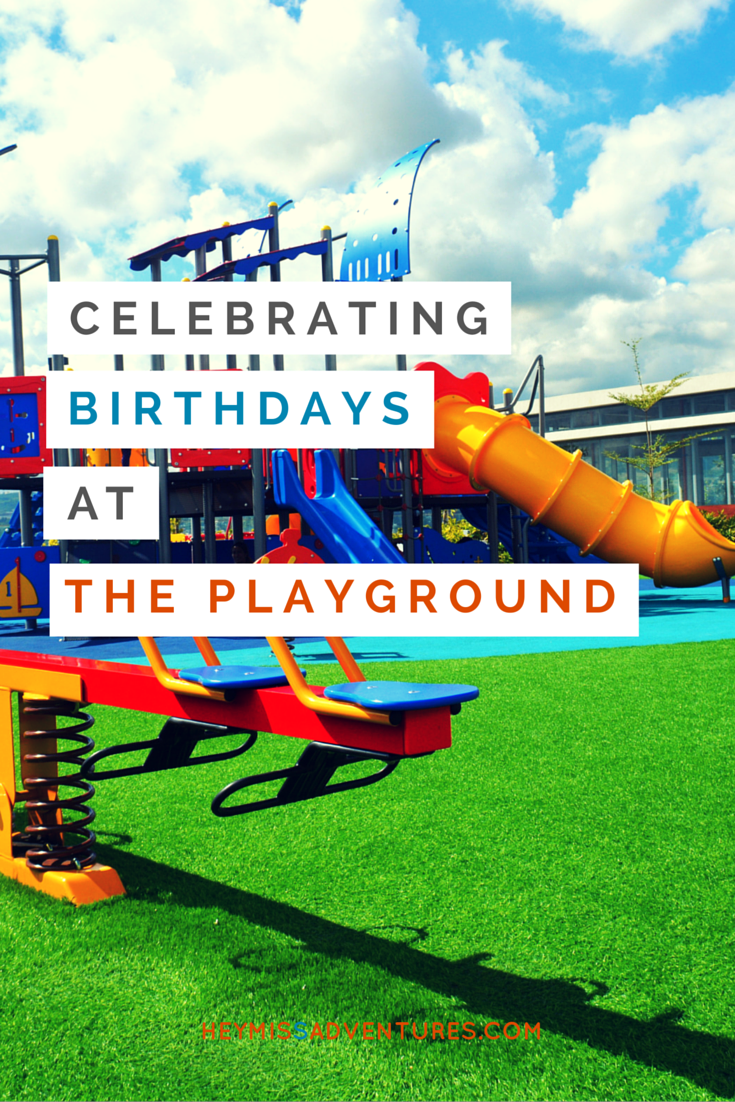 Thank you to our awesome friends from SM Seaside City Cebu, Philippine Airlines and Nuffnang for making this post possible.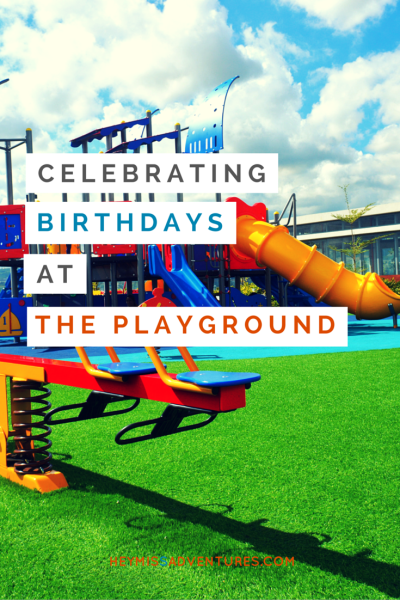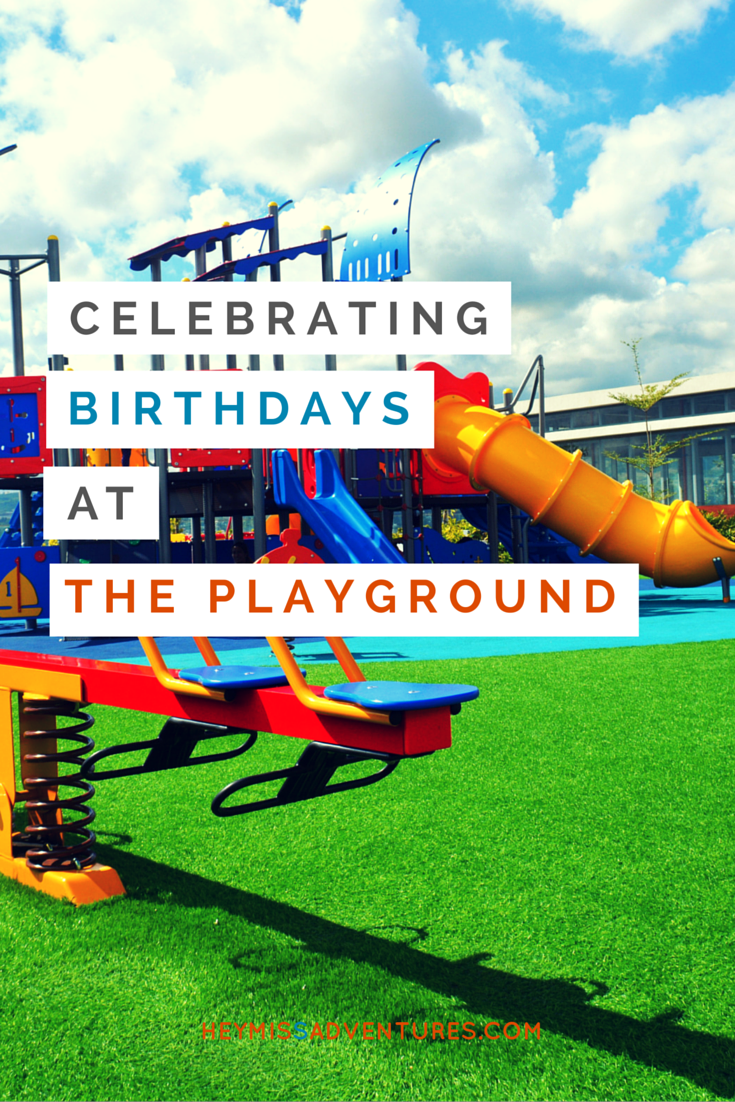 As a lover of the outdoors, I've always wanted to celebrate my daughter's birthday somewhere where there are lots of trees and space to run around.
Unfortunately, when you are living in the city, huge backyards are just impossible and parks are just a scarcity here in the country. But I was surprised to discover an awesome playground at the most unlikely place: on the roof deck of a mall!
The SM Seaside City Cebu opened last November 27 at the South Road Properties and we were fortunate enough to be among the few who got to see it a day before it opened. But, to tell you honestly, we never got to see the mall in its entirety because it was too big to check in just a day.
The Playground
We only actually got to see the Sky Park and got to enjoy it to ourselves for a few hours. There are very few similar spaces around the city like The Playground so our daughter – and us, parents – were very excited to try it out.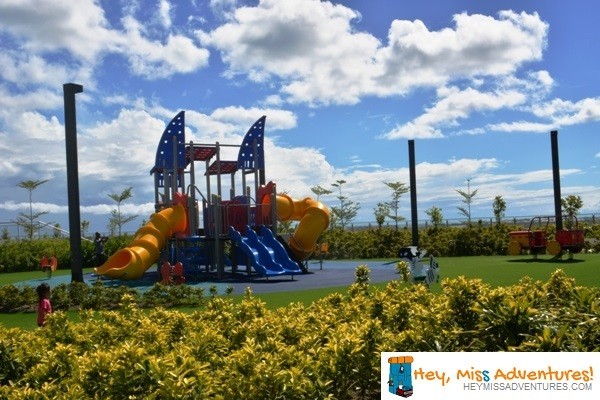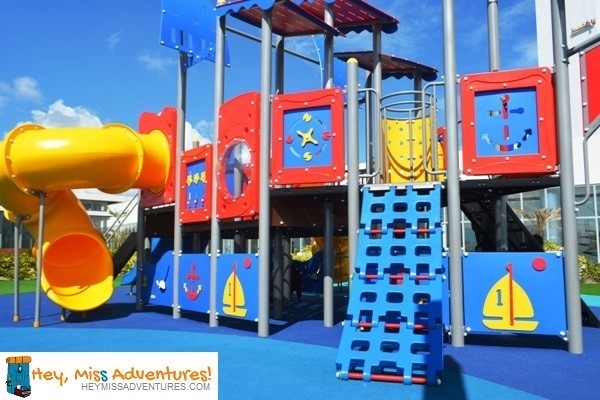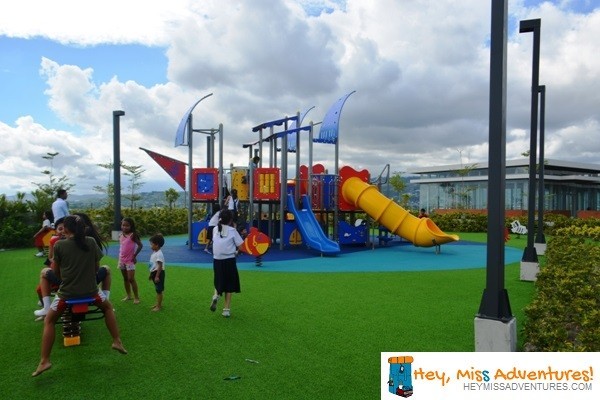 I have always dreamed of holding birthday parties outside of the house, surrounded by trees and other greens, and this one is pretty much close to achieving that.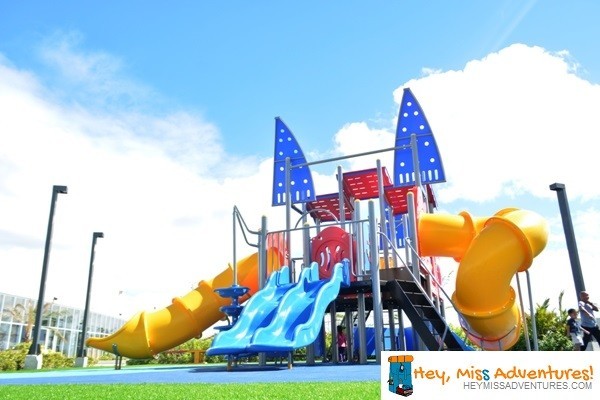 Sure, I can't have those Pinterest-ready setups but I am almost sold to the idea: just right on the other side of the door separating the Sky Park from the rest of the mall is a number of restaurants for the family to enjoy. Once lunch or dinner is over, the kids can head on to The Playground and get active while the rest of the family can shop around the mall or simply relax in the park.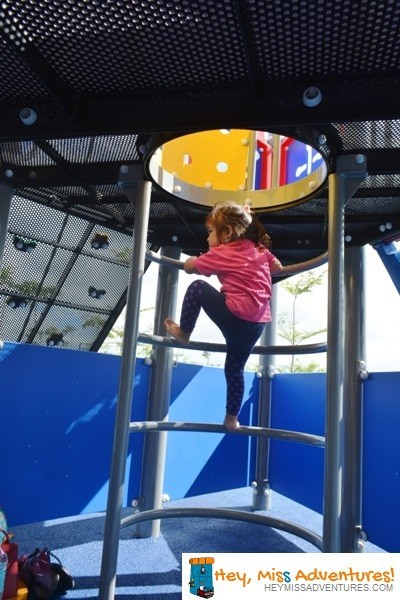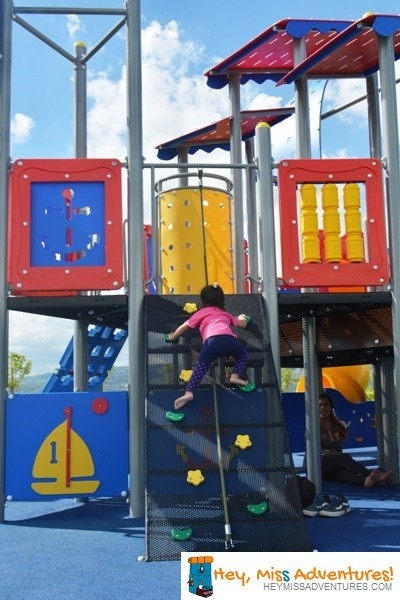 The Sky Park is in its final stages of completion and there are still a lot of things to look out for. So far, The Playground and the Water Playground are among its most prominent features.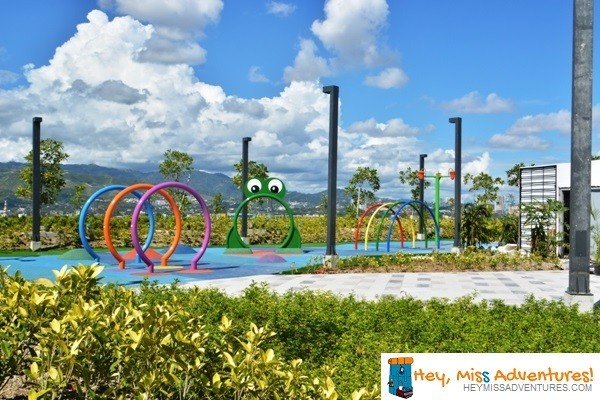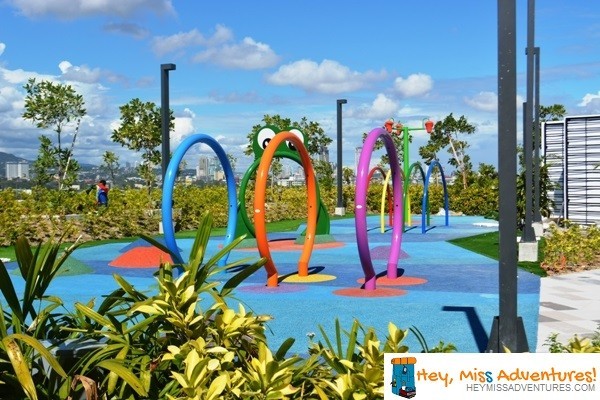 I heard a playground by internationally renowned from Cebuano designer Kenneth Cobonpue will be added in as well.
Obviously, someone really enjoyed her short stay at The Playground.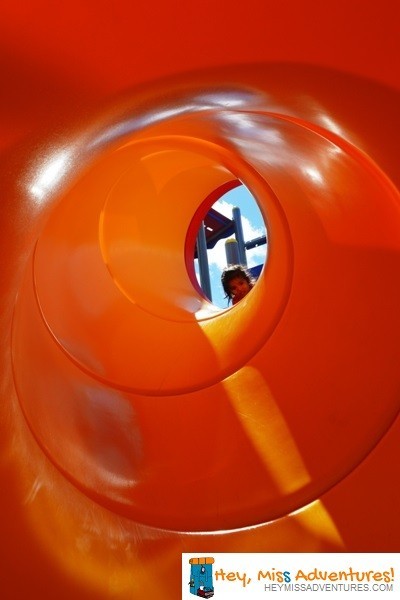 The area is great for getting small kids active (something we strongly support in the family) and it is best enjoyed during late afternoons or early nighttime when the sun isn't shining too brightly anymore.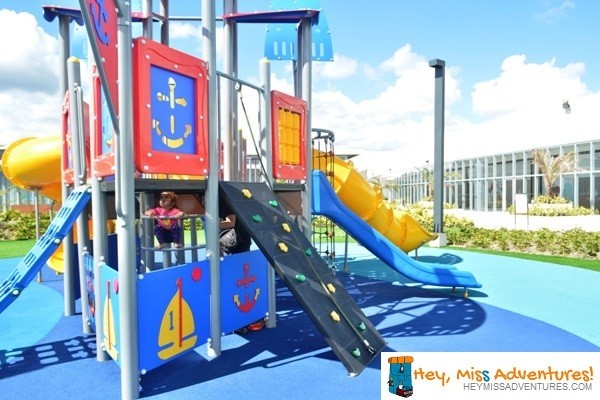 Shops for the Entire Family
During our first visit to the mall, we only really got to see a small percentage of the stores that are to be opened inside. As parents, we checked out ones that were mostly fit for us like Baby Company and Uniqlo, which is only the second one in the province. I have been excited for the opening of the latter and I wasn't disappointed since it provided awesome winter pieces that fit little ones; these things are rare even in outdoor shops.
Other than Uniqlo, it is also home to global brands such as H&M, Forever 21, Sfera and The Body Shop.
Of course, SM Seaside City Cebu also has other homegrown brands like those from the Golden ABC Group, Penshoppe, Oxygen, Forme, Memo, and Regatta; as well as Island Souvenirs and Loalde.   Foodies will also enjoy well-loved cuisine from Café Laguna, Kuya J, Harbour City, Hukad, Casa Verde, Chikaan, and Bo's Coffee, among others.
Kids and families will love that it has a two-storey SM Store, SM Supermarket, SM Appliance Center, Hardware, Watsons, Our Home, Kultura Filipino, Toy Kingdom, Surplus, and Sports Central.  It will have over 400 food and retail shops, including more international brands.
There is also the Food Court, a Large Screen Cinema, four digital cinemas, two Director's Clubs, a live theater called Centerstage, a 16 lane Bowling and Amusement Center plus an Olympic Size ice skating rink.
The Newest Tourist Destination in Cebu
Truly, SM Seaside City Cebu has become more than just a mall – it's a new tourist destination and I hate to admit it but I love it (they had me at The Playground).
What else would you want to see at the mall?
From the Sky Park, you can see the iconic 25-storey Seaside Tower which will have a viewing deck, a restaurant and coffee shop with the best 360-degree view of Cebu.
Its huge icon is also the Cube, which reflects the consistency in the high quality service that they provide its customers in all the areas it operates.
Right outside of the mall is the Chapel of San Pedro Calungsod, where the National Thanksgiving Mass to celebrate Saint Pedro Calungsod's canonization was held. The Chapel was donated by Henry Sy, Jr. and Felicidad Sy to the Archdiocese of Cebu.
**To get to SM Seaside City Cebu, you can hop on board My Bus which currently has stopovers at the Mactan Cebu International Airport, Parkmall and SM City Cebu, with more coming up soon. More details are available here.
SM X PAL Promo

If you are flying in to Cebu, you are in for a wonderful treat!
From January 15 to February 29, 2016, Cebu-bound passengers of the Philippine Airlines will get a 10% discount on all regular-priced items for every P2000 minimum purchase on a single receipt. All you have to do is present your boarding pass when you make your payment.
Participating SM Seaside City Cebu tenants include:
Ace Hardware, Arrow, Artwork, Backjoy, Bench, Blackbeard Seafood Island, Butterbean Cafe, Butterfly Twists, Casa Verde, Chopstop, Espada, Forever 21, Fox, Hedgren, Junrex, Kamiseta, Karat World, Kultura Filipina, L-Time Studio, North Dental Clinic, Our Home, Pancake House, Room for Dessert, Sausages & Eggs, Sfera, SM Appliance Center, Sperry, St. Paul's, Surplus Shop, Texas Creamery, The Paper Stone, The SM Store, Three Hearts Jewelry Shoppe, TNF, Toy Kingdom and Uniqlo. You can also opt for a day of pampering at Bangs Prime Salon, or Lay Bare Waxing Salon. The list goes on and on!
On top of that, select stores and restaurants have their own promos as well.
If you are visiting Cebu soon, make sure to include the iconic SM Seaside City Cebu in your itinerary!
The PAL Boarding Pass promo is valid within 7 days from date of arrival in Cebu. Other participating malls are SM City Cebu and SM City Consolacion.
Check out this link for more details.
‪#‎FlyPALShopSM
‪#‎MallAboveAllElse
XX
 MORE AWESOME READS