Hello again! Did you know that during our recent Osmeña Peak camping, we actually decided to do the Kawasan Falls traverse?
For those not familiar with the terms, to traverse means to go sideways – Osmeña Peak is located in Dalaguete, in the southeastern portion of Cebu, while Kawasan Falls in Badian is in the southwestern portion. To illustrate:
Google Maps show a longer route here but we took a shorter, more straight-forward route. There is, however, an even shorter albeit riskier trail to Kawasan from Osmeña Peak but we decided not to take it since we had our toddler with us. We aren't really as crazy as others think we are. Hahaha.
Now, let me tell you that this post is not really much of a guide since telling you which directions to take without proper illustrations is just not enough. I don't think I have memorized the trail either.
The Osmeña Peak to Kawasan Traverse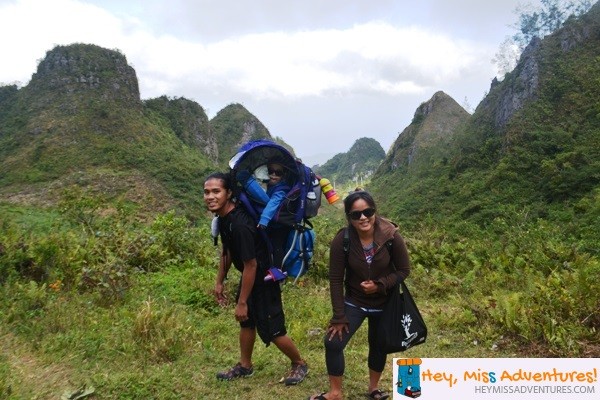 After we had everything packed up at around 8AM, our group of 4 – and a toddler – decided to start the journey. Starting the hike at around this time is pretty late already. The trail sometimes connects to roads which could expose you to a lot of sun. I suggest bringing lots of water on your journey there. We were able to stop by 3 water sources (2 of them are stores) but we still almost ran out of water in the last hour of the journey.
We took the general route where most of the campers were headed but there was a slight flaw to our plan: we had no guide and had no idea which way to go afterwards. We took our time anyway and even let the little one walk for 30 minutes under the heat of the sun. Don't worry – we had water and sunblock with us.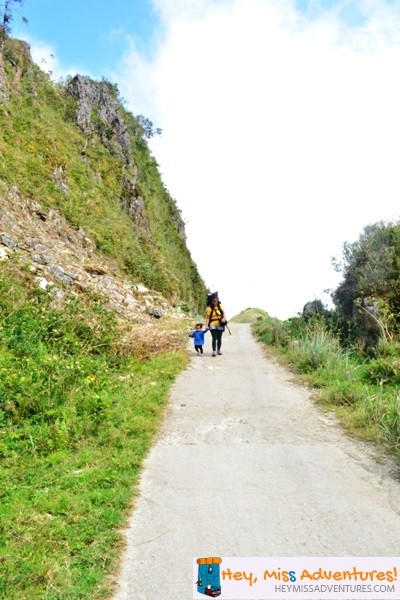 We had many stops along the way about an hour into our hike and did not find many problems so far. We found a lone stranger walking in our direction and asked him where he was going. To Kawasan, he said. He told us that while the trail there can be easy to follow at the early parts, it can get confusing later on. At that, we asked him if we could just follow him instead.
He made the wrong decision to say yes to that. Hahaha.
That person (hello Jodel) , we found out, was actually doing some heat training and he had been walking/running from Dalaguete town to Osmeña Peak and was now on his way to Kawasan Falls. He was fast, yes, which was probably the reason why for the next hour or so in our journey, we were able to cover a pretty long distance (compared to if we didn't have him around). Walking downhill and being shaded by lots of trees and greenery were also factors to the speed, but still…
Things We Learned Along the Way
Aside from bringing lots of water in any hike in tropical Philippines and also donning hats, a good pair of sunglasses and covering up yourself as much as you can (make sure you don't get too hot though), there are also so many other things we learned from our Kawasan Falls traverse experience.
For one, I would suggest not to skip your meals. The partner skipped his lunch (he had some tummy problems earlier, too) and had been feeling uncomfortable in the last hour of the trek. He really did not have much of a choice because we were both loaded and I was not sure if I could make it through having to carry our daughter in my back. He almost gave up on the journey (but I commend his strength and endurance for being able to keep up with Jodel who was a marathoner, by the way).
Second, go with a steady pace that you can keep up with in the long run. I was thankful for our instant-guide Jodel for not slowing down too much (or maybe he did) because the pace kept us on our toes. He was fast – there were many points in the journey where we couldn't see them anymore – but it was that pace that kept us moving faster than we would have had, while taking advantage of the shade still covering us. We did slow down a lot during the road hikes (the heat was almost unbearable) but it would have taken us longer than the 4 hours and 30 minutes it took us to complete the whole thing. That is, considering that we did found our way around the maze.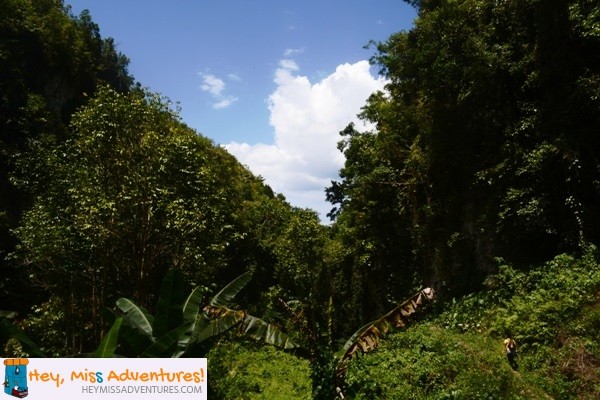 Third, slow down when you have to and take a rest. I admit to lots of breaks along the way. Despite wanting to do that mind-over-matter thing, walking at 12 noon with no trees around is hard to ignore. Especially if you stay in an air-conditioned office for more than 9 hours a day, 5 times a week and then sleeping in your room with cool air to make you comfortable.
Lastly, when you stick your mind to it, it can be done. Well, this one, we really had no choice at. We could have decided to ride a motorcycle (possible at Osmeña Peak for 1000PHP or so) but about halfway through the trek, there were no vehicles in sight. I pat myself in the back for so many things: the traverse is already an accomplishment alone (but the trail is actually not that hard) plus I got to carry my huge pack of about 12kg for two straight hours. I think it is my VSD that gets me panting too quickly but I definitely believe that I am getting better and better with every walk we have.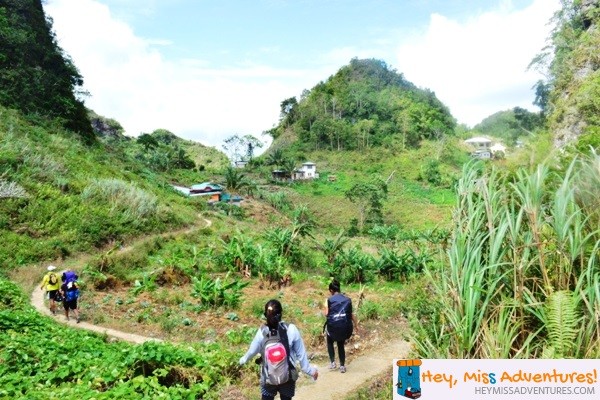 I would just like to grab this opportunity to thank our newly-found friend Jodel (I assume we are friends now) for being very patient and kind to us. He took my pack and even told me to slow down during one ascent. I now have so much respect for this stranger. Hehe. 🙂
Of course, I also want to thank le partner for everything he endures during walks like these (the load, my pace and my rants haha). Thanks to Marian and Pau-Pau for the company and the pictures and just being able to endure the whole ordeal together. I know most of those who have done the Kawasan traverse will think it's a no-brainer but I'm quite sure it was a big accomplishment for all of us. I wasn't able to walk straight for three days or so.
General Tips for the Kawasan Traverse
Bring lots of water and continuously hydrate yourself.
Slather lots of sunblock or cover yourself up. But make sure that they are breathable or you could overheat.
Wear a cap and wear a good pair of shades to protect your eyes.
Do not skip your meals.
Wear sturdy, comfortable footwear. Some parts of the trail involve rocks which I think can be painful to the feet if you wear slippers. Mine had started to hurt even though I was wearing thick, closed shoes.
Osmeña Peak to Kawasan Traverse Expense Summary
OPTION 1: Take a motorcycle to Kawasan – 1000PHP
OPTION 2: Walk your way there like we did. Guide Fee – 800-1000PHP*
Raft ride to cross the 3rd falls* – 15PHP
OPTIONAL: Cottage rental at Kawasan Falls – 150PHP
Badian to Cebu bus fare – 120PHP
*Guides for this route are often children. The fee is also negotiable and can be divided in the group. We saved up on this by taking the risk but I suggest you don't follow what we did.
**Kawasan has three falls with the traverse ending at the topmost. It took us an hour or so to get to the bottom of the falls (entrance) to the main highway where you could ride a bus. As for the raft ride, you could choose to wade your way across waist-deep frigid waters but since we had packs with us, we took the pricey 5-second ride instead. There used to be a bridge here but was destroyed during the typhoon.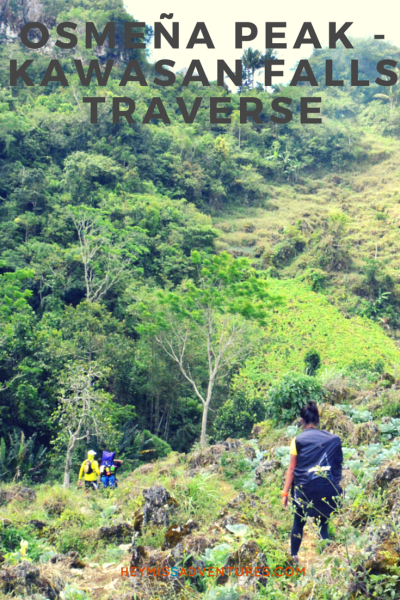 Have you done any long (or short) treks lately?
Happy trekking!
XX