Get Kids Outside: The First Ever Kids Climb at Mt Naupa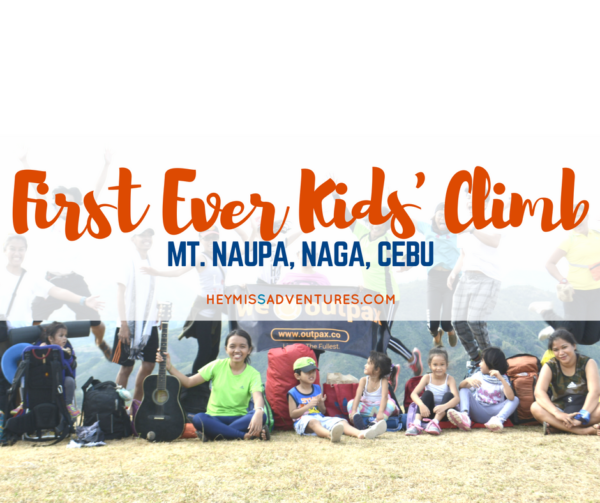 In this fast-paced digital world, parents can hardly imagine NOT babysitting their kids with gadgets. I mean, seriously, one hour of bliss? What right-minded parent would say no to that?
While the partner and I both admit to letting the movies and some phone apps take care of our daughter for some time each day, we do know how important getting them outside is.
In fact, in 2015, we decided to take on the In fact, in 2015, we decided to take on the Alastair Humphrey's Year of Microadventure Challenge — and was successful for three-quarters of the year, camping in beaches and mountains at least once every month.
We've laid low from outdoor adventures (adult priorities; but not an excuse) since working from home and the last time we went hiking until yesterday was this January.
Our last camp in the mountains was during a traumatic climb in Mt Hambubuyog (you can also read my entry at Out of Town Blog) almost a year ago.
However, last weekend, Outpax decided to try out something totally new in the local adventure tourism scene: climb with kids!
I've seen a growing number of families taking their kids out to hikes but I think it's still not enough. I tried suggesting to Eric (from Outpax) about an outdoor preschool, which I think should be mandatory for young kids whether parents are outdoors-inclined or not. I'm very glad they organized the climb and I am hoping for more similar activities (and more participants)!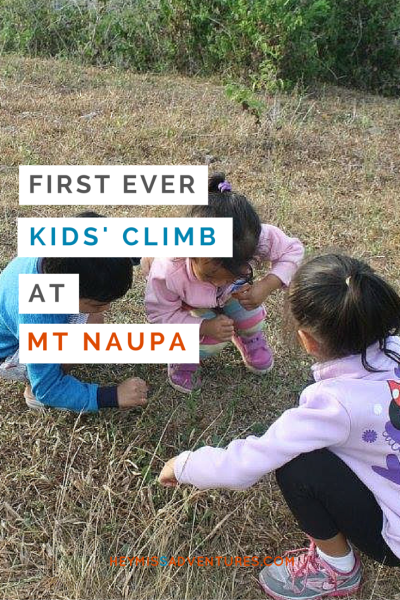 The event started out at 2pm but, the fashionably late people that we are, we got out of the house at around 3pm already.
It was our second time to hike Mt. Naupa in Naga and the first experience was a fun and EXTREMELY unforgettable event. To make the long story short: we got lost, hiked a 30-minute trail for about two hours and arrived at 10pm at the peak (because… fashionably late).
On our way there, we met with other people who were also planning to camp at the peak. We also met up with the couple who helped us find our way the first time and we were happy (and pretty embarrassed after recalling the events) to see them.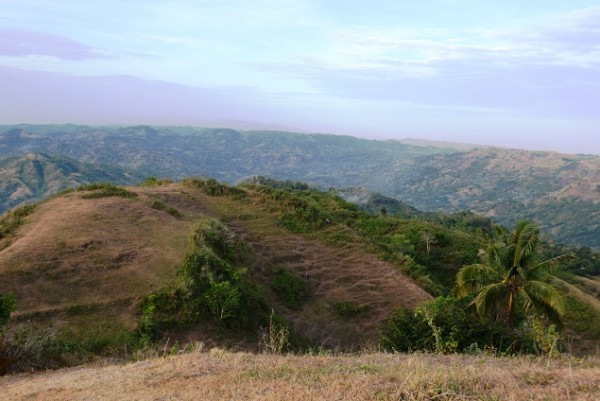 The hike up was definitely better compared to our first try. It was shorter and had a much better trail.
Our 3yo walked about 80 percent of the entire trail without wanting to stop. Our 3yo walked about 80 percent of the entire trail without wanting to stop. There were parts that had a very narrow trail and a cliff at the side but our toddler did not want her hands held.
I was a very proud mama. She just kept singing while I was there behind her, panting and with my legs on fire (no exercise for a long, long time).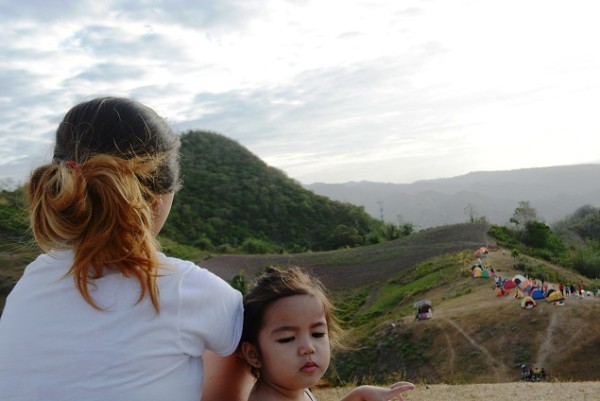 There were many new things I found out about this weekend's hike, though:
I like night treks. I hate humidity but love a good sweat out activity. In addition, Cebu has been extremely hot these days (about 38 degrees Celsius from today's report) and definitely not a good thing whether you're a kid or an adult, newbie or experienced hiker.
Another thing I love about night treks is that it reduces visibility. Which means I don't see the steep cliffs around which reduces my fear. Plus, it helps me better endure the hike.
Real life and climbing/hiking are pretty much the same. You don't really need to see that far into the future, you just need to see at least two steps ahead to know that you're going to be okay. As they say, you can cross the bridge WHEN you get there.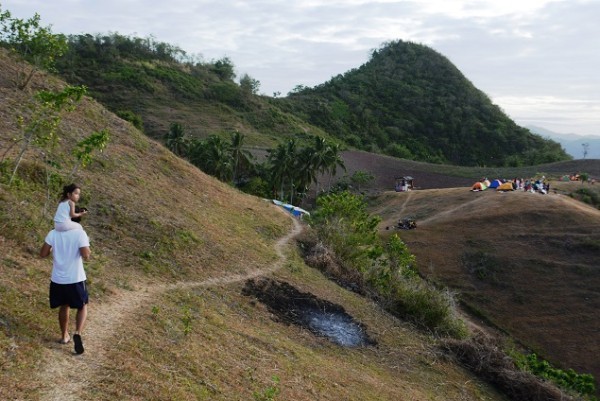 A lot has changed in Mt Naupa in less than a year. For one, there are already plenty of stores near the summit and even in the campsite itself. It isn't exactly surprising considering that the foot of the mountain is a residential area. But, you can not get ice cold soft drinks at the campsite, much like Osmeña Peak.
Mt Naupa now has a toll fee at 20php per head. *Sob sob*. The hikers we climbed with did try to bargain with the locals and we only paid 10php each.
We got to the campsite by 8pm and was very happy that our friends from Outpax had food waiting for us. Yay!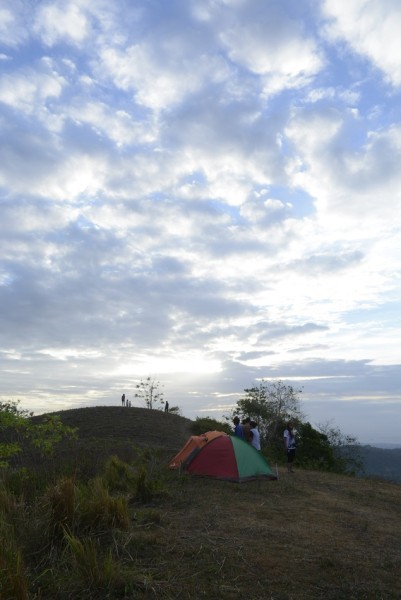 There were four kids joining the event, plus our little one, and they were enjoying some music time. I super loved it.
We missed out the other activities though since they did it around the afternoon. They had some storybook reading, dancing, singing and more. They had some storybook reading, dancing, singing and more. Stargazing was supposed to be another activity but the organizer wasn't sure if the kids were up for it. (It's extremely hard to get kids to stay put for long, after all.)
Unfortunately, the kids watched a movie after all the fun and games so I was a little sad about that part. I'm not saying I'm the perfect crunchy mama, though; we just don't have a tablet which is why this isn't possible for us when we are out camping.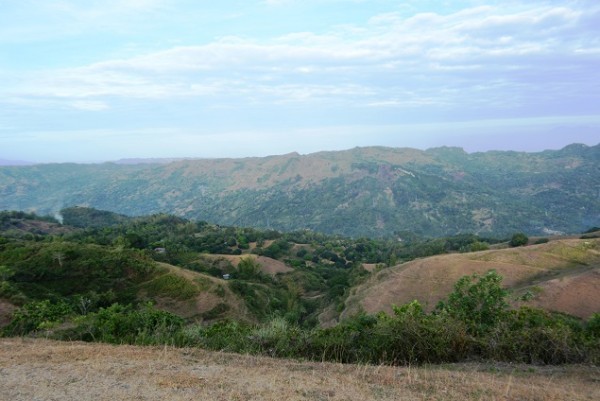 Anyway, most of the adults had a great time talking in the dark, sharing thoughts about politics, the environment, and even entrepreneurship!
And we were 100 percent sober then, by the way. Eric was such a good influence on us. Haha. 😛
I finally declared lights out at 12 midnight — I could barely see straight in my drowsiness.
Mornings at Mt Naupa is pretty quick especially if you rise rather late.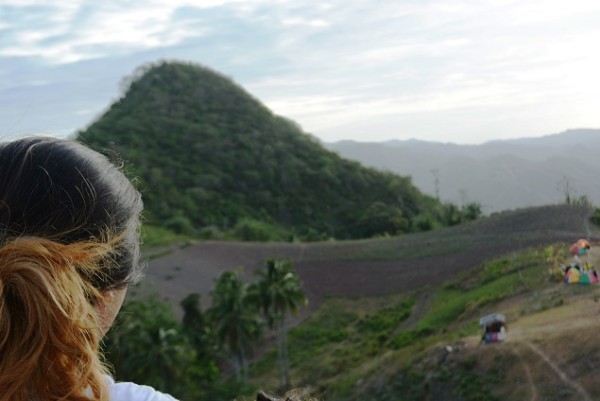 While there are a few coconut trees at the top, there is nowhere to get a shade at the campsite.
After going on top of another hill, snapping a few photos, and eating breakfast, we set camped out and went down by 8am or so.
Oh yeah, we had the kids pick up trash around the campsite, too. (Unfortunately, our introverted toddler was not in the mood to mingle early that morning.)
Kudos to the moms, dads, aunts, uncles and friends who made the first ever kids' climb with Outpax possible!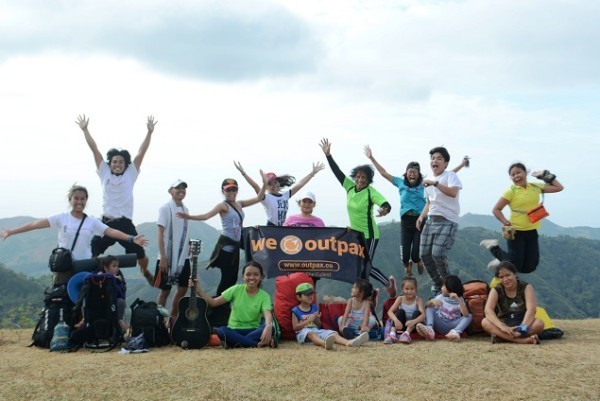 ---
We also found out one very important thing, by the way.
Notice anything in this picture?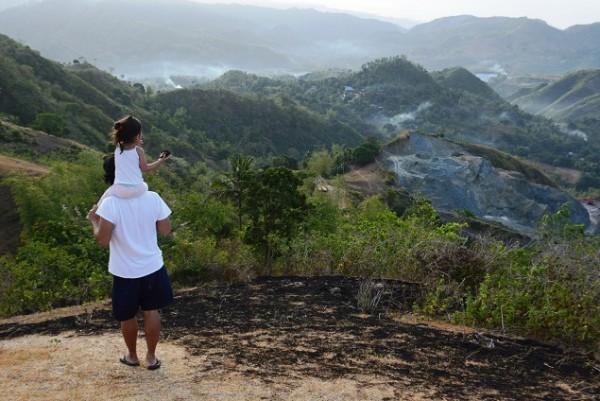 According to the locals, the black patch was caused by a cigarette butt thrown the previous day.
Thankfully, they were able to put out the fire right away before it became uncontrollable.
I guess having locals put up stores near the campsite had its advantages, too.
The Philippines is a tropical country and it can get very hot during summers (in one area of the country today, the temperature went up to 42 degrees Celsius #climateChange).
Although bonfires are given a thumbs up, I would rather that campers and hikers stay on the safe side by not doing anything that could start a fire. Dry grass + wind + very limited water due to El Niño = not a very good combination
If you haven't known, Mt Apo, the country's highest peak just went ablaze and a huge portion of the forest got destroyed. It took several days for the government agencies and volunteers to put out the fire. And it still hasn't rained that much until now.
As a nature lover and a blogger, I would like to encourage everyone to stay on the safe side. Fires destroy mountains and forests.
If you can't think of others, then think of it this way: what if you get trapped?
---
This post isn't sponsored by Outpax but we support the app/company's endeavor to BRING EVERYONE OUTSIDE. The first time I saw Outpax, I thought that it was yet another adventure tour company but it actually isn't. In fact, Outpax (outdoors person) allows its users to create their own events and basically use it as a social media network geared towards adventure/outdoor lovers.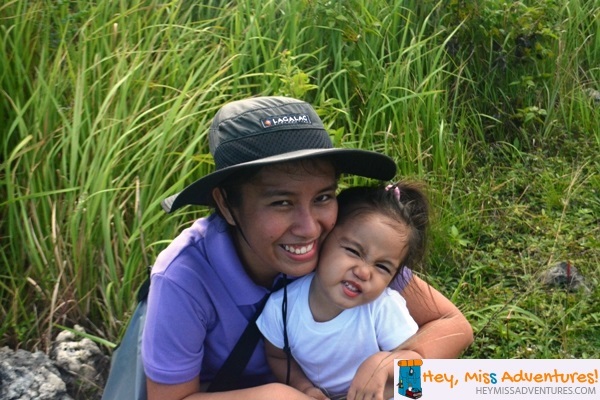 Pam is an outdoors-loving millennial momma who loves to hike, trek and camp in the beaches and mountains with her partner and their 3-year-old daughter. When not exploring the great outdoors, she moonlights as a freelance writer specializing in the travel, parenting, personal finance and digital marketing niches. You can also follow her via social media: Facebook, Twitter, Instagram and Pinterest!