The Bojo River Cruise in Aloguinsan, Cebu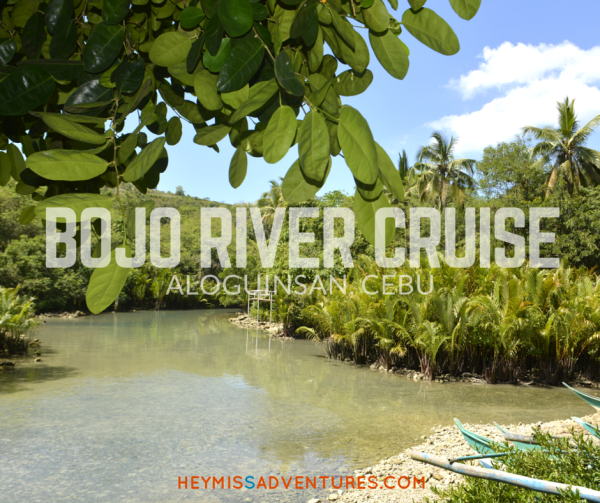 I rarely travel without my partner and daughter.
No, scratch that. I NEVER do.
Okay, except maybe that time we had a company outing in Siargao and I couldn't afford the 20,000PHP contribution for non-employees.
But, this time, I went on a trip to Bojo River in Aloguinsan with my fellow travel bloggers (I almost didn't but thank goodness they waited for me).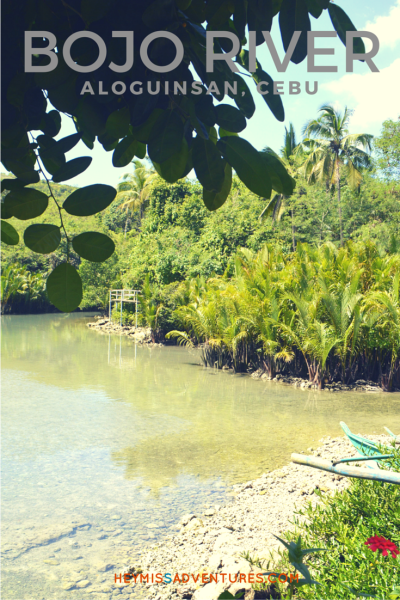 I honestly missed my daughter throughout the day trip but it was also a great experience to not have to worry about anything at least for a day. Not crying toddlers (she rarely cries, though), not work, not money.
The trip started off with us meeting at SM early that morning.
Except, I was late. Probably around 1 to 2 hours late. But they waited for me, anyway. Thank you!
So we took a 3-hour-ish ride to Aloguinsan, stopping over at McDonald's in Minglanilla for breakfast. It was rather uneventful.
I slept at around 3am early that morning, which was why I was VERY late, to celebrate a friend's birthday. I honestly did not want to go anywhere without my family (haha #sepanx) so I had to drag my butt off of the bed that morning.
Bojo River Cruise at Aloguinsan
We arrived by lunch time and got settled in for a quick orientation about the place. The entire arrangement made me feel very much like a tourist (very rare) with the welcome lei and drinks.
I'd rather that you hear out what the in-charge had to say about Bojo River (she was very knowledgeable!) but, to give you a quick overview. The river is about 1.4 kilometers long and, during high tide, the water near the station could go as deep as 3 meters while the river mouth could go as deep as 8 meters. The entire area is managed and operated by the BAETAS or the Bojo Aloguinsan  Eco-Tourism Association.
After the talk, we were quickly served with a small buffet which came inclusive with our package. The food was great but since we just had our fast food brunch, I didn't really get to enjoy it.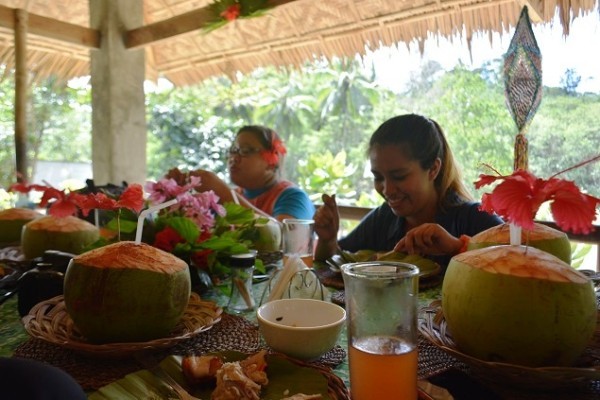 The Boardwalk
Once we had our fill and changed into our swimwear, we decided to do a quick check on the 400-meter boardwalk first. The area was full of mangroves and there were lots of kids swimming below.
Unfortunately, the boardwalk was undergoing renovation during our visit. I was able to come here with my family a few years back and enjoyed the small hut on top of a hill at the end of the boardwalk. Too bad the girls couldn't see it this time around.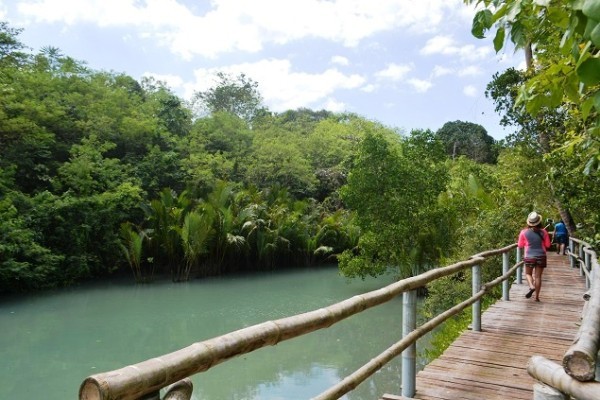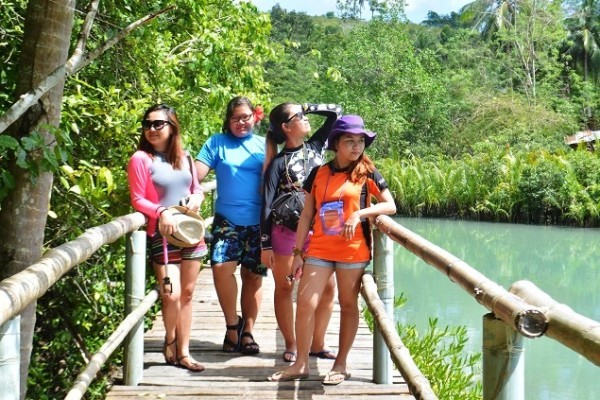 We returned to the station and readied ourselves for the cruise. Before that, one of the BAETAS members did a ritual by waving his incense around us. It was said to help ward off evil spirits and bring us good luck.
The entire cruise took us a few minutes and the boatman introduced us to all the different mangroves and birds that can be seen around.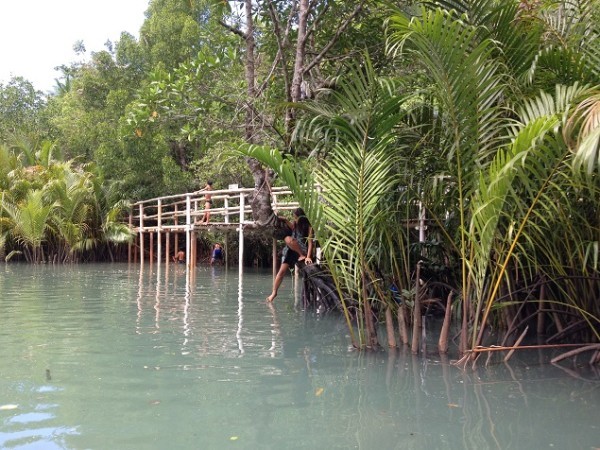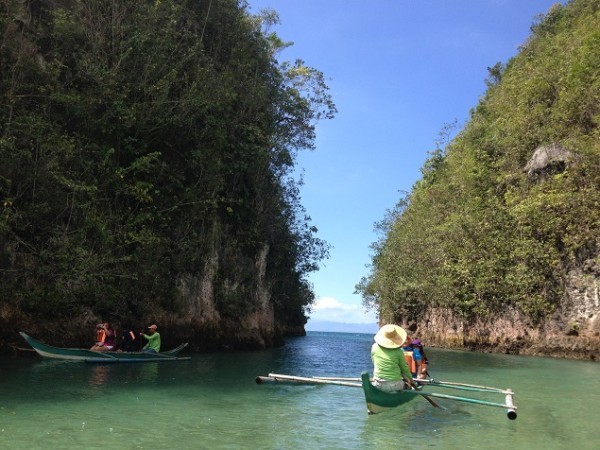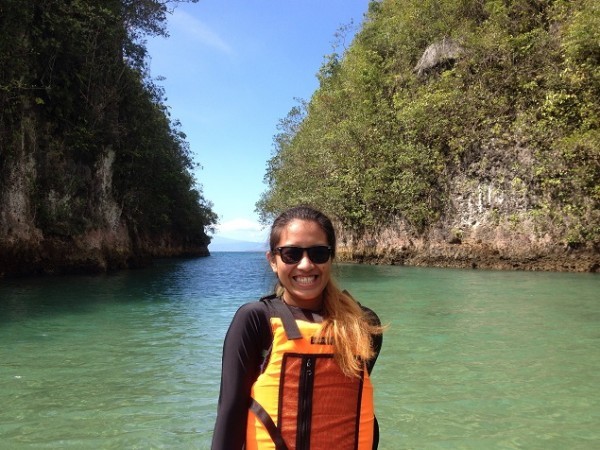 I've never been to El Nido (just Puerto Princesa) but the girls kept on saying that the river mouth resembled the famous tourist spot.
We had a great time just lazing near the river mouth. I actually too scared to get out to the open sea since the waves were strong and I was not a (strong) swimmer.
We had a blast talking and posing for the camera. I think my daughter would have loved it there, too.
After soaking in the water under the afternoon sun, we decided to go back and move forward with the tour. I didn't realize there were still a few activities up ahead!
There was a short banig-making session, for example, which I had totally forgotten already.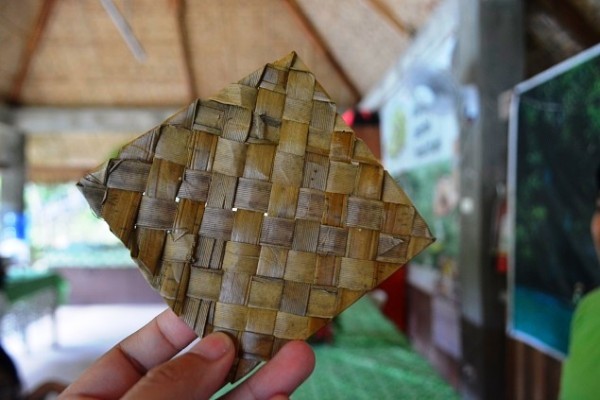 The Farm House at Aloguinsan
Another part of the eco-tourism package was snacks at the farm house.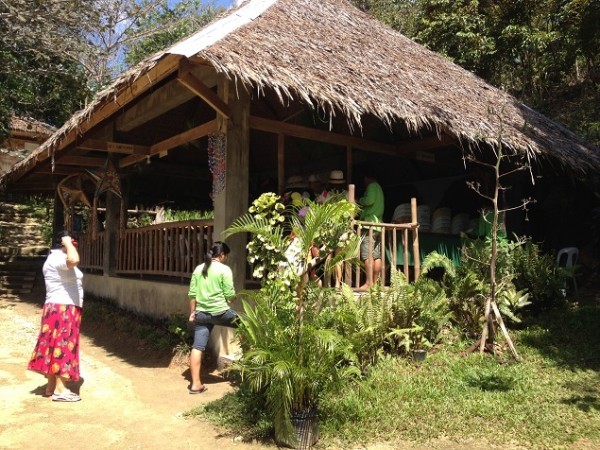 We were greeted with a cold damp towel, that smelled very much of a fabric conditioner. It was the most refreshing thing I've had that day. Well, aside from the lemongrass + lemon juice that accompanied it.
The farmhouse was where we got to taste a few local delicacies in Cebu. And, guess what, they utilize organic farming, too. Farm-to-table concepts are always something I've been very passionate about. (Side note: I tried to get my daughter in a pure organic food diet – yeah, yeah, roll your eyes at me – but it was extremely difficult to do that here in Cebu.)
I had among the best tours in my life. I've never been this pampered for a trip before.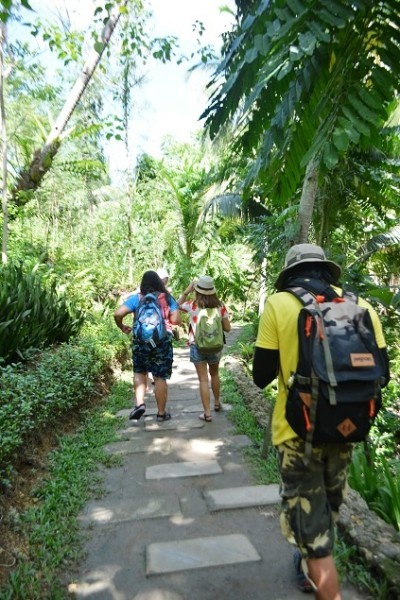 If you're interested in going through the same experience, you can book the same tour via WithLocals, too.
---
Price: PHP1,800 per person
Inclusions:
Guide Fee
Private Transportation (ride on an SUV car)
Welcome Lei
Welcome Drinks
Buffet Lunch
Board Walk Tour
Bojo River Cruise
Swimming at the River Mouth
Handicraft Demo
Local Organic Farm Tour
Snacks
---
Big thanks to my blogger friends (and now, travel buddies!) for bringing me!
You can also check out their stories at:
Janine of Wandering Ella
Hannah of Laagan nga Bata
Gay of Exotic Philippines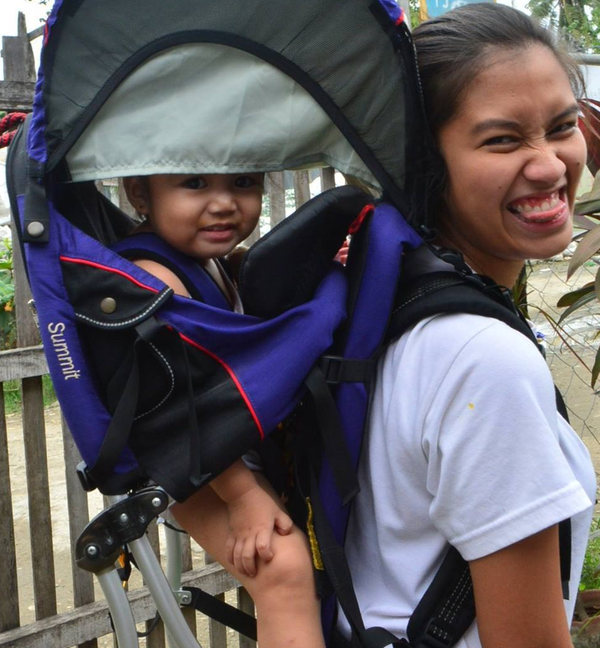 Hi, y'all! I'm Pam and I'm an outdoors-loving and adventurous millennial momma who moonlights as a freelance writer, blogger, and ghostwriter. I help encourage parents — and non-parents — explore the outdoors, spend more time with their family and take control of their finances to live a life they'd never want to take a vacation from. You can connect with me via social media: Facebook, Twitter, Instagram and Pinterest.