We'd like to give a big shout-out to Baby Company Philippines who recently opened their 59th baby at the SM Seaside City Cebu. Follow them on Facebook, Twitter or Instagram to get updated on the latest deals and promos!
If there is one thing I would like to do over as a parent, it's wearing my daughter. We were lucky enough to have been given a few soft-shelled baby carriers during her baptism but I never really gave much thought about it. The day I started to care more about baby wearing when we started looking for a durable carrier that will allow us to bring our daughter to go on hiking and camping trips up the mountains.
We started a little late, when she was already one year old, so we had to look for a carrier that can carry her for as long as possible (because, hello, these baby equipment can be pretty pricey). Don't get me wrong — all types of carriers and even wraps can do the job well but when you already have a 10-kilo toddler who already knows how to walk, you might want to rethink your options.
The biggest turn-off, in my opinion, when it comes to baby wearing is when your baby's skin touches yours when you are walking under the unforgiving tropical heat. However, we realized that its advantages by far outweighs this minor discomfort.
How does baby wearing benefit both baby and parent?
1 | It is super convenient.
Slings, wraps and front or back carriers all have this huge disadvantage. Navigating crowded metros with a stroller? Nope. We've tried our trusty (but huge) backpack carrier in the MRT and it was okay but it did not exactly make things easy to move around.
2 | It is an extension to the womb.
I recommend baby wearing especially during the early months. Babies stay cooped for nine months inside their mom's womb and they would want to be somewhere familiar even after they're born. Baby wearing does the trick.
3 | It comforts the baby. 
Knowing that their mom (or dad) is very close is a very comforting feeling. Aside from that, experts have also found out that carrying babies helps in reducing crying. Colicky babies are soothed because of the rhythmic movement — and it helps put babies to sleep much easily, too.
4 | It provides a great bonding experience. 
Touch is essential in a child's development and baby wearing provides various opportunities for that. The closeness during babywearing provides moms and dads the chance to touch, smell, kiss and stroke their babies. The same bonding experience is also beneficial for grandparents, older siblings, moms who are trying to recover from trauma or moms of premature babies.
5 | It is an educational experience for the child.
Narrating the events for the day is one thing but seeing it with their own eyes is something else, especially for babies. Babywearing gives your child the chance to interact with the world at an adult level as it is where all the action happens!
6 | It gives parents the chance to exercise
We bring our backpack carrier when we go hiking because it is much convenient for us parents and our daughter. Admittedly, I no longer carry it because our daughter now weighs about 11 kg and going uphill with more weight than that is too much for me to handle. You can always start out when your baby is smaller — and trust me, it's a much better and cheaper routine compared to going to the gym.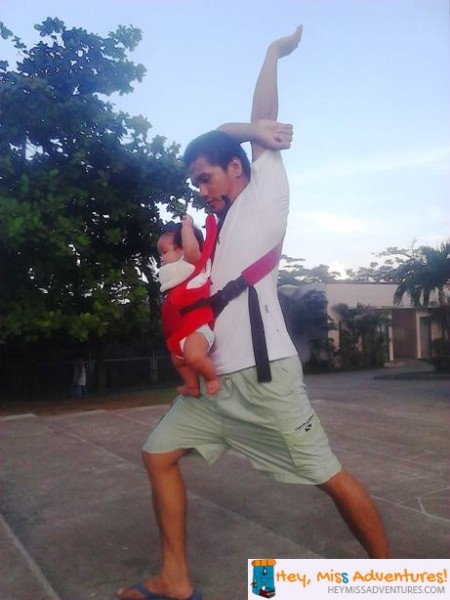 7 | It makes breastfeeding easier.
Breastfeeding in public isn't so much of an issue here in the Philippines but not all moms find it comfortable to take out their milk machine for everyone to see. Front-facing carriers allow moms to discreetly breastfeed their babies and no one will ever know.
8 | It's hands-free. 
Bring a baby carrier when we go hiking does not only allow our daughter to sleep comfortably when she feels like it but it also allows us to push forward without having to take a break unless we want to. Hiking requires you to go hands-free and a carrier allows just that. Even at home, babywearing allows parents to be in constant contact with their child while going about their regular chores.
9 | It promotes proper physical development.
Did you know that putting a baby in a good carrier can help in the proper development of their spine and hips? You would want to look for a carrier that allows babies to be carried in an M-position so their upper legs are supported.
And once your kid is all enough to walk around, you might want to find a way to restrain them. Walking toddlers tend to be a handful and while there are varying opinions about using this baby gear, we can't help but admit that they can be extremely helpful especially when you have your hands full or have a few other kids to tend to.
And our daughter's personal favorite (we got one for her), which does not only have a safety harness but also has a huge space for storing baby essentials like a bottle of milk/water, diapers and small toys.
---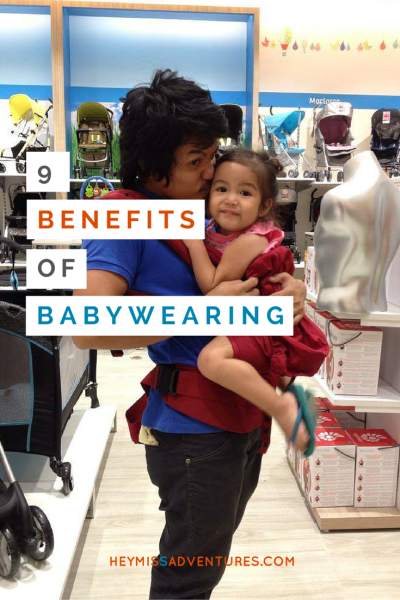 Aside from baby wearing products, Baby Company Philippines also offers a wide range of other baby products such as weaning, diapering and bathing products; shoes and apparel; maternity clothes; car seats, strollers and pack n' plays; educational toys; cribs and lines; and other exclusive finds.
Baby Company started in 1991 in the Infant's Accessories section in the SM Department Store and has now opened their 59th store at the second floor at the SM Seaside City Cebu. The store is a haven for moms and moms-to-be and it gets even better when they use their Mom Card for just PHP100 which allows them to earn rewards points (every PHP100 is equal to 1 point), discounts, freebies or even VIP access to special events.
They also have a Baby Registry Project so moms can enlist all the essential items that they would want to receive as gifts for an upcoming baby shower, baptism or birthday. This is such a practical approach and it avoids repeating gifts! The partner, our daughter and I had a great time shopping around. We had a hard time deciding on which ones to get for our daughter because there is just too much to choose from — just look at our haul!

---
Baby Company is truly the baby specialist. Just take a look at these awesome solutions that they provide to moms and dads:
Disclosure: This is a collaboration post with Mommy Bloggers Philippines and Baby Company Philippines.