Tourists in Cebu: Sirao Flower Farm, Tops Skyline Garden and Temple of Leah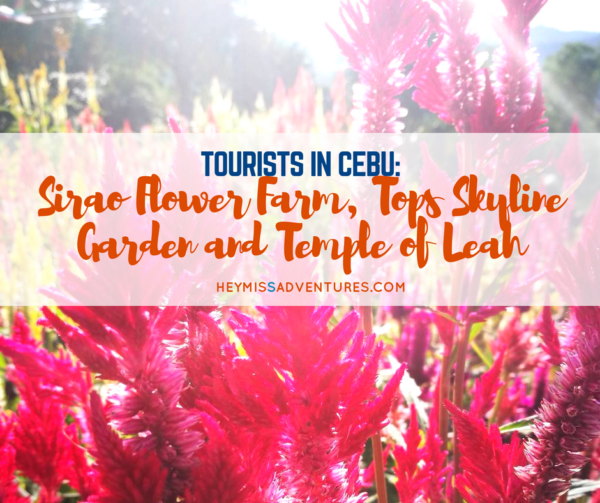 A few weeks ago, two of my colleagues from Tripzilla came to Cebu from Singapore. The introvert in me wanted to cower and, well, not show myself to them over the weekend but Kate of Red Maleta came to the rescue! Yep, if you are looking for a tour guide around Cebu, definitely contact her.
I had two-ish days of fun female bonding (very rare lol) and it was awesome to show the touristy side of Cebu sans beaches.
I met up with Kate, Nurmani and Dina (you'd recognize her as the Girl on the Train; she travelled from Singapore to Russia for eight weeks) at SM Seaside City. The two (Mani and Dina) were in heaven to see low, low prices over at Uniqlo. And, of course, they also went crazy over Filipino munchies, particularly the orange Oishi snacks, because they were super spicy and weren't always available in SG! Plus we also found out that Malays were super fond of anything and everything chili.
It was rather rare for me to go out at night and thankfully the partner was supportive enough to allow me to go out that day and then on the following day.
Kate and I decided to bring the two tourists (haha) to Sugbo Mercado where we met with the man behind it, Karlo, and his friends. It was also there that Dina met her Cebu-based fans club. It was a night full of food (we went gaga over baked scallops), light booze and lots of travel talk. And photo ops with the celebrity, too.
We called it a day around 10PM (#oldpeople) and the two headed back to their hotel at BE Resorts. Kate had planned the next day's itinerary which consisted of more food and riding around the nearby mountains of the city.
Thankfully, we didn't have to wake up THAT early the next day. Since my place was just along the way, the three picked me up and we headed straight for STK ta Bai!
If the baked scallops at Sugbo Mercado were heavenly, I'm not sure what else to call the one in STK ta Bai. It was my first time there and, goodness, I would have eaten all the baked scallops there until they ran out of it. But, alas, our tummies had been filled and it was time to head elsewhere.
Of course, any travel wouldn't be complete without local immersion, right? We made Dina and Mani ride the jeepney on a slightly hot day in Cebu (it was their second time; we took a jeepney ride from SM City Cebu to IT Park the night before).
We got to JY Square where we immediately got flocked by habal-habal drivers trying to lure us to ride with them to our three main destinations. I hated being feasted like that and it seemed that the three also felt the same. We retreated inside and I made them taste puto and sikwate at Tablea while we waited for the drivers' excitement to die down.
Sheesh. The excitement never did die down. And I made Kate the bait to do the haggling because…I really hate that part in traveling. Had I known we had a better transportation alternative (read til the end of this post), I would not have settled for the motorcycle. Dina and Mani could pass up as Filipinos but since we were speaking English the whole time, it was clear that we were the tourists the drivers are trying to squeeze money out of.
Nevertheless, we got to Sirao Farm (my first time there) and had photos overload. We were lucky that the flowers were in their most vibrant state and had a beautiful sea of reds and yellows in our photos.
About an hour or so later, we decided to move to our next destination which is in Tops. This famous lookout point in Cebu has been here for as long as I can remember but that has only been my second visit there; the first being in my elementary years. Honestly, the place didn't really have a wow factor but it's a great place to chill in the afternoon or to view the city lights in the evening. I just found out that they are also open 24/7 so you can totally bring your tent and sleeping bags there.
When we arrived at Tops, our drivers (we had two) immediately haggled with us and raised the prices we had come up in JY. I was pissed but didn't want to argue so we went ahead; we didn't have a choice at that time.
Fun fact about Tops: The place is located 2000 feet above the city and gives you the best view of Lapu-Lapu, Mandaue, Cebu and even Olango Island and Bohol. It currently has five cafes and restaurants but you can also bring your own food and drinks there with no corkage fee. It is also possible to reserve half of Tops for group gatherings FOR FREE. Visiting this place is a total must — it actually ranks as one of the TOP THREE THINGS TO DO in Cebu City.
Our last stop was at Temple of Leah which made us feel like we were in Greece. The first time I got there was a year ago and I was amazed at how much it has changed. Previously, we didn't pay for an entrance fee and we went inside from the ground floor near the Lantaw entrance. Now, they already have a clearer entrance, an admission fee and even a snack/refreshment stand plus a few tables and chairs. Awesome! I was sad to see that the mountains have suffered a lot in the process though.
Ahh…still I loved how touristy our day had been. We would have stayed there and have dinner at Lantaw but we were scared about not finding a ride going down at night. So, we headed back to JY and had our dinner at IT Park again. Yep, we had baked scallops again.
We capped off our night with a mix of healthy and non-healthy drinks at Mooon Cafe. It was a fun night and we sure hope that our Tripzilla SG girls had fun despite their short stay in Cebu.
---
Need a ride going to Tops or Temple of Leah? Well, guess what, you can get there hassle-free (yes, even solo) minus the haggling part (we ended up paying P1500 for the two motorcycles we hired).
A few blogger friends and I recently went to Tops with Go to Tops about a week after this trip. You get to ride on a 14-passenger shuttle van and make your way from Lahug to Tops in just 20 minutes — in an air-conditioned vehicle. Yay! More details below. 😉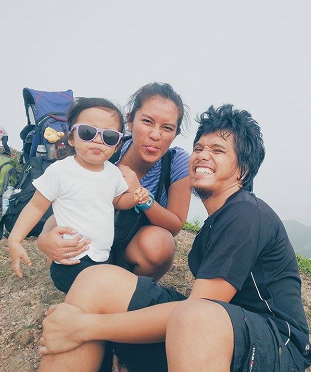 Pam is an outdoors-loving millennial momma who loves to hike, trek and camp in the beaches and mountains with her partner and their 3-year-old daughter. When not exploring the great outdoors, she moonlights as a freelance writer specializing in the travel, parenting, personal finance and digital marketing niches. You can also follow her via social media: Facebook, Twitter, Instagram and Pinterest!