The First Time Home Buyer's Guide to Purchasing a House in the Philippines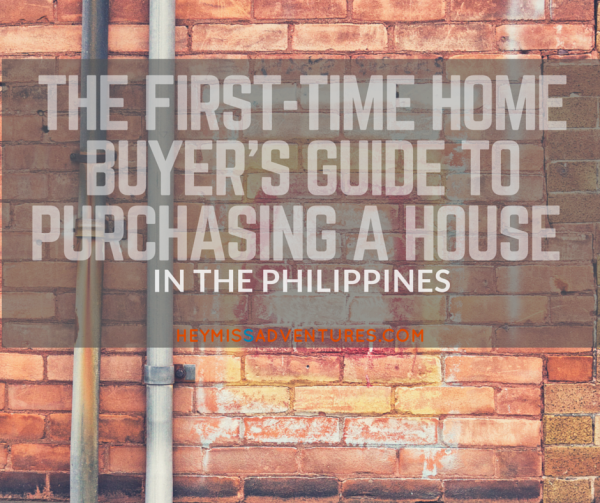 Contrary to what other people might think, we are not all about fun and games (travel and leisure) at all, especially that we are already parents. While we are still struggling with a few (well, that's an understatement) things when it comes to the foundations of our finances but we are pretty proud to say that we have gotten our insurance policies, investments and — tada! — house sort-of figured out.
However, that last bit wasn't exactly without a hitch. We are already about three-quarters into our equity payment and, because the house has already been built, we have also been paying for the loan for about four months now. It certainly is an uphill climb for the past few months (pretty much like our Mt Hambubuyog climb, I must say) but the barely-surviving struggle has inspired me to write this post.
We actually started our home ownership process back in July 2014 when we decided to go for a socialized housing offer that we could afford without having to go in that "barely surviving" state. However, two months into the equity payment and the developers got into a problem…Long story short, I am not quite sure what happened to them and the rest of the buyers. We had already put in around 19,000PHP (~408USD) into that property but did not get a single cent back mostly because I did not pursue it since I know how exhausting getting into these legal matters can be. I did try to go to a few meetings with the other buyers. I heard many of them have actually shelled out almost 300K PHP (~6400USD) — our figures are next to nothing compared to theirs.
So you should know getting a home in the Philippines is not exactly a walk in the park which is why I'm writing to help you have an idea of how the process goes.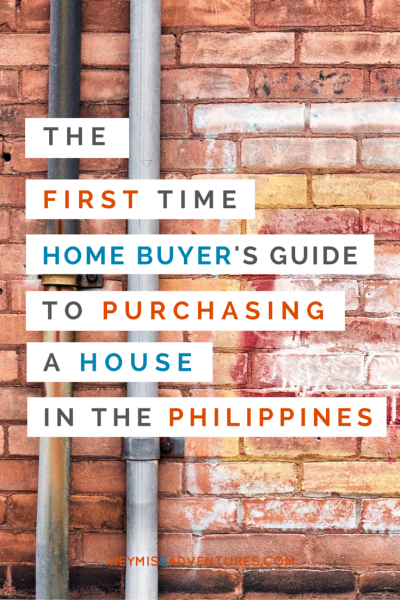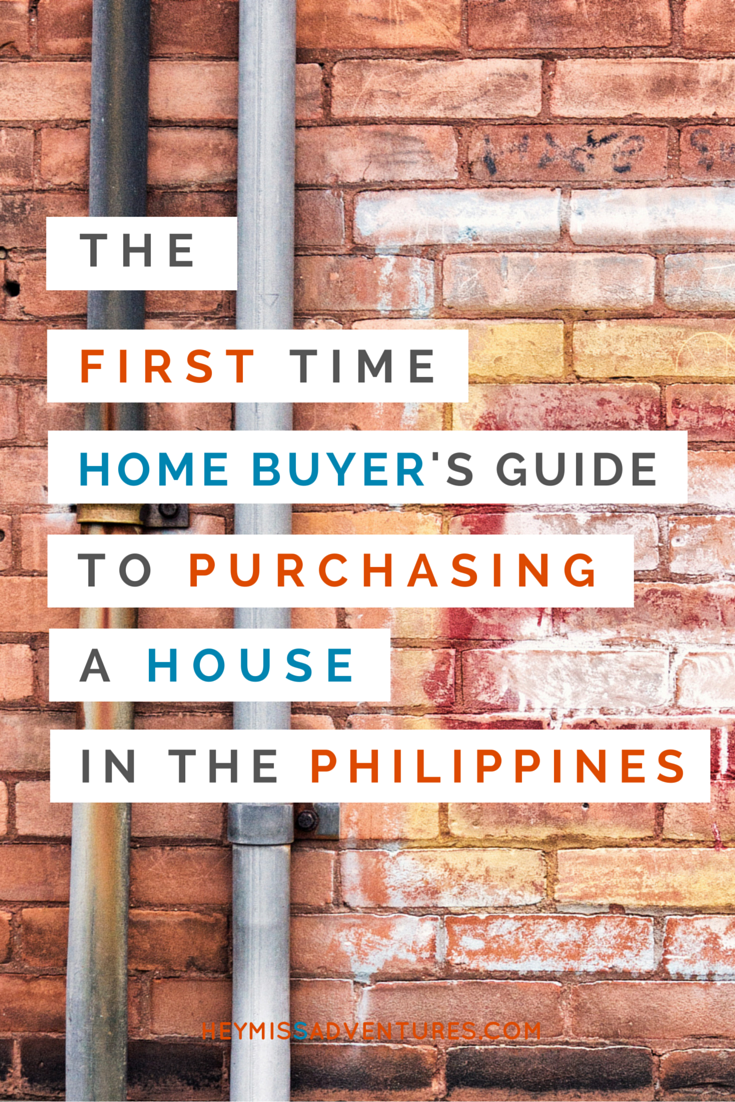 1 | FINDING THE RIGHT HOME FOR YOUR BUDGET
People our age rarely consider buying a house at this point but when they do, they usually aren't ready, like we were (or still are). However, we did know that we had a certain budget to stick to, which is about 25% of my monthly net pay. When the socialized housing option didn't work for us and there was no other similar housing projects within the same price range, we decided to raise our budget a little higher — or almost half of my monthly net pay. Despite having second thoughts if we could truly afford to pay the price every amount for the next three years, we decided to get serious, visit the house and close in the deal as soon as possible.
One thing we didn't quite consider seriously was when the equity and loan payment would come together. We found out that these two will POSSIBLY have to be paid at the same time if: 1) the house has already been built and, 2) the loan has already been approved. House developers often ask for a 1-2 month timeline to get buyers to complete all the necessary documents needed to get a loan. You basically have no way to try and stop, or at least, postpone the loan when everything is already set in motion.
If you are working with an agent, go for one that isn't stuck with just one developer so you have plenty to choose from. We worked with my partner's uncle who toured us around several townhomes with price ranges so huge we wondered how we could find a way to eat for a month. Make sure to have a clear price range in mind and stick to it.
2 | PROVIDING ALL THE NECESSARY REQUIREMENTS
Once you have decided to lock in on your target home, these are usually the necessary requirements that you need to comply:
Verified 1904 form (you can get this from the BIR Office)
Notarized Certificate of Employment with Compensation
Latest 3 months pay slip
Latest ITR 2316
Clear copy of birth certificate
ID pictures
Proof of billing with certification
1 Valid ID of owner
3 pcs 1×1 picture
Postdated checks for equity and processing fee
Buyer's Orientation Attendance (depends with housing project developer)
We opted to get a PAG-IBIG Housing Loan so the following requirements were also needed:
Filled-up PHLA FORM for Pag-ibig Housing Loan Application
Verified MSVS with updated MID
Most of the times, a reservation fee ranging from around 5,000PHP to 20,000PHP (~107USD to 430USD) is also required. After paying that, I was made to sign a Buyer's Undertaking which basically meant that my purchase of a house from them was 'final'.
You can probably ask the help of your agent to process the other papers for you but I am pretty meticulous with the whole process and wanted to do things on my own.
3 | OPENING A CHECKING (OR CURRENT) ACCOUNT
We didn't have a checking account prior to purchasing a home and you do not necessarily have to. Those who do not have these types of accounts are usually given recommendation letters by housing developers to allow the buyer to open such type of bank account with their associated banks.
Opening a checking account is fairly easy. To open mine via Bank of Commerce, I only presented the following:
Letter of recommendation from the developer
Proof of income (ITR or latest payslip)
Photocopy of 2 valid IDs
2 pcs latest ID picture
2000PHP initial deposit (this would vary depending on the bank and type of checking account)
175PHP for check book
We had to wait a few more days because the branch ran out of check books to issue.
You will have to remember a lot of very important details when you have a checking account. Issuing checks with no funds can result to fees from the bank and even from the developer. You must also make sure that you can keep up with the maintaining balance as fees can also be incurred if you go below it.
4 | PAYING FOR YOUR EQUITY, WAITING FOR THE LOAN
We started paying for our monthly equity, which runs for three years, in February 2015. I accomplished all the necessary documents in about two months and because the property was already built, the loan was immediately approved in May 2015. Once approved, you basically have a month to react — maybe finish up your equity if you have the funds or swallow the thought that there are two huge payments being made every month.
When we got approved, the housing developer gave me a call and told me to go to the Pag-ibig office to sign the papers for the loan release. Now all I needed to do is pay for it monthly for the next 30 years. Haha.
5 | SIGNING ALL THE CONTRACTS
Once I had the loan approved, the housing developer called me again to sign on three-inch thick papers. It certainly gave a finality to everything and also made the entire process legitimate. In our socialized housing purchase attempt, we didn't sign any papers and was simply given a receipt to show that they received our payment. During the third payment we made prior to finding that there was a problem, there was no longer a receipt and instead a manually-written letter in a piece of paper, stating that they received the amount, was handed to us. Warning sign everyone!
6 | COMPLETING THE EQUITY PAYMENT
We haven't quite paid a huge chunk of our equity payment although we certainly have made progress even with so many distractions (leisure trips) as well as the transition from having a regular job to freelancing to be able to work from home. We do hope to complete payments sometime next year but if that isn't possible, the furthest we can wait is by January 2018.
It is possible to move in to the house once we complete at least half of the equity payment (the other requirement would be to have the loan approved). The place is bare so there is still a lot to do but it is definitely a livable place already. Based on the computation sheet we got, we will also have to pay for move-in fees that include water meter and connection fees, electrical installation and 3 months advanced payment for the subdivision. Loan related fees such as documentary stamps, 1-year mortgage redemption insurance and 1-year fire insurance also have to be paid. That should total to about 20,000PHP (~430USD) in addition to regular monthly payments just to be able to get the house keys.
7 | MOVING IN
According to our Buyer's orientation seminar, we would also need to attend another seminar before moving in. From what I remembered, a house visit to check if the unit is delivered as promised is required by Pag-ibig before moving in. Once things have been fixed, a final inspection can be done before finally giving the go signal.
A homeowner's seminar is also required to get the new homeowner acquainted to policies and house rules in the subdivision. Homeowner's have to remember to pay property taxes on a yearly basis as well.
8 | GETTING YOUR HOUSE'S TITLE
It will still be a long time before we can fully pay our loan put I am pretty optimistic and hope we could pay it in 10 years or maybe less. It usually takes about two years after full payment to get your property title from Pag-ibig.
And that's it. The whole process is meticulous but it's pretty easy when you get the help of a housing developer instead of doing the whole thing on your own. Our house isn't what we would consider a 'forever' home and we certainly hope that we could buy a large lot with lots of trees in the future, where we could finally build our dream home from scratch.
For now…let's settle with our starter home.
Happy house hunting!
Pam is an outdoors-loving millennial momma who loves to hike, trek and camp in the beaches and mountains with her partner and their 3-year-old daughter. When not exploring the great outdoors, she moonlights as a freelance writer specializing in the travel, parenting, personal finance and digital marketing niches. You can also follow her via social media: Facebook, Twitter, Instagram and Pinterest!