I hate rats. I mean, who doesn't?
We currently live with my parents and my mom tends a sari-sari store that sells rice, noodles and a handful of other food items that rats love to nibble on.
As soon as we turn off the lights (and even if we don't), these little nasties scurry to their target destinations. My daughter might adorably call them ratatouille for that animated movie but they certainly are not my favorite creatures in the world. I've seen them decay outside our house for a couple of days and as their bodies started to rot, I got a clear view of the remains of their furs and it almost made me vomit. Sorry, TMI.
Fortunately for my mom, we got hold of a complete line of Pest Off! products. It was definitely a heaven-sent for everyone. Okay, maybe not. Because we were the ones who consumed the rest of the noodles that those little buggers munched on. (No worries, they barely opened it; or at least they made just teeny tiny holes so in our judgment, they were fine to eat.)
Anyway, I was actually also excited since we would very soon be moving to our own house and in case rat problems arise…
Rat Catching Gets Fun!
A. Pest Off! Card Boards and Wood Boards
Pest Off's Glue Boards are simple to use and dispose.


Rat Catcher Wood Board – P148.75 (pictured above)
Rat Catcher Cardboard – P142.75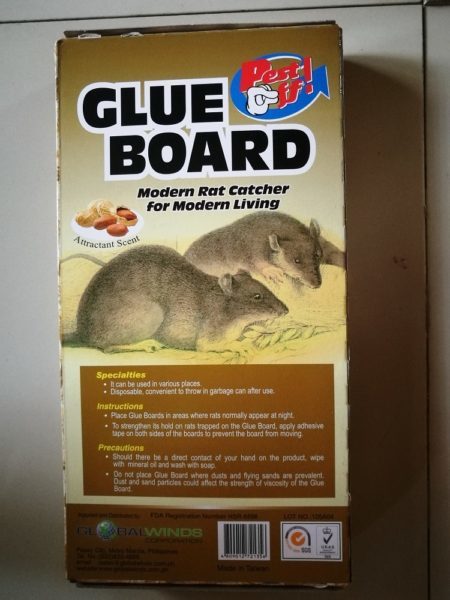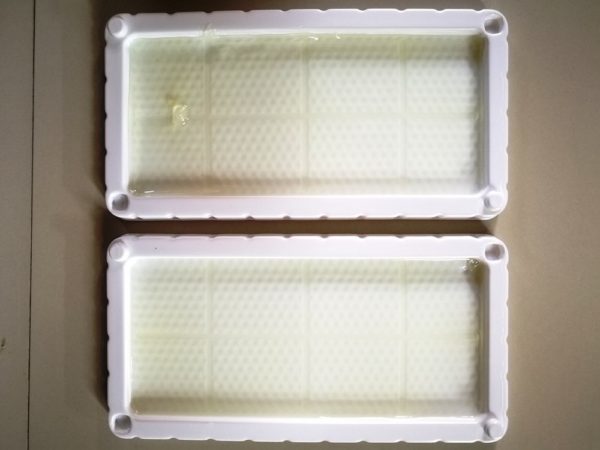 Rat Catcher (Peanut/Cheese Scent) – P157.25 (pictured above)

Mice Catcher Plastic Board (Regular) – P90.25 (pictured above)
Mice Catcher Plastic Board (Peanut/Cheese Scent) – P96.25
B. Pest Off! Ready-to-Use Cereal Bait
These contain second generation Brodifacoum and takes only a single feed to work. Bye bye, rats!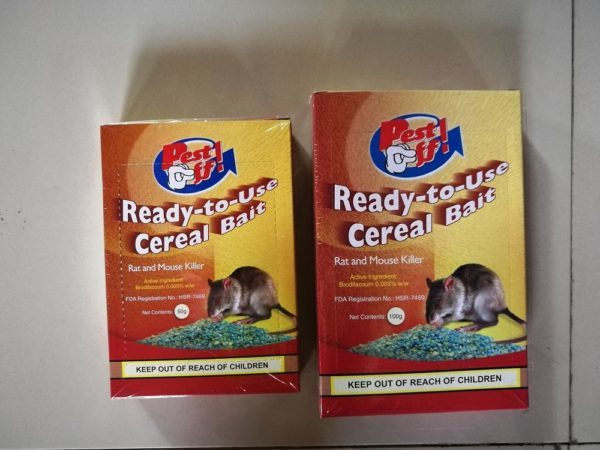 Ready to Use Cereal Bait (50 grams) – P44.75 (left)
Ready to Use Cereal Bait (100 grams) – P69.25 (right)
Bye Bye Nasty Little Critters!
The moment the whole box of Pest Off! products landed our house's floor, we immediately set off to the task. We were obviously itching to get rid of them — for the sake of my mom's small business!
We started off with the glue boards as they were the easiest to set up and use. Simply take out the boards from the box and set them in corners around your house where they frequently run past. Immediately that night, our glue boards were able to catch five small rats. Ugh.
We went camping that night and my mom told me that they had taken out yet another set of glue boards. The next day, they caught 
six more
rats. Over the weekend, we caught around 
three more
and my brother's girlfriend caught
four
 rats in their house. While it is difficult to get glue on yourself with the way the boards are designed but it doesn't mean you shouldn't be careful. My brother's shirt fell on it and found it next to impossible to take it off. Well, at least that proves how strong and effective the glue really is.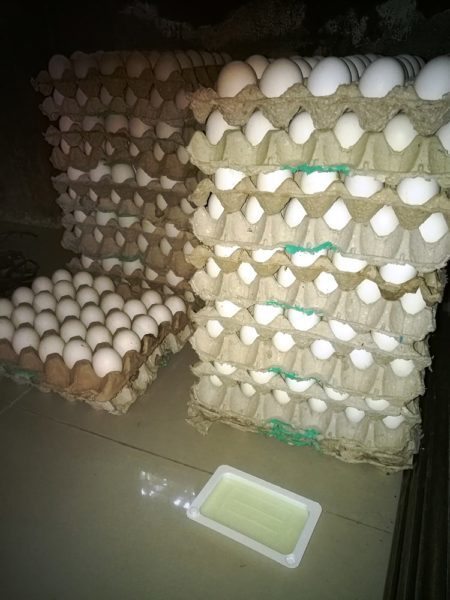 We still haven't used the cereal bait but it does smell a lot like real peanuts. It's a little scary to use tiny baits especially with a toddler around so make sure that you place them in a very inconspicuous corner in your house.
I just realized how dirty our nooks and crannies are. Hahaha!
Time for You to Give it a Try!
Hey, Miss Adventures! has partnered with Pest Off! to give away a complete set of their products which have been mentioned above. That's almost worth PHP1,000 on products to get rid of those little creatures effectively and ethically (you might catch PETA's attention).
Are you ready? Well, here are three easy steps to get your very own rat control set!
Like Pest Off! and Hey, Miss Adventures! on Facebook.
Share this post on Facebook. I've also written a template to make it even easier for you. Just copy and paste and set your status to public!


@PestOff (tag their Facebook page) is awesome! I'd love to use their products and solve our rat problems once and for all. You can win them, too, _____ (tag at least one friend) via Hey, Miss Adventures! (tag us) blog. #PestOffPH #ByeByeRats

Comment the link below — and you're done!
By the way, we are giving out the complete package to TWO lucky winners.
Anyone with an address here in the Philippines can join — we will shoulder the shipping! Ready?
Contest ends August 31, 2016.
Good luck!
---
Pest Off! is a trusted name in household pest control products, offering a wide variety of insect and rat control products. The brand is owned by Global Winds Corporation, a duly registered company with the Food and Drug Administration as a Household/Urban Hazardous Substances Distributor/Importer/Wholesaler. Pest Off! products are widely distributed nationwide in major supermarkets. groceries, and hardware stores.