Which is Better: Owning or Renting a House?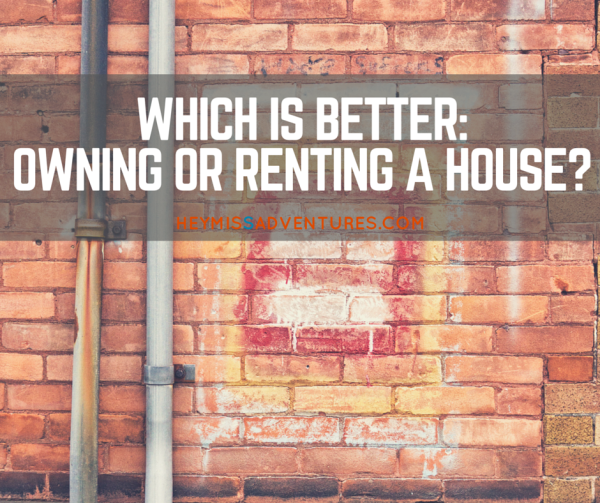 In countries such as the US, the start of young adulthood is often marked with moving out of the family's house and living independent lives in their rented apartment homes.
The cycle is pretty much the same here in the Philippines, at least in the middle-class and upwards: build careers, save money, start a family, purchase a car and a house and so on.
Regardless of the order in which these items are crossed of the list, one thing is common: big-ticket purchases are often made after giving in to emotional and social pressures and not just after considering one's financial status.
But, is purchasing a house really your best option? Or might renting a room be a more financially sound path to take?
Renting a House
They say that renting a house is simply just throwing out money at something that you cannot own in the end. Not necessarily. Even homeowners throw away money towards huge interest fees if they do not pay off their loans fast.
In case you are thinking of renting a house for now, here are some things you might want to consider.
Why you might want to rent a house:
One reason for renting a space could be that you are temporarily moving to a new place, for a job or for any other reason, but have no plans of staying there permanently. It might also be that you want to test out the environment first before making any final decisions.
No worries about maintenance and repairs
While you might want to do the small repairs yourself (broken cabinet or door locks, etc), you can leave out the bigger ones, such as leaks or holes in the walls or ceilings, to your landlord.
No need for loans and checking credit history
Admittedly, purchasing a house takes a lot of paperwork than renting one. Unless you have a lot of money to spare, you probably will have to apply for a loan which requires the banks (or other loan providers) to check out your credit history. Landlords and landladies don't do that as long as you are able to pay the required upfront fees. Of course, they may do a quick background check to see if their tenants are trustworthy.
Some utilities may be included
You will be surprised to find out that some apartments are being rented out with a few free amenities such as unlimited water or Internet.
Costs:
Security deposits and the first month's rent is often required before moving in. This protects lessors in case of damages, outstanding utility bills, delinquent rents, repairs and other incidentals.
Although some landladies will let you borrow a few items (especially in the Philippines) and previous tenants would sometimes leave their old stuff, you are usually left on your own to furnish your space.
In the Philippines, rent increase are not allowed to go more than 7 percent the original rent if the space is still under the same tenant. The change of rate for new tenants can only be applied once the space has become vacant.
Just like homeowners, renters often have to pay for their water, electricity, gas, phone, cable and other bills.
Buying a House
So, is buying a house your best choice? Check out the considerations below to see if it works out for you.
Why you might want to buy a house:
This want for permanency is especially strong if you are starting a family or planning one. It might also be because you want to set your finances right and start out building your properties while you are still young and free from responsibilities.
Every cent you put towards paying for your house represents a cent of equity which takes you closer to being the actual owner of the property.
Possibility to earn money from rent
If you do not plan to live in your house, there is always the option to have it rented out. Or you can open up one of your rooms for renters to stay in, for added income.
More freedom to be creative
Love doing home improvement projects by yourself? You certainly have the freedom to decorate your space as you wish if you own the house.
More security (if already paid for)
And, of course, as long as you have paid off your house then there is no likelihood of you getting evicted.
Costs:
Most often, house developers and sellers only require 20 percent as downpayment. In the Philippines, this can even be paid for within a period of six months to three years.
Mortgage repayments, which includes the principal and interest fees, usually take around 10 to 30 years. Of course, the faster you pay off your dues, the lesser in interest fees you pay.
In the Philippines, property taxes are paid annually a year after moving in to your house.
A home insurance is just as important as life insurance. In the Philippines, it costs way less and is often added into the mortgage loan. You could also purchase a separate insurance policy for added protection.
Depending on where you are, you could be paying for association dues — for example, if you live in a condominium or within a subdivision.
Just like renters, you will have to pay for your own utilities: water, electricity, gas, phone, cable, internet and so on.
Furnishing, improvements and renovations
Fully-furnished homes and spaces cost a lot more than non-furnished ones so first-time buyers usually opt for the latter.
Replacements and repairs are inevitable when living inside a home. This could involve replacing fixtures and appliances, painting and finishing, interior cleaning and many others.
Which is Yours?
Figuring out whether you can already purchase a home or should just rent a space, even for just the time being, is a huge decision that takes a lot of deliberation. Be sure to weigh your options well before making your final decision.
Happy house hunting!
---
About the Contributor
Kurt Jacobson has moved 11 times in the past nine years. When not out snowboarding, he writes about anything and everything related to rentals over at RentFinder.co.
Pam is an outdoors-loving millennial momma who loves to hike, trek and camp in the beaches and mountains with her partner and their 3-year-old daughter. When not exploring the great outdoors, she moonlights as a freelance writer specializing in the travel, parenting, personal finance and digital marketing niches. You can also follow her via social media: Facebook, Twitter, Instagram and Pinterest!