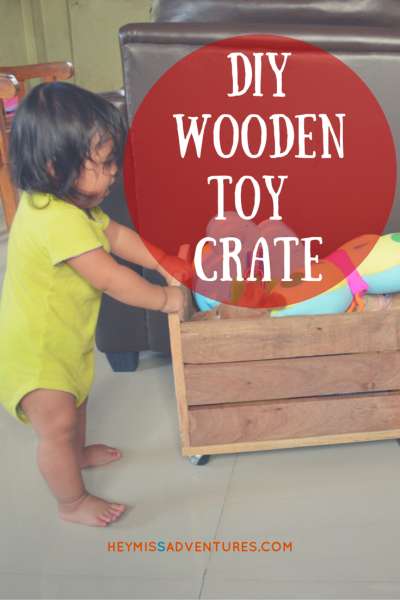 But actually, the initial plan was to make a toy shopping cart. In fact, I think I may have gotten ahead of myself and thought of the DIY grocery items, mini-store, play kitchen, even possibly a plantable toy garden, so the produce is sold or cooked fresh from the market.
I saw a good shopping cart model from the Pottery Barn website but decided against it since some details in the design were too much for a first time DIYer. Plus, I didn't have any tools anyway. Instead, I looked for another site with a plan for a vintage crate. This same website also has a blog series on their DIY kitchen (a real one), which I hope to follow when we've finally found a place of our own.
So, yes, since my father was out somewhere and his tools were in ready access, I finally decided to give the DIY carpentry project a go. I know, the plan is pretty simple and straightforward. Good enough for someone who hasn't even had so much of an exposure in driving down a nail with a hammer.
There were a few pieces of wood in our backyard so I got a few of them for my project. There were also a few pieces of thick wood boards from the cabinet that a neighbor-carpenter built for my parents' room. (I still have to improve on the ability to identify types of woods and boards and tools for future projects).
The plan was improvised a little bit to fit the materials available at home.
Below is a list of items I had to prepare:
a wood saw* (but a jigsaw* might be better)
a tape measure* (the metal kind used by carpenters)
a pencil
6 – 2.75″x18″x0.75″ planks (for the longer sides)
4 – 2.5″x19.5″x0.75″ planks (for the bottom)
2 – 11.5″x11.5″ square boards (for the shorter sides)
40 – 1.5″ nails
Other items that were obtained later (optional):
4 rollers
16 – 1″ screws (used only 12)
there was one other tool we used to create a hole on the wood to allow for the screw to go into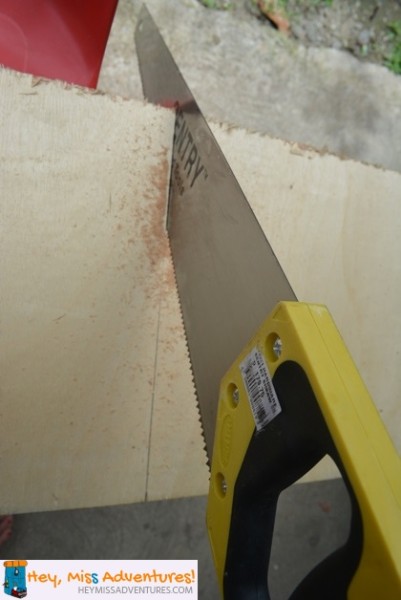 The wood planks we had was about 55″ long each so I had to hand saw them each to the desired length.
Manual sawing is the most intimidating part of this project. I kept on thinking how much I still need until I could see the end of the sawing part.
Then I sawed off the parts of the square boards to the desired size. I think one side of it was only 11.25″ but it still worked out anyway, I didn't even notice which one it was.
The partner helped off saw the second board since it had an awkward position on the plastic chair we used. (Someone's cheering him up playing in the background.)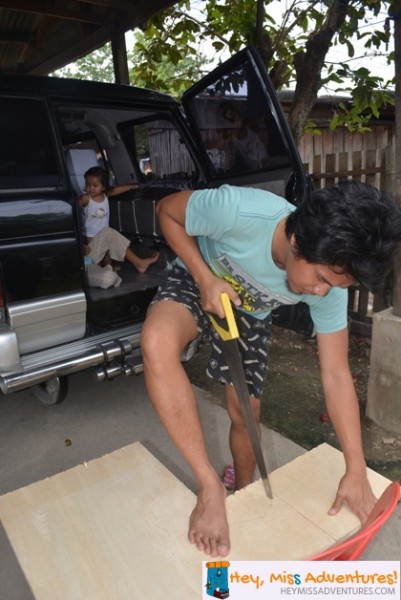 Then it was time to join the pieces together, like Lego. I think this part is one of the hardest to go through, especially for first timers since you'd want the pieces to be nailed together perfectly.
See? Getting ahead of myself again. Haha. This was my first mistake (I guess).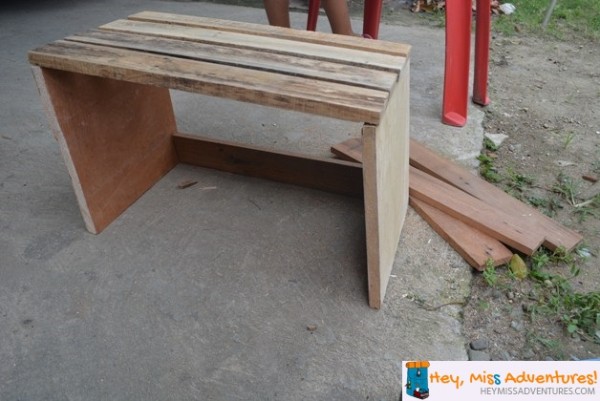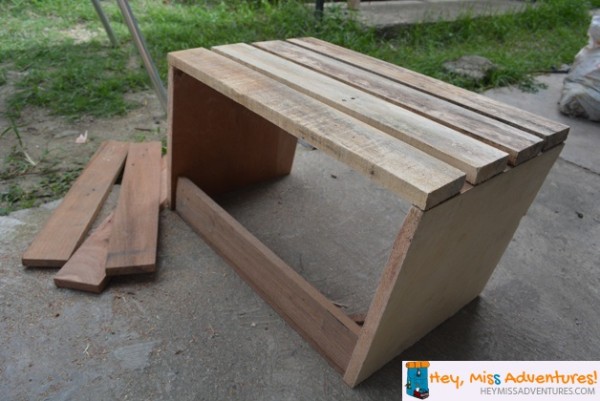 I did the nailing again and this is how it came out. Then I realized one side of the plank was not sawed off correctly and had a slight slant. Instead of sawing off a very small portion, I decided to sand it down instead. Not sure if the unevenness shows in the picture.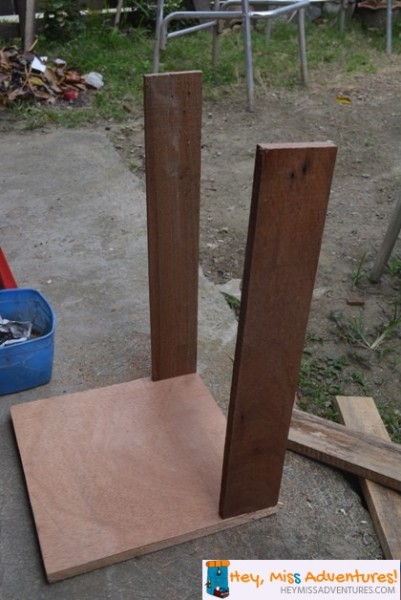 And then I splintered a portion of the wood. Haha.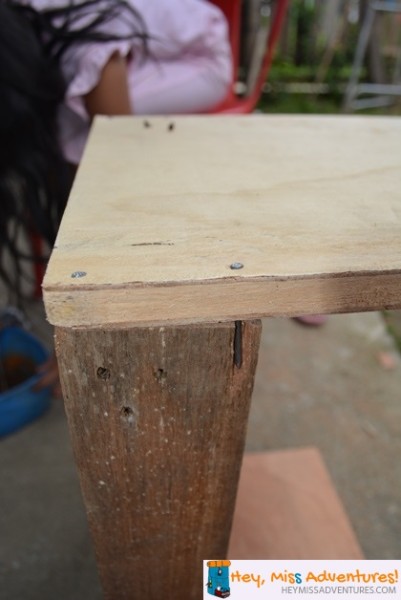 My brother came out later on and decided to help me out. I think he thought I was too slow with my progress. Haha. The hammering took about 20 minutes or so for him. Then, voila!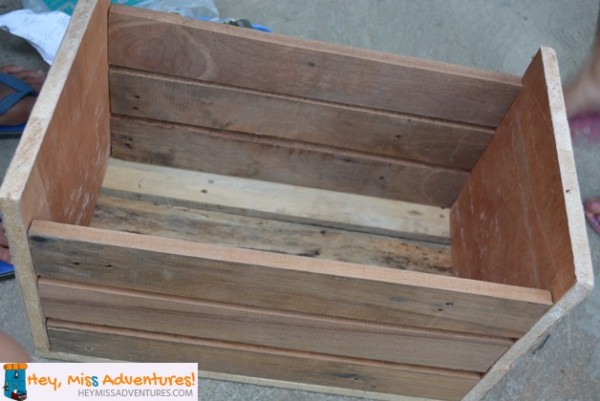 We decided to buy rollers for the crate – it was heavy! – and made a trip to the local hardware in our home clothes (the partner just woke up from sleep and we dragged him haha so yes, he was walking around flashing his bed hair). I looked around for a jigsaw and found out their price range is around 4000-5000PHP (~89-111USD).
He helped me out with installing the rollers at the bottom of the crate.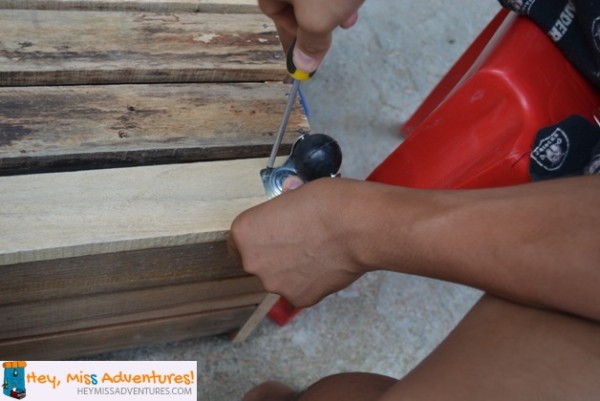 Someone came out to help us, too.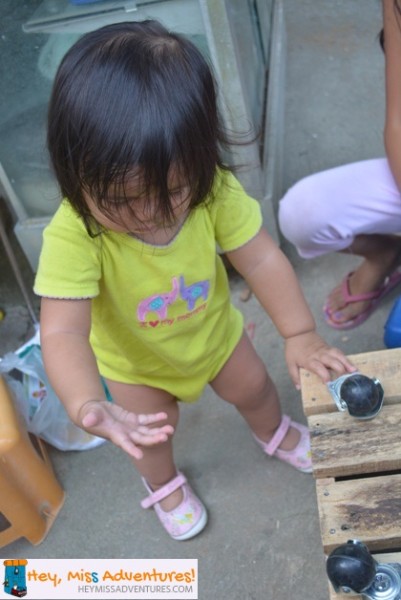 Then, it was finally done. I think someone's enjoying her new toy container.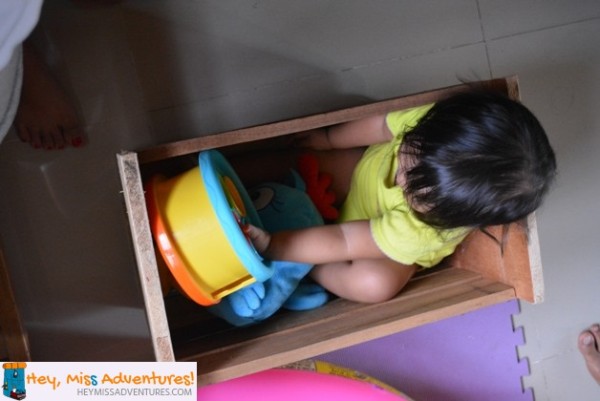 Next time, I hope to give this a better finish and probably paint in some initials like the one in the original plan.
By the way, I now have this profound respect for carpenters, especially those from my country. You see, people here are not so much fans of power tools and do things manually. It's been about four hours since I finished the project and my hands are still hurting.
Budget
Rollers (set of 4) – 148.75PHP (~3.3USD)
Others – FREE
We also bought handles but decided not to use it, for now
XX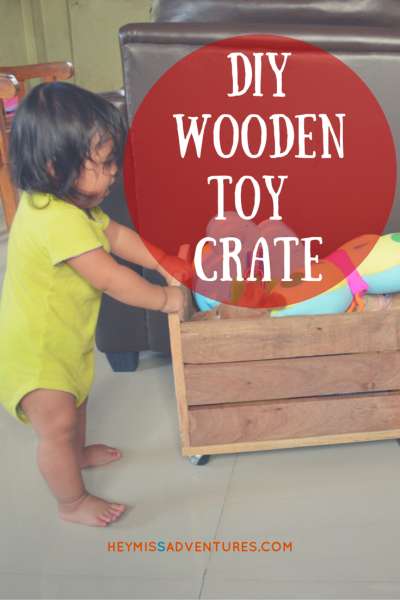 Have you made any DIY projects for your kids? Tell us what you did!
Disclosure: Links with asterisks are affiliate links for your convenience. We receive a small compensation for purchase made here, at no additional cost to you. Thank you very much for your support to this site!