#MyGlobeExperience: Staying Connected with Globe MyFi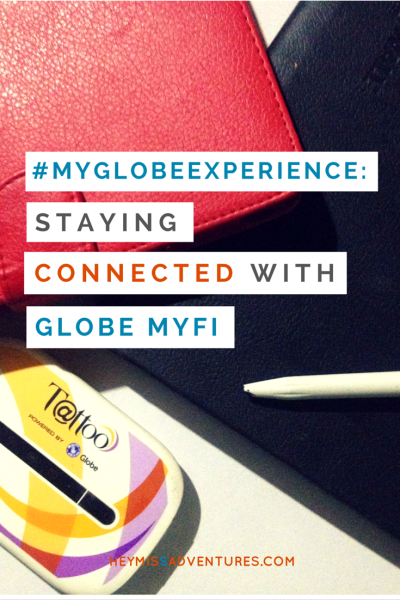 Disclosure: I was not compensated by Globe for this post. However, I was given a free Globe MyFi dongle to facilitate this review. All thoughts and opinions are purely my own.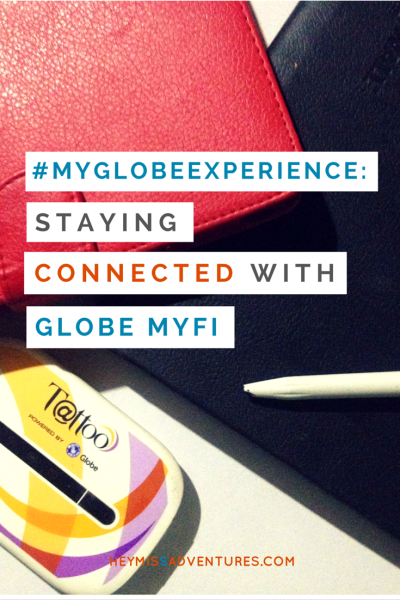 As a big fan of travel (that has been set aside for now because #adultPriorities), as someone who is aiming to become a professional blogger and a digital nomad, staying connected online for majority of the day is crucial. I personally have very strong opinions about exposing young kids to too much gadgets and technology but, let's all admit it, it's hard to get away from Facebook, Instagram, Pinterest and all those apps we have.
So, why not embrace it? And well, just try to detox ourselves once in a while? 🙂
Let the connectivity begin…
My partner did all the setup because I hate those parts but it's pretty easy actually.
How to Set-up Your Globe MyFi
Put the SIM and battery together in your dongle. Look inside the cover to see both the SSID and WiFi key (password).
Turn on the pocket WiFi and use the key to connect.
Change your settings (WiFi name + password) by typing 192.168.8.1 in your browser.
Go to the Settings menu and use 'admin' for both username and password at the authentication page.
Leave the Configuration Profile Setting as is.
Go to WLAN Basic Settings and change your info there.
That's it. Pretty easy, noh?
I tried to tweak the settings to filter MAC and IP addresses but I got stuck somewhere. Perhaps I'll try it again some other time, once my deadlines have cleared up. Haha.
Feedback on Performance
I've been using my Globe MyFi for a little over a week now and so far, so good.
Speed
So far, I've used it with my laptop and my smartphone: I've had some issues with laptop connection speed in the beginning — my phone was connected at the same time but it was extremely fast. I guess it all still depends on how congested your place is. We went to a resort in Mactan over the weekend and I had no issues finishing off work (I know, it was supposed to be a family getaway *rolls eyes*) that time. I did use the dongle with my phone in crowded mall and I had a hard time uploading (although when I refreshed it, the post was there, weird).
Although, may I point out that connectivity with the laptop is much faster when I connect the pocket WiFi directly, via LAN, instead of using wireless connection. Maybe that trick will do the same for you?
---
RECOMMENDED READS: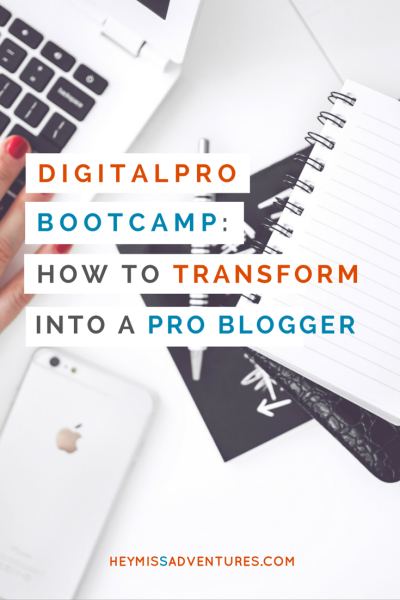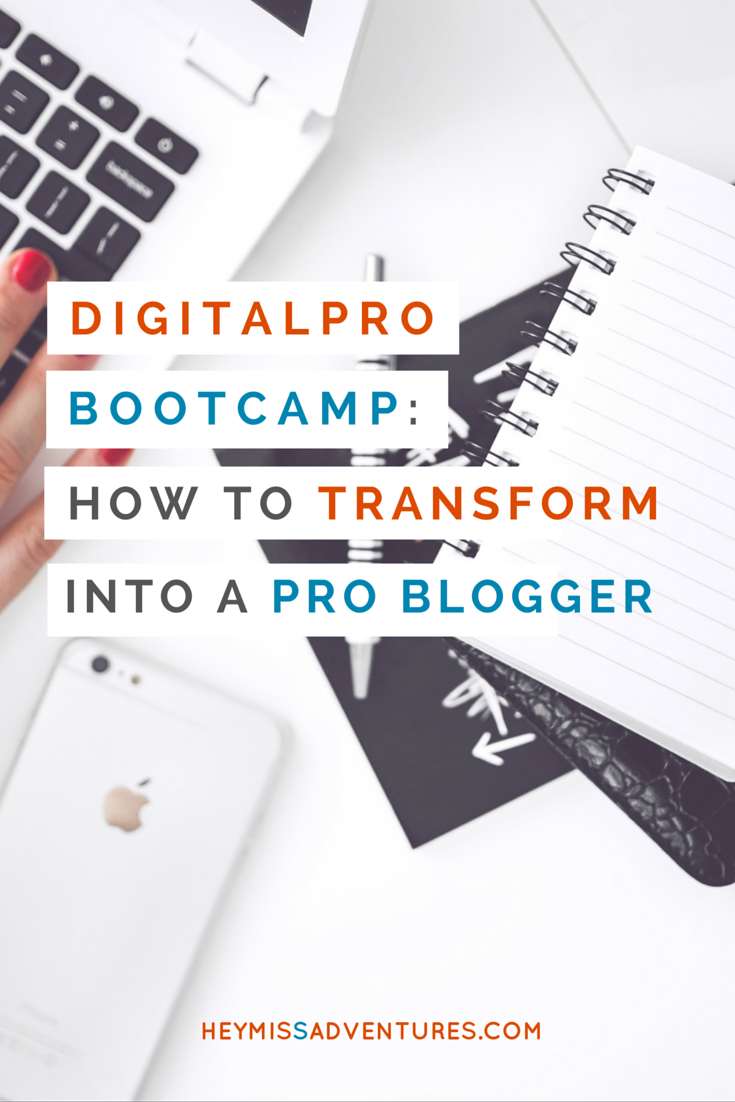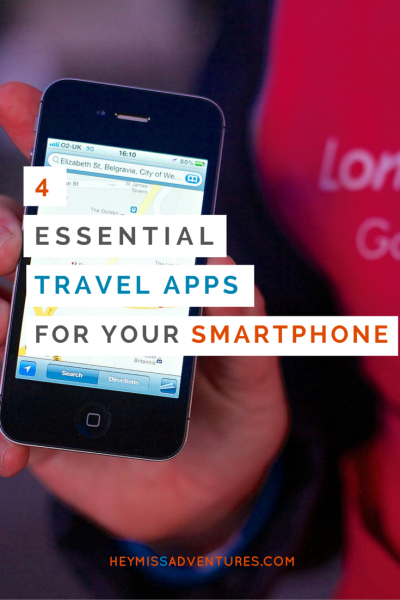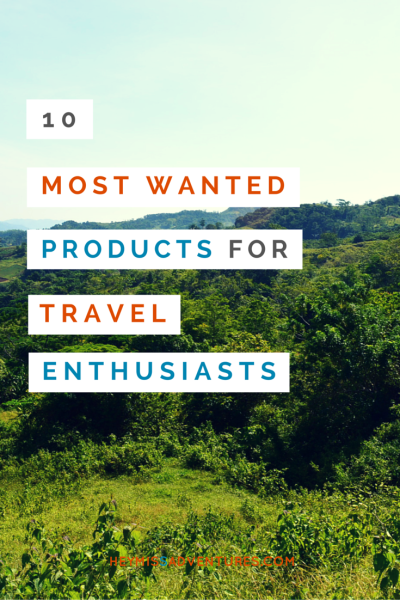 ---
Battery Performance
You know what I really love most about my current MyFi experience? Battery! Nowadays, it's your power juice that's always a big issue. My phone rarely gets through three hours of constant use, including WiFi, so anything that performs beyond that already impresses me.
I also have a pocket WiFi from another service provider and I hate how easily its battery depletes. Seriously. When I go to blogging-related events, I would have to fit a power bank and two cords to make sure I can get all my social media updated. #FirstWorldProblems
I left the Globe WiFi overnight and to my surprise, it was still on when I woke up. Let me see, that would have taken around 6 to 8 hours? Not bad, if I do say so myself.
Globe MyFi Plans
Currently, the Globe pocket WiFi is available to both prepaid and postpaid subscribers (mine is the former). Postpaid people can get it for just 149/month at Plan 499 or 99/month at Plan 999. Prepaid people can get it for a one-time fee of 4000! Awesome, right?
Also, until March 31, 2016, you can avail of FREE 1GB worth of data valid for 7 days. Just text FREE1GB to 8888.
If you have more questions, you can read the FAQs here.
Lastly, if you have a bit more to spare, I suggest you get the Pocket WiFi + Powerbank instead so you'd have two devices in one. Hooray! (Pocket WiFi is also available in the LTE variant.)
Verdict
Aside from the fact that I have a few more weeks of free wireless internet on the go, I am totally loving the performance of Globe Tattoo so far. Of course, pocket internet devices can only go so far but it's good enough for me, especially when you need to message your family because you forgot to pay your monthly bill! Hahaha!
XX
So tell me, would you try it, too?
---
This post is a part of the Digital Pro for Professional Bloggers Bootcamp, organized and designed by eSTRAT Media for the Cebu Blogging Community and made possible by Global Hub Executive Suites and Globe Prepaid.
Pam is an outdoors-loving millennial momma who loves to hike, trek and camp in the beaches and mountains with her partner and their 3-year-old daughter. When not exploring the great outdoors, she moonlights as a freelance writer specializing in the travel, parenting, personal finance and digital marketing niches. You can also follow her via social media: Facebook, Twitter, Instagram and Pinterest!