Get Caught in the Love Spell at Gayuma ni Maria Cebu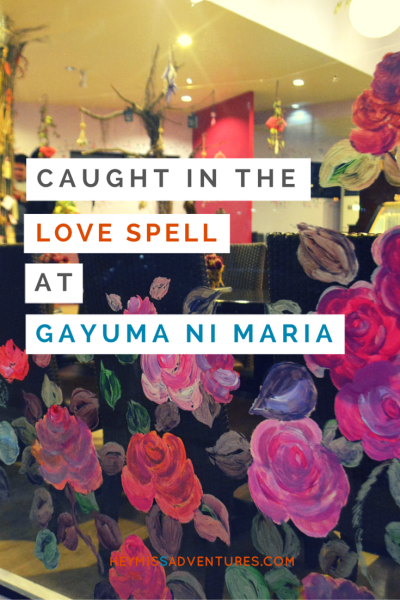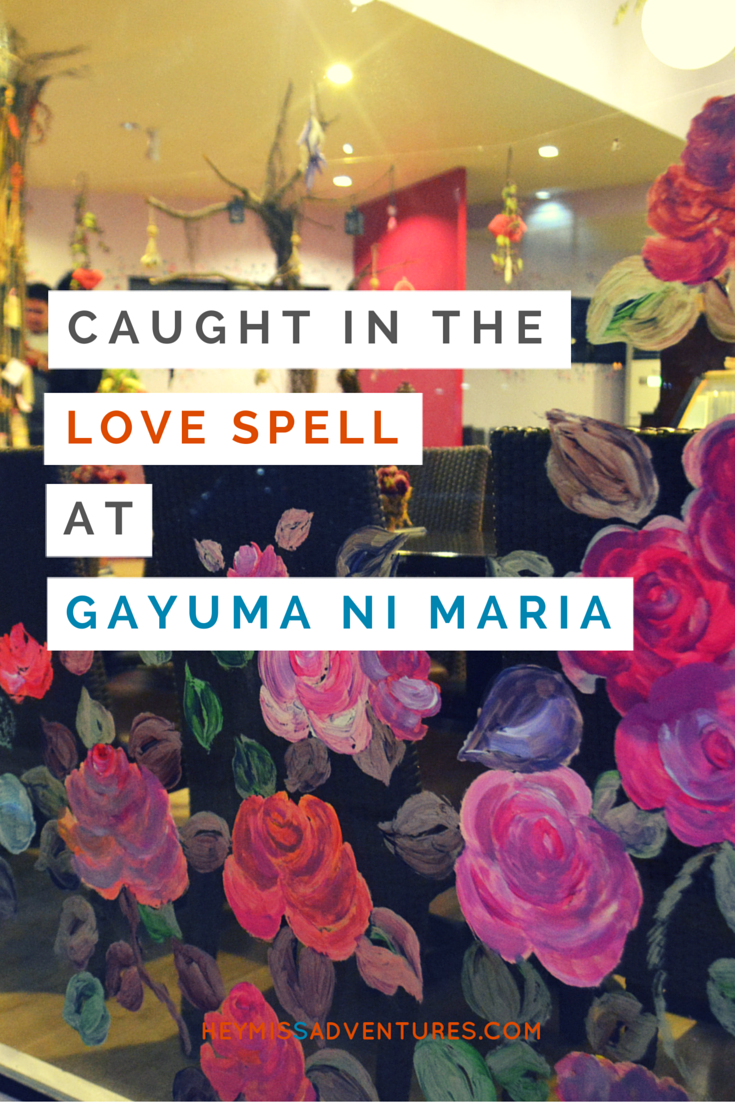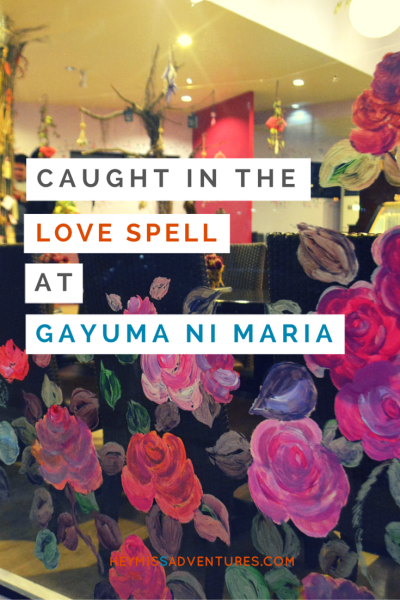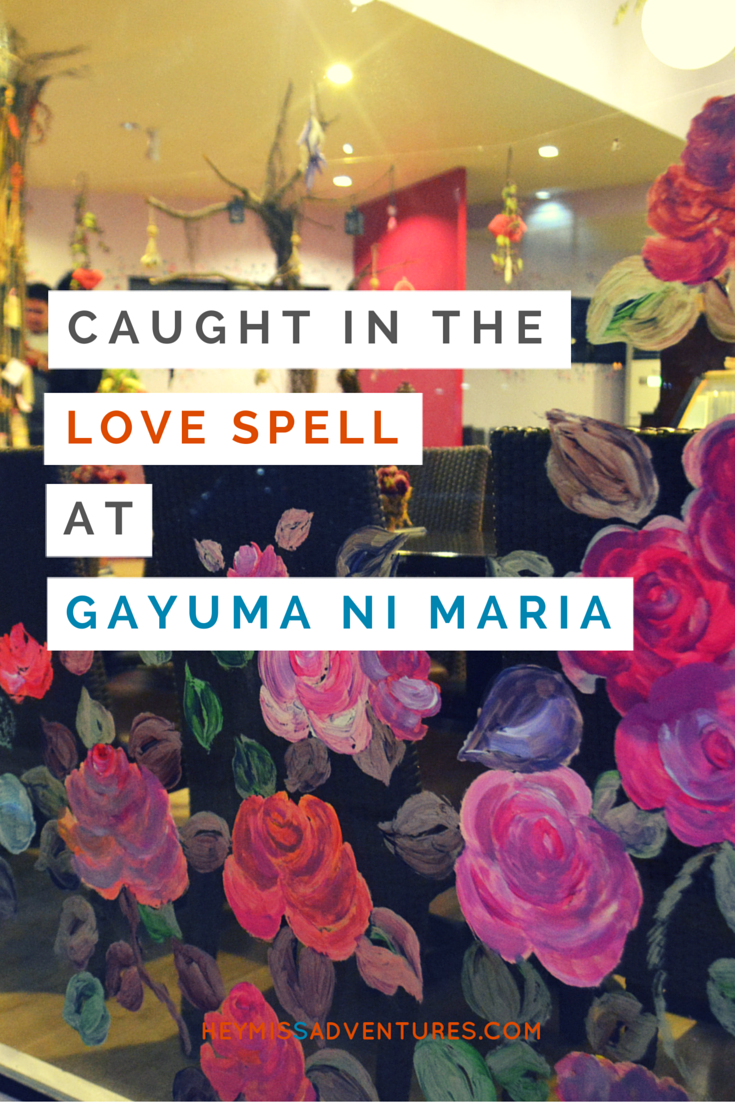 You wouldn't think a quaint love-themed restaurant could be found along a rather hidden street right in the heart of Metro Cebu — but there actually is. Guys, welcome to Gayuma ni Maria Cebu!
Some blogger friends (from the Cebu Blogging Community) and I dropped by the restaurant one December night and sample the sumptuous dishes lovingly created by Chef Kadee Aguila and her mom, THE Maria Aguila. We were instantly bewitched.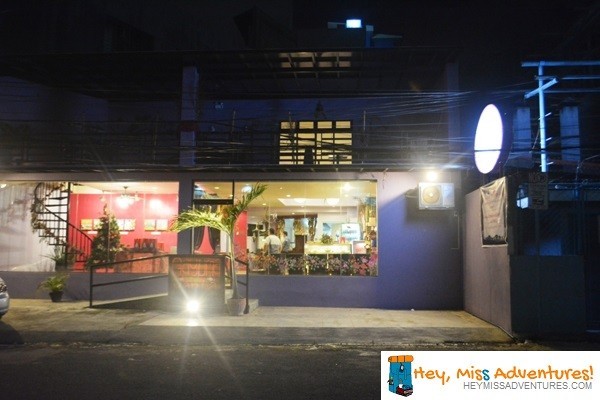 Gayuma ni Maria is a full-service restaurant that serves Attraction (appetizer), Courtship (soups and salads), Commitment (main dishes), Seduction (beverage) and Temptation (desserts).
ATTRACTION
Attraction dishes provides those first passion-filled bites that whet the appetite. They are basically divided into the Chikininis, which are small bites with flavors, and the Spread the Love, which comes with their homemade breads.
We were able to sample the Kini-Love. It is basically a Gayumatized version of Kinilaw: fresh tuna ceviche with avocado, spices, herbs, marinated in calamansi and ginger juice sprinkled with cilantro chiffonade.
Another in the menu is the Shorizo Mingle, which is one of my personal favorites. It's a shrimp and (Cebu) chorizo gambas served with their homemade bread. Super love the sweet Cebu chorizo!
Other Attraction options include May Hugot, sweet potato fries with dual side sauces — a tangy strawberry yoghurt and cheese sauce for PHP175; Hot, Horny Bacon, strips of bacon fried to a perfect crisp for PHP175; and Come Fly With Me, chicken wings coated in spicy batter and drizzled with special soy garlic sauce for PHP175.
COURTSHIP
Courtship dishes offer a little something to fan the flames of love and help make your intentions known.
Warm the Heart are servings of artisanal soups such as Peek-A-Boo, creamy roasted red squash soup sprinkled with roasted paprika sunflower seeds for PHP95; I'm Wild For You, mushroom soup with herbed shitake base for PHP95; and All For You, a combination of oven-roasted tomatoes, cream and fresh herbs for PHP 95. All For You can also be upgraded and paired with grilled three-cheese sandwich for PHP215.
Green Minded are salads that can be shared or enjoyed solo.
You can enjoy Wedge All My Heart, a wedge of lettuce with a shower of herbs, spices, tomatoes, corn and your choice of bacon, crab or salmon with Gayumatized blue cheese dressing and parmesan cheese.
You can also enjoy Tuliro, a nacho cheese dish with salad greens and pork floss, fruits and sour cream for PHP215; or Ka-Live-In, their house salad made of greens, tomatoes, corn with crumbled quesong puti and a light citrus vinaigrette for PHP145.
---
RECOMMENDED READS: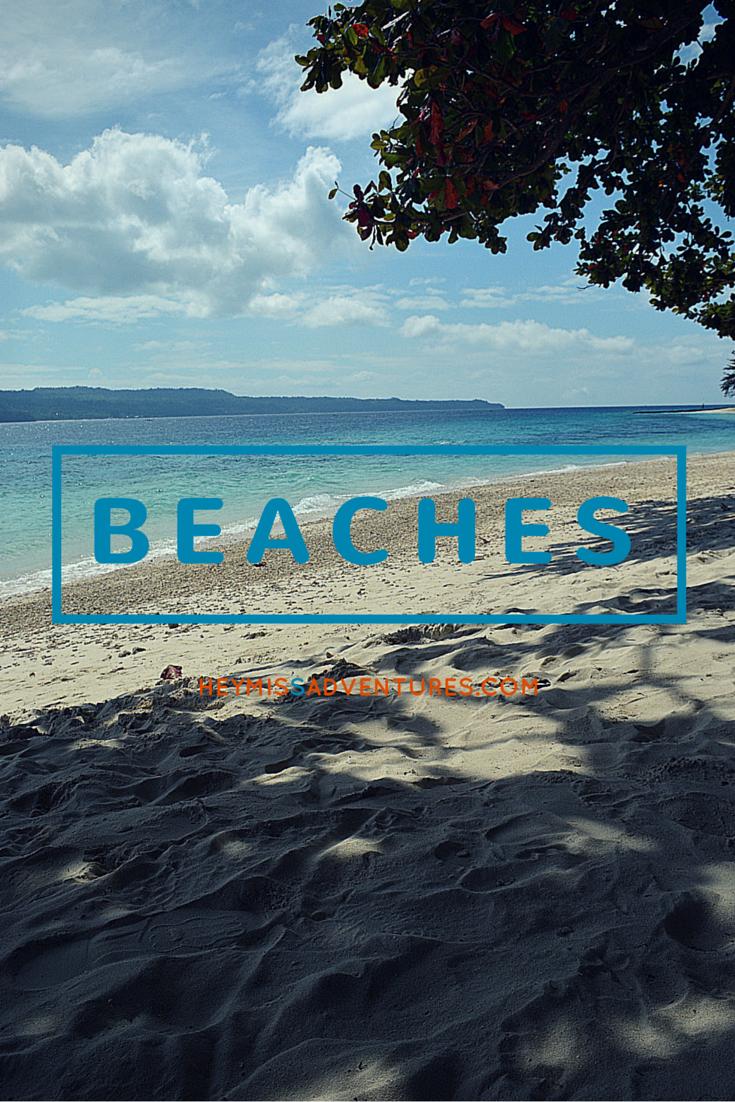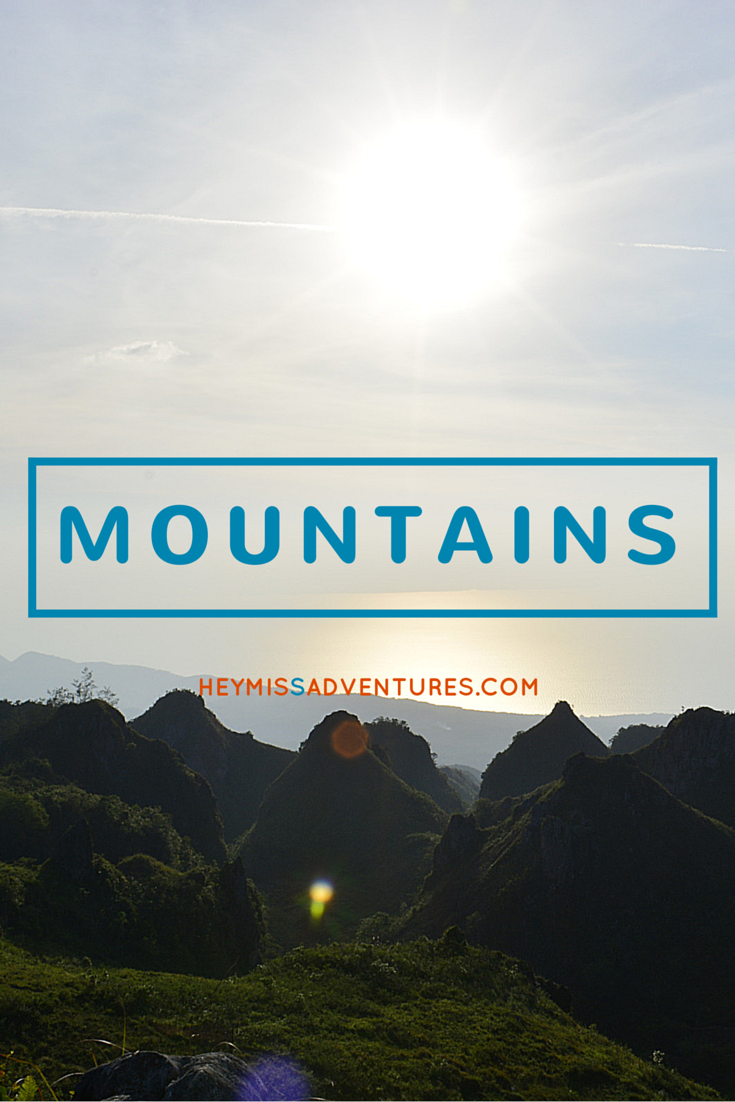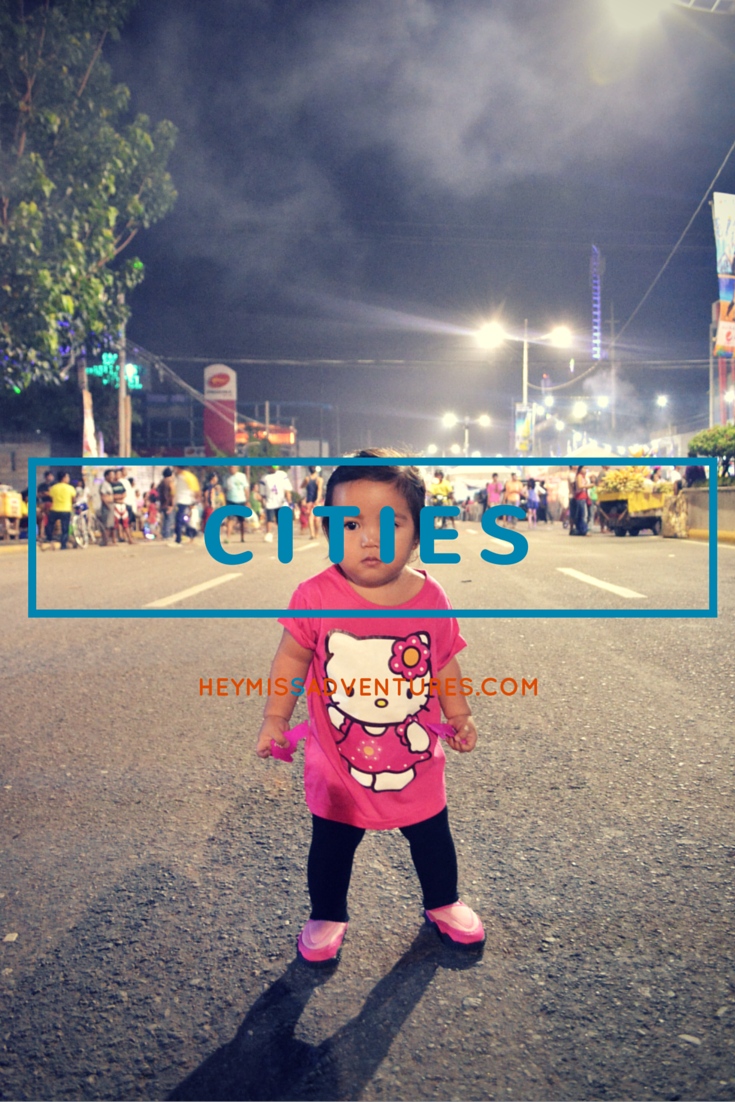 ---
COMMITMENT
Their main dishes have five categories: beef, pork, chicken, seafood and pasta.
Beef dishes include Oh, Baby!, made from tender, sweet and juicy pan-seared beef with mashed potatoes, salsa verde and mustard sauce for PHP285 and Secret Lovers, beef sirloin cubes with carrots, bell peppers and potatoes sauteed in red wine and covered with queso de bola potato gratin for PHP225.
Pork dishes feature the Rock Me Baby, oven-roasted pork with Gayuma's passion-pumped BBQ sauce served with buttered vegetables for PHP255 and Through the Fire, Gayumatized skewered pork ala Cebuano lechon served with papaya and green mango atchara and java rice.
Blushing Chicken, cumin chicken breast fillets with rich creamy tomato sauce topped with mozzarella and served with mashed potatoes and a side salad is also served for PHP225 as well as Please Be Careful With My Heart, seared chicken baked in garlic herbs, potatoes and olive oil for PHP225.
Gayuma ni Maria serves one seafood dish called Mermaid's Call, made from assorted seafood in a fiery Cajun-inspired sauce served with bread for PHP235.
And, of course, the pasta dishes!
Mi Amore Some Balls! is Gayumatized spaghetti bolognese with meatballs and homemade bread for PHP225. Love You to the Macs is creamy mac and cheese balls topped with bacon and served with homemade bread for PHP225.
The one we tried is called No Boyfriend Since Birth, made from shellfish with a chili-pesto-cheese sauce. It's a little ironic since the tahong is an aphrodisiac — but you probably won't need boys around once you've tasted this heavenly delight.
SEDUCTION
Don't be fooled by their cocktails. I sipped my way into it and I wasn't even halfway through when I already felt tipsy. On the other hand, it was almost dinner and I haven't eaten yet.
Other beverages served include the Bayani Brew, brewed coffee, softdrinks, hot tea, tsokolate, fruitshakes and bottled water.
TEMPTATION
And, of course, this is one temptation I could not resist.
Gayuma ni Maria actually started out in the kitchen when they would give out their delicious desserts as gifts to family and friends. News spread and they suddenly found themselves catching up to fulfill more than 200 cakes per day.
Their Twisted Pavlova is actually the one that started it all. Its a meringue-based cake topped with fruits of the season and was named after the famous ballerina Pavlova who was considered to be as light as a feather, just like this dessert is. PHP115/slice or PHP799/whole.
Another interesting dessert is called Beats Sex Any Day, originally Better Than Sex. It's their signature super moist chocolate cake folded in caramel with cream frosting. You have got to try this out to see if it really is better than sex or better WITH sex. Hahaha. PHP105/slice or PHP699/whole.
Sometimes, Gayuma ni Maria go naughtier than usual and give out holiday/special occasion cookies such as these:
True Love was once called Broken Promises but Kris Aquino suggested changing it. You're sure to fall in love with first bite though, instead of cry over heartaches. PHP110/slice or PHP799/whole.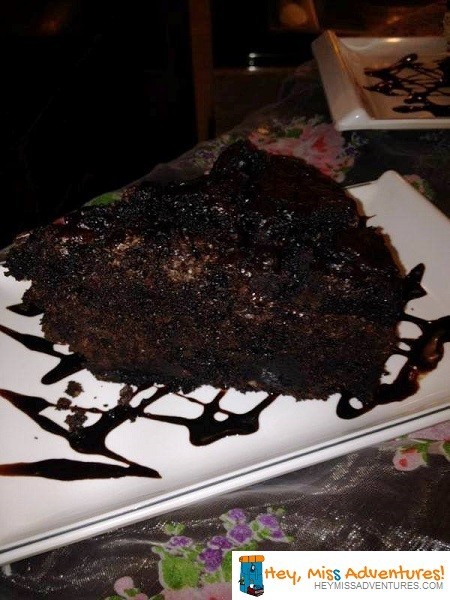 Another sumptuous dessert is the Lusty Velvet, a red velvet cake with cream cheese frosting. PHP115/slice or PHP799/whole.
---
RECOMMENDED READS: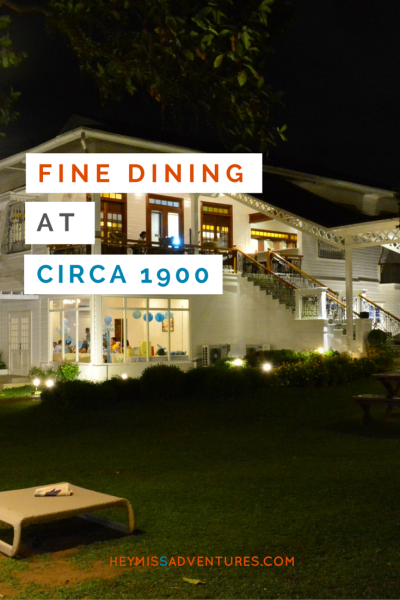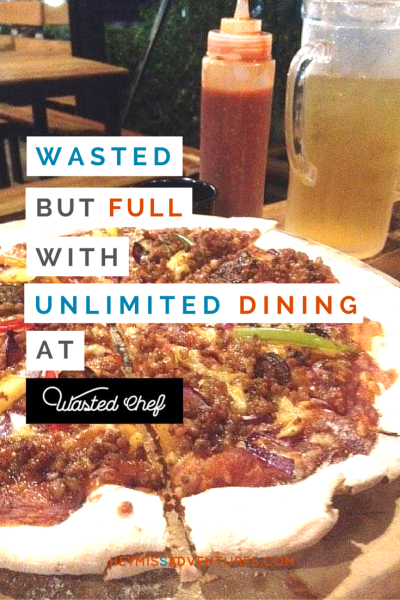 ---
INTERIORS
Chef Kadee told us that the concept of the restaurant came about when they wanted to give a place where people who are dating can stay in a laidback atmosphere, unlike the fine dining spaces. The entire place feels homey and you will instantly feel bewitched. Gayuma, after all, means love potion and Maria, hails from Naga in Cebu, a town known for witchcraft.
Most wall art were done by hand by Maria herself. They're extremely beautiful.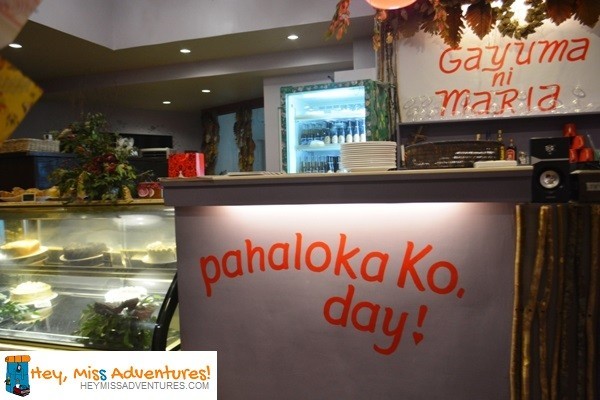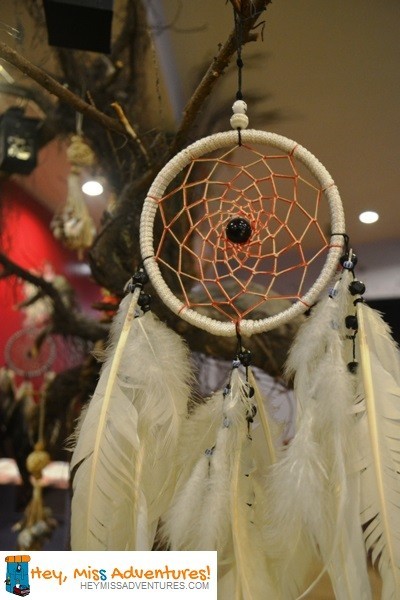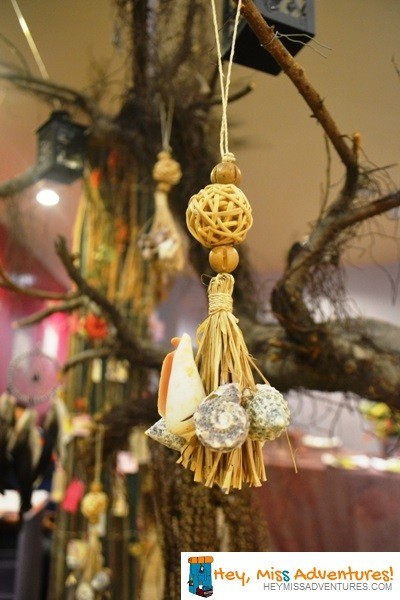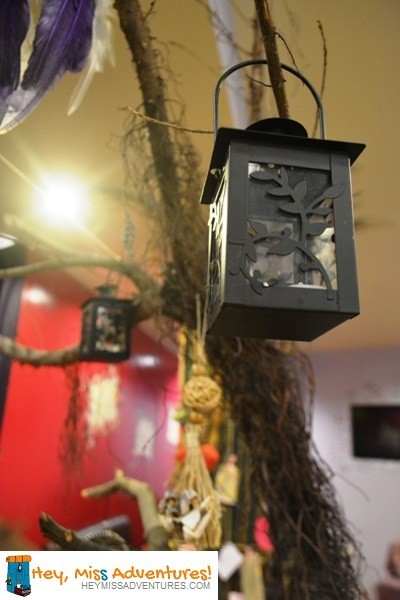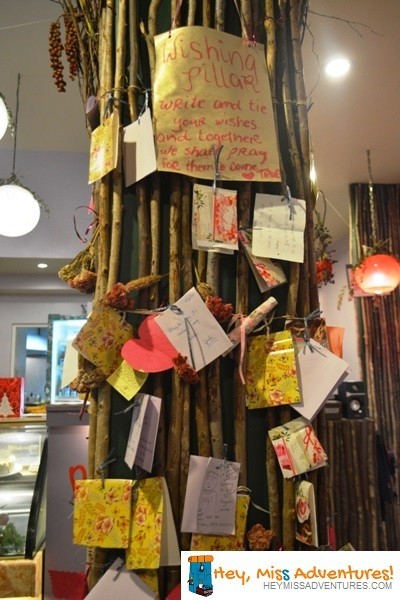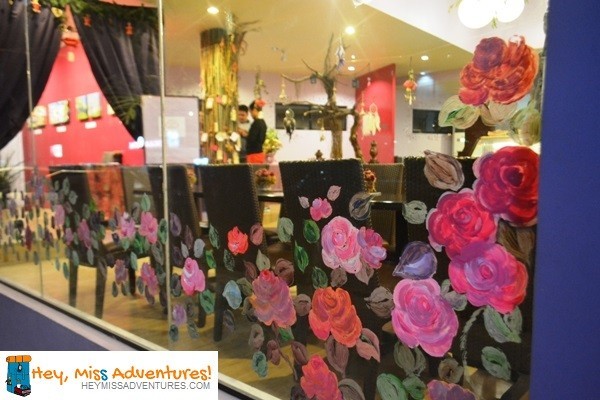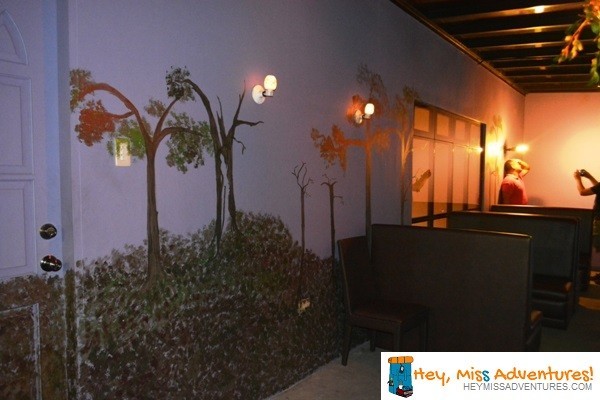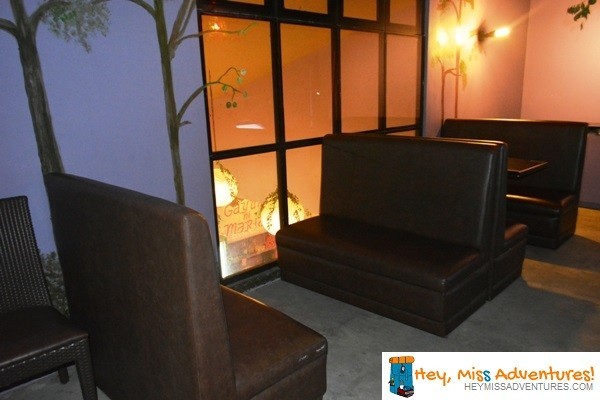 One of Chef Kadee's advocacies is to support local. On display here are some works of art by local artists. He said he once stayed in a local Gawad Kalinga village, too.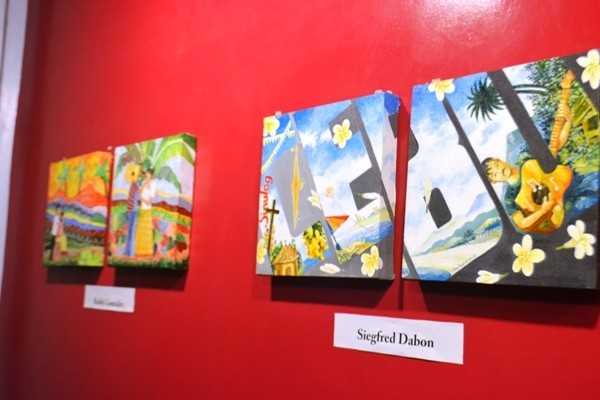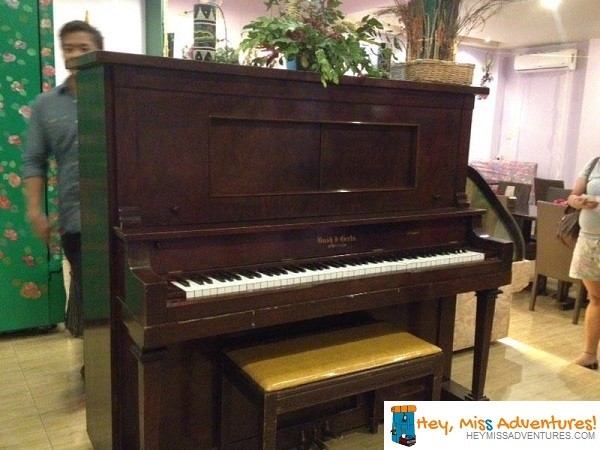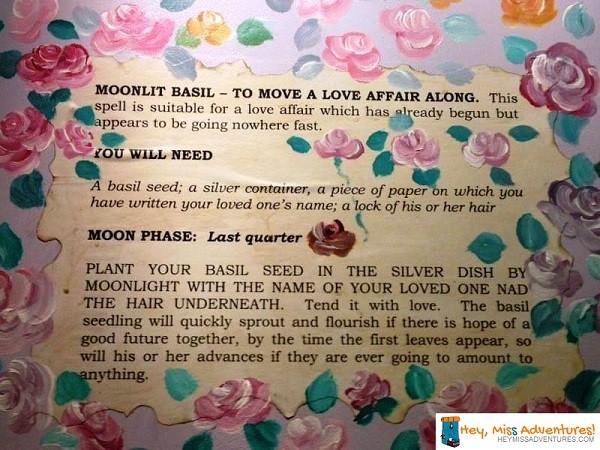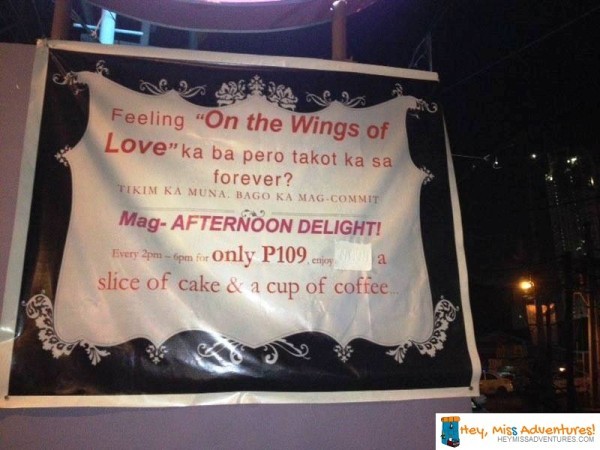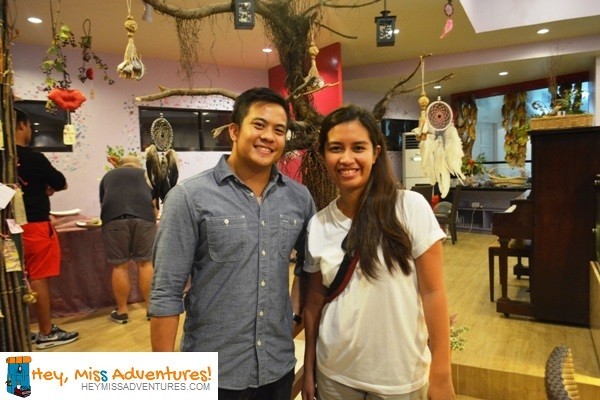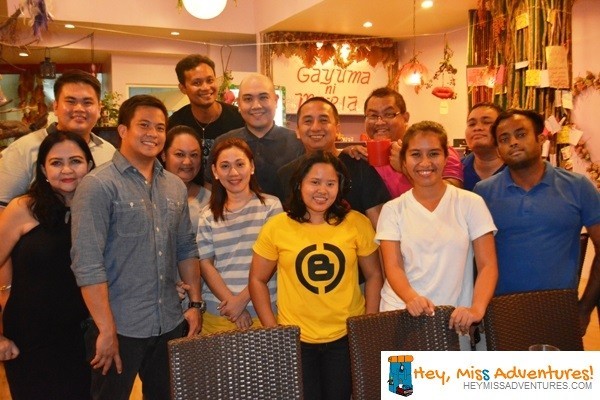 Big thanks to Gayuma ni Maria for inviting us!
XX
---
GIVEAWAY!!!
And because it's 2016, I'm giving away two GAYUMA NI MARIA gift certificates worth PHP200 each. It's perfect for getting to know a special someone, reconnecting with the love of your life or enjoying some time alone. And it's valid until March 14!
Get entries using the Rafflecopter form below. Entries will be accepted until January 14, 11:59PM and winners will be announced on January 15th!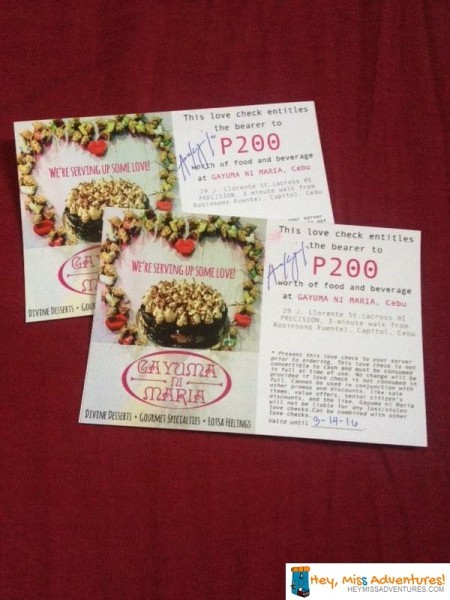 a Rafflecopter giveaway
---
Gayuma Ni Maria – Cebu
29 J. Llorente Street, Capitol Site, Cebu City
(Right across HP Diagnostics Laboratories)
Facebook | Twitter | Instagram
Pam is an outdoors-loving millennial momma who loves to hike, trek and camp in the beaches and mountains with her partner and their 3-year-old daughter. When not exploring the great outdoors, she moonlights as a freelance writer specializing in the travel, parenting, personal finance and digital marketing niches. You can also follow her via social media: Facebook, Twitter, Instagram and Pinterest!
 MORE AWESOME READS